We all know that tarot cards have been a source of fascination and mystery for generations. Whether you're an astrologer, a follower of the occult, or just curious about their symbolism, tarot cards are everywhere nowadays, even in our favorite movies and television show. Now it's time to pair it with some musical entertainment as well! To help you get started, we've put together a tarot playlist of 14 catchy songs that feature tarot themes in their lyrics.
Tune in and learn something new about the world of divination!
1. Tarot – Bloodhounds
Starting off strong with this unknown gem, "Tarot" is a soft indie tune by the band Bloodhounds, its chill guitar strums and murmured lyrics reminiscent of a rainy car ride. Although the band has not revealed their intentions behind the lyrics, the song seems to be about feeling trapped in your mind and your circumstances. The chorus is summed in three lines: "Sinking through tarot/Evade introspection/Eating glue just to tie the noose."
In this case, tarot readings serve no purpose because the querent refuses to reflect on what the cards could mean. Furthermore, eating glue is a destructive behavior that is often seen by peers as attention-seeking or evidence of stupidity. Eating glue could "tie the noose" because some glues are toxic when ingested, or it could symbolize one's actions creating a social and mental downfall. Regardless of your interpretation, the melancholy of this song cannot be missed.
2. Killers & Kings – Machine Head
One of Machine Head's heavy-hitting classics, "Killers & Kings" is an industrial metal tune with a powerful message. The song encourages listeners to tear down oppressive systems and stand up for their rights, illustrating that some things must die in order to be reborn anew. "And the Death card doesn't mean you die/It means a change is coming that you simply can't deny."
The Tarot can provide guidance on how and when it may be most useful to act against those in authority. Indeed, the song references cards from both the Major Arcana and Minor Arcana, calling on their power: "The Hangman gives into Temperance/The Sun shines over The Fool/High Priestess, spreads her rules." When they combine their efforts, they become the inheritors of the earth, tearing down the tyrants who oppress them. Together, they achieve the World.
3. Pyramids – Man Man
What do you get when you combine the Five of Cups and the Five of Pentacles? An indie rock song, apparently.
From Man Man's album On Oni Pond, "Pyramids" is all about craving what always eludes you. Even as you bob your head to the catchy beat, the frustration and dissatisfaction of the lyrics are palpable. The song dances along the band's regrets with lyrics like "I smash my crystal ball/I burn my tarot cards/'Cause I can't hit the notes I used to." 
The tarot cards in this song are an expression of the singer's desire to obtain what he wants but also a reminder that he has no control over his own destiny. He attempts to turn away from the cards, but this is an act of futility as it won't change his plight. This is evidenced in the lyrics, "Pyramids of money pirouetting in your dreams/Pyramids of money that you'll probably never see, It's true." The relentless search for something just out of reach continues, much like life itself and the ultimate pursuit of happiness.
4. Queen of Swords – Idina Menzel
Most people know Idina Menzel as the voice of Frozen's Elsa, and she carries the same powerhouse energy of the heroine in her tarot-themed song "Queen of Swords." The song paints a vivid picture of the fierce and determined female figure represented by the card. Menzel sings, "I can be like a raging storm/Don't go asking me for apologies."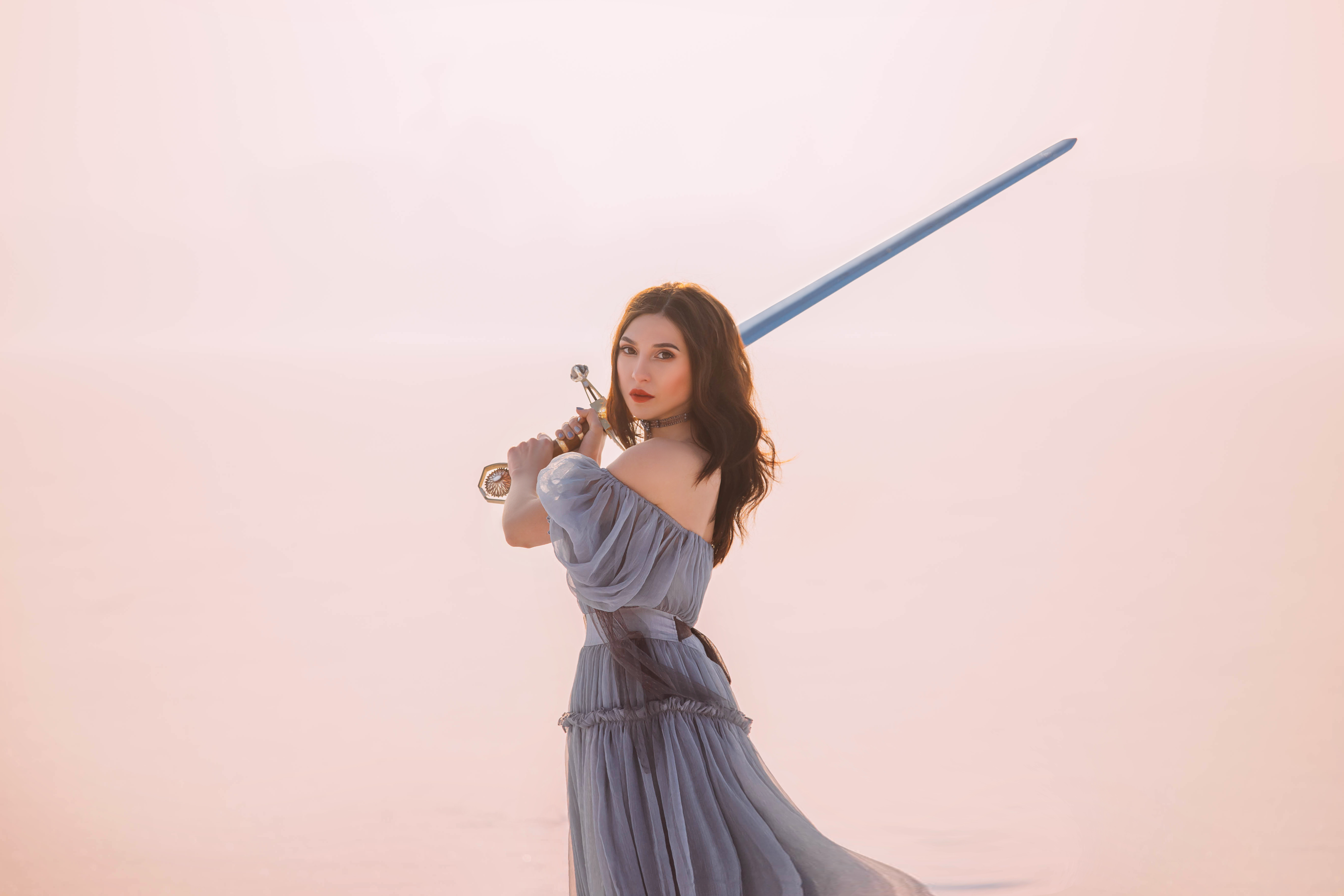 The Queen of Swords represents strength, independence, and authenticity, something that Menzel captures in her lyrics. She speaks to her own inner power, refusing to apologize for her true nature. She recognizes that she can be both delicate and fierce, a reminder to all of us to embrace every aspect of our feminine energy without minimizing ourselves for others: "No way I'm holding back anymore/I'm slaying like the Queen of Swords."
Menzel embraces the power of the queen and encourages others to find their own inner strength as well. The song speaks to anyone looking to take charge of their lives and create the future they desire. With passion and determination, anything is possible. Let Menzel's "Queen of Swords" serve as your battle cry.
5. Five of Pentacles – Shiver and the Shakes
Shiver and the Shakes is a relatively unknown indie band, but they still created an amazing tune dedicated to the Five of Pentacles. The song tells the story of someone with a luckless love life, the object of their desires having none for them in turn. For the artist, their life is like the Five of Pentacles, full of desperation and loss. The simple chorus shows their sense of self slipping away with the lyric, "Must've lost my mind/Tucked away in a jar somewhere."
This tarot playlist track is a powerful exploration of the psychological effects of being in unrequited love. The oppressive atmosphere and sorrowful lyrics evoke the feeling of being stuck in this vicious cycle, which is something most people can relate to. As such, it's no surprise that this song resonates with listeners. The Five of Pentacles has never sounded so beautiful.
6. Seven of Swords – Saint Lavender
Every tarot card has a light and dark side, but the Seven of Swords is largely negative, representing betrayal and deceit. Over guitar strums, Saint Lavender describes the painful separation between herself and the person she thought she knew. She tries to sort of the truth, "And then your tarot card in the morning/pulls fact from fiction/Superstition, oh/Seven of Swords."
Despite its heavy subject, "Seven of Swords" is an easy listen with the feel of a cafe single. Throughout the song, Saint Lavender struggles to reconcile the different sides of her betrayer, wondering if she knew them at all. It perfectly fits the nature of this particular card and the confusion felt when friend turns to foe. These lyrics sum it up the disillusionment best: "I'm pretty sure that's an omen, Oh lord/But who am I to say? And who are you today?"
7. Libra – collete marie
The seventh sign in the zodiac calendar, Libras are often stereotyped as shameless flirts that are indecisive and flighty. Artist collete marie reveals the true nature of the sign in her hypnotic R&B song "Libra."
Ruled by the air element, Libras strive to maintain balance in their lives and the world around them. Even if their moral code deviates from the norm, they follow the rules they've set for themselves diligently. This aligns with the tarot cards in the lyrics, "See me rise like the Empress/Tarot cards told me about Justice."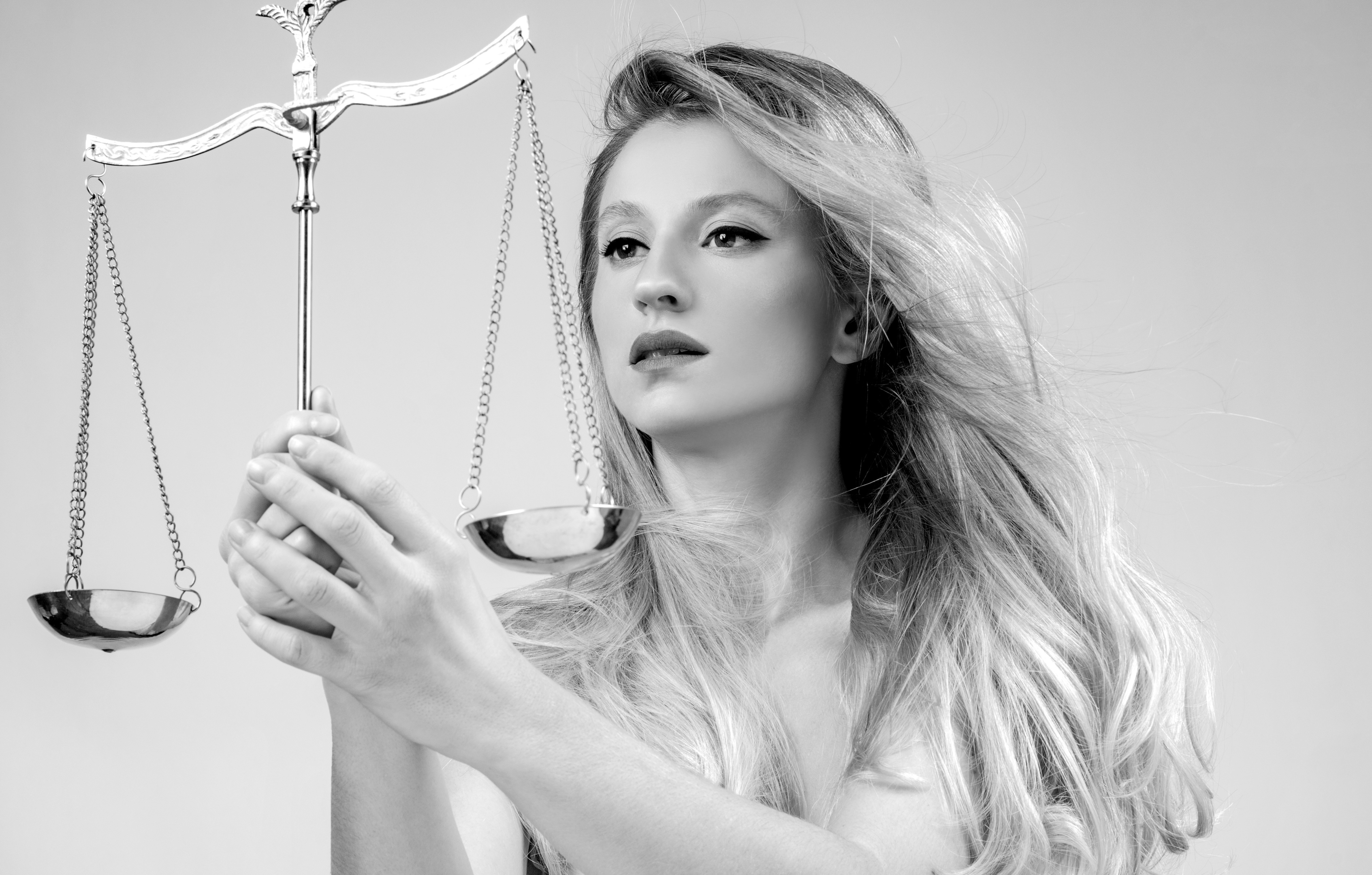 The beauty of the song lies in its ability to capture the intricacies of the balanced scales and the innerworkings of the Libra. Even in moments of pleasure and revelry, Libras are dedicated to speaking their truth. The track embodies liberation and empowerment as it encourages listeners to stay grounded in their own morality.
Finally, Collette captures the inner monologue of the Libra in her lyrics "I don't know anything but to protest/Conformity is useless/Make sure my voice rings regardless/Gotta clean up this mess." It's a fitting tribute for the zodiac sign of harmony and equilibrium.
8. Alone – Doja Cat
The thirteenth track off Doja Cat's third studio album, Planet Her, "Alone" is all about self-love and acceptance. In the song, she talks about an insecure partner that constantly fights with her. Doja realizes that her partner would rather stay in an unhealthy relationship than stand alone, and she resolves that she won't be like him. The song is about learning to be content with being alone, even if it means sometimes feeling lonely.
Doja references tarot cards in her lyrics when she says: "I need a answer, a reader of more tarots." The lyric means that her partner doesn't know his or her needs well enough to move forward. Instead, he would rather bury his head in the sand than deal with his own fears or ineptitude.
Doja concludes, "But bein' lonely better than 'needs control,' cherish it." She doesn't need a tarot reading to tell her she's better off by herself than with a man that can't step up.
9. Hanged Man Reversed (Close 3) – June Henry
June Henry's take on the tarot card, "Hanged Man Reversed," is a soulful ballad about the end of a relationship. Instead of finding the equality and partnership of the Lovers card, Henry realizes that her purpose was to stroke her lover's ego. In her words, "I think you loved me like a picture/Of yourself in the mirror/Flattened reflection/Only there to tell you you were better."
Once the Lovers part, then comes the Chariot, Justice, and later, the Hanged Man card. The Hanged Man is the twelfth tarot card of the Major Arcana and appears midway through the Fool's journey. It typically refers to a time in one's life when they need to surrender to something and let go of what doesn't suit you. When it appears in a tarot spread, it often means that you need to pause and reevaluate your surroundings.
However, the Hanged Man reversed comes when it is time to embrace new beginnings and leave the past behind. Although she finally feels right side up, part of Henry clings to the memories. Lyrics such as "Part of me hopes I don't forget you/I know I have to, with the rest of me" capture the heartache as she trudges on through the arcana. With luck, she'll experience inner transformation as she moves toward the thirteenth card, Death.
10. Greek Tragedy – The Wombats
Next up, another breakup song for the tarot playlist! The Wombats' "Greek Tragedy" is inspired by a line from Wolf of Wall Street and the impending breakup that lead Matthew Murphy was anticipating at the time. The song encompasses the sense of dread that you get when a relationship is headed for an early and tragic demise. Murphy tried to look on the bright side, "the tarot cards say it's not so bad/And the blades rotate; there's just no landing pad," but knew the worst was coming.
In a Greek tragedy, the protagonist always meets a disastrous end, often because of their tragic flaw. In They are simply unable to cope with the things life throws at them, and that theme permeates this indie-rock song.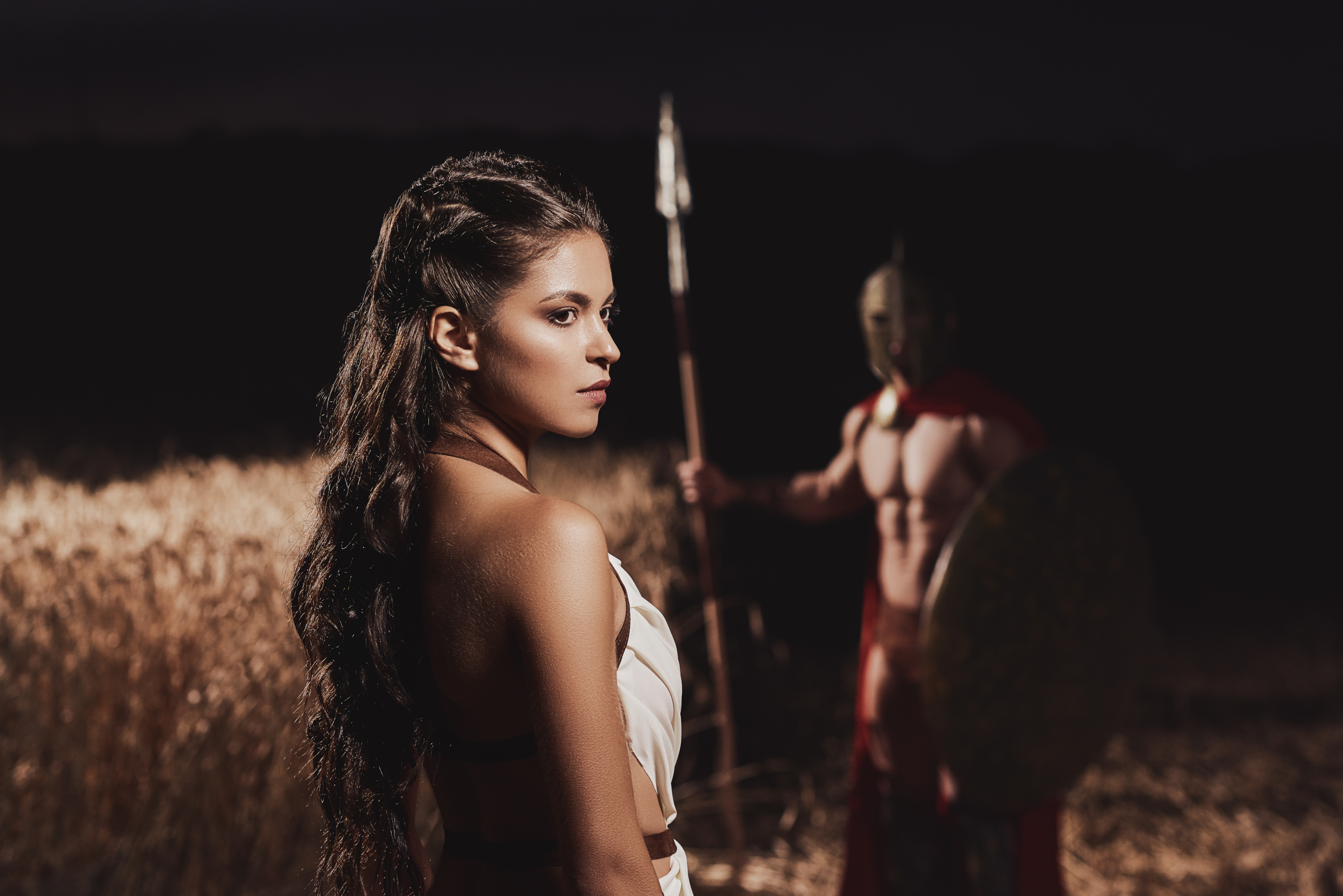 Murphy revealed in an interview that he ended his relationship in London because he met his future wife in LA.
"I hate this feeling, but I love this part/She really wants to make it work and I clearly want to let it start." He was ready to move on but knew there would be tears along the way, embodied in the lyric, "We'll build a water slide as soon as I get home."
The song embodies the complexities of modern relationships, while the outro reflects the bittersweet finality of it all: "So free up the cheaper seats/Here comes a Greek Tragedy."
11. Stay With Me – Faces
This 1971 hit by Faces follows a common subject in tarot music: lusting after the beautiful tarot reader. "Stay With Me" paints a vivid picture of the attraction between the singer and the card reader, who makes it clear that this is an act of passion, not love: "Yeah, I'll pay your cab fare home, you can even use my best cologne/Just don't be here in the mornin' when I wake up, come on, honey."
The singer desires a night with no strings attached and believes the tarot reader has the same intentions. In this sense, the tarot card could represent a temporary escape from reality, where they can both seek solace in each other without overthinking it.
You can just picture this song in the background of a smoky bar as two people meet eyes. It's a classic that'll have you singing along and swaying with the melody, regardless of whether or not you believe in tarot (or causal sex).
12. The Tower – Drama Moth
Good could be found in every tarot card, but the Tower is arguably one of the most dreaded cards in the deck. It signifies destruction, chaos, upheaval, and most importantly, abrupt change. In the case of this metal song, the Tower represents the break of a relationship.
"Paint me as the villain once again/Only evil knows evil, my friend." The artist feels like they're demonized for the chaos in the relationship even though both people are at fault. The lover is afraid of deepening the relationship and going forward, while Drama Moth wants to plunge ahead. The Tower is crumbling just like the walls of their love, shaken by cowardice and anger. As the song comes to an end, it's impossible not to feel the intensity in their voice and understand that change is coming – whether or not they are ready for it.
13. Queen of Wands – The Noisy
"Queen of Wands" is about coming back to yourself after disappearing within a relationship. Often, we lose sight of our individuality when we become part of a couple, sacrificing for the whole. The Noisy takes her power back, singing, I wanted to be sacred to you/But when I left, forgave that moon/I'm an estuary jaw opening/Queen of Wands."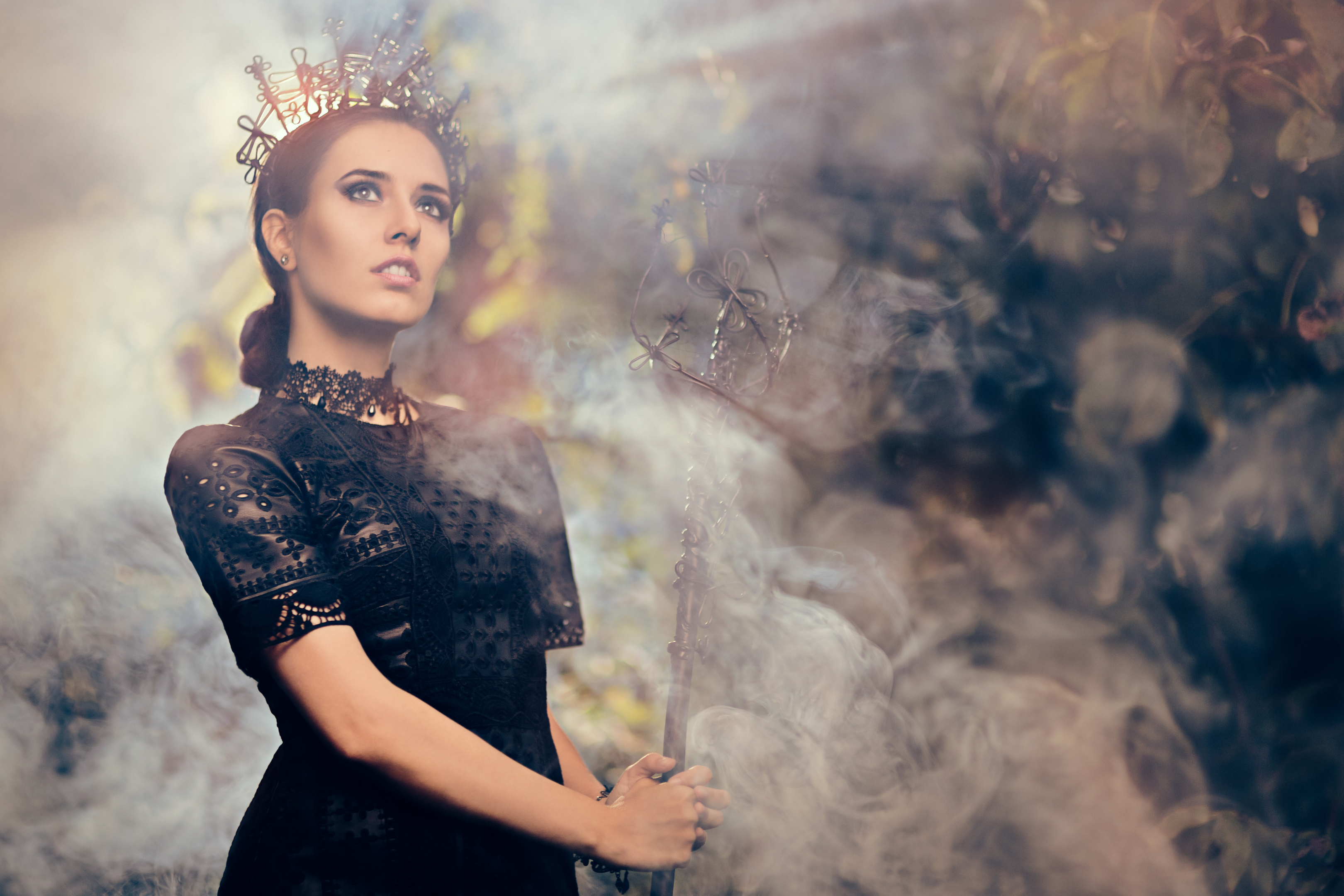 The Queen of Wands is all about positivity and growth. Finally, she recognizes her worth: "I am divine, I am stunning." Truly, "Queen of Wands" is a song of female empowerment, stepping into the flames and claiming your true place. This is clear in the last line: "I am my own fortune."
14. Blackheart – The Keystones
Finishing out our tarot playlist is "Blackheart" by the Keystones, revolving around the dark-souled woman that stomps on your heart and enjoys it. "Blackhearted lover I'm always fending off her hand-me-down attack/Fortune teller with your tarot cards misfortunately stacked."
The singer finds themselves in a chaotic relationship, unable to break away from their lover's malicious actions. Despite the things he loves about her, this "blackhearted" woman deals out misery instead of joy and hope. The odds are clearly against the protagonist who is trying to simultaneously separate from her and get closer.
The final verse spells it all out: "How does it feel to be unreal in my heart/We never grew so far apart." The singer is stuck between hope and despair while their lover keeps playing games with their heart. The song ends with the Keystones obsessively memorizing her, "Blackheart, Black jean, Black hair, Black teeth girl."
More Tunes For Your Tarot Playlist
These 14 songs are sure to get you in the tarot-reading mood. With lyrics that explore different aspects of the cards, from their interpretations and meanings to their power and beauty, these tracks provide a great starting point for your next musical journey into the world of divination and divinatory arts.
The music doesn't end here; we have more songs about Tarot queued to listen to. So plug in your headphones, shuffle the deck, and get ready to feel the power of the tarot.