The Chariot – Keywords
Upright
Victory, success, ambition
Reversed
Forcefulness, powerlessness, coercion
---
"The Chariot Means You Are Racing Toward the Finish Line of Your Dreams"
The Chariot Tarot Card Description
It looks like our Fool is finally growing up and getting some power. The Chariot tarot card is the seventh card in the major arcana, between the Lovers and Strength cards. It generally speaks of travel and motivation.
The Chariot tarot card depicts a figure sitting inside a chariot, pulled by two sphinxes or horses. One sphinx or horse is white, representing the positive or good side; the other is black, representing the negative or bad side. The figure in the chariot holds the reins of the sphinxes/horses, indicating that he is in control of his situation and able to harness the opposing forces in his life.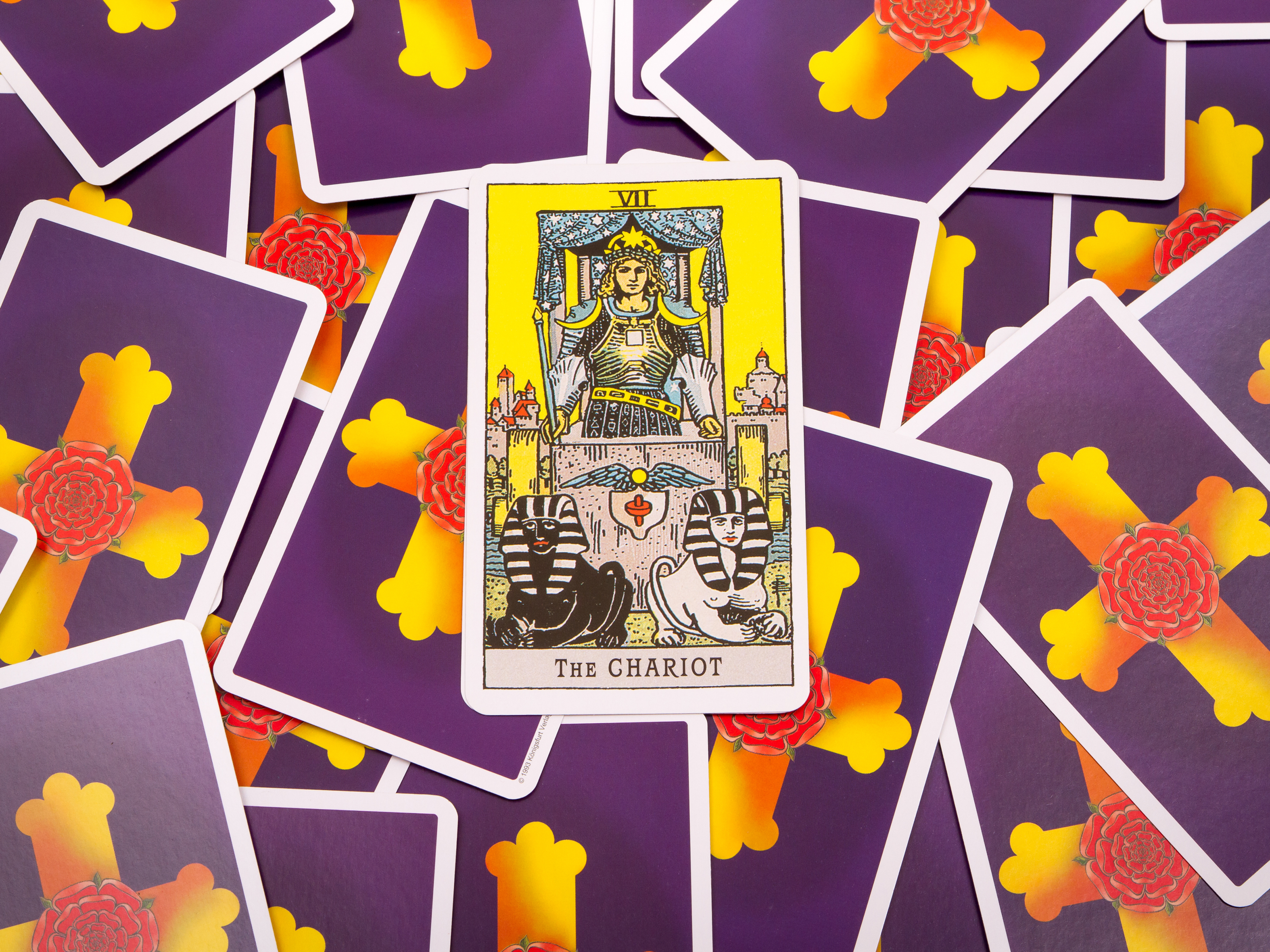 Interestingly, the hood ornament on his chariot doesn't have a rampant steed but a dreidel with wings about it. The Dreidel is a wooden spinning top, its four sides inscribed with letters. These letters form an acronym that reminds the players of the meaning of the holiday.
The initial letters stand for the phrase "a Great Miracle Happened There."
The canopy of the chariot is decorated with stars, symbolizing spiritual guidance or protection. Overall, the Chariot tarot card represents victory, overcoming obstacles, and gaining control.
The imagery on The Chariot tarot card suggests that achieving victory or success in life requires balancing opposing forces or conflicting aspects of oneself. The charioteer is able to move forward toward his goal because he has harnessed both the positive and negative forces, represented by the white and black sphinxes/horses. His control and mastery over these forces indicate discipline, strength, and willpower.
The starry canopy implies that spiritual strength or guidance is also needed to navigate the ups and downs of life. When The Chariot tarot card appears in a reading, it signifies that the querent has the determination and self-control to overcome obstacles and be victorious in pursuing their goals. However, they must draw upon both their positive and negative traits or experiences in order to succeed. The opposing forces in their life can be channeled productively if they take charge of the reins.
The Fool could be in for a wild ride.
| Card | Upright | Reversed |
| --- | --- | --- |
| Seven of Cups | Illusion, Delusion, Mental instability | Insecure, Indecisive, Don't know which way to go |
| Seven of Pentacles | Setting up systems, Waiting for your reward  | Impatience, Stubbornness, Inflexible   |
| Seven of Swords | Thief, Spy, Turncoat | Loyalty, Brotherhood, Tribe |
| Seven of Wands | Defending, Justification | Inferiority, Weakness |
| The Chariot | Travel, Victory, Motivation, Speed | Denial, Unstable, Unrealistic |
---
Upright:
What Does the Chariot Card Meanings Generally?
The Chariot tarot card means it is time to take charge and reach for the stars you can accomplish so much right now! Sit down and make a list of goals and a plan on how to reach them.
Think about what you would do if you could not fail.
The Chariot card means you have the strength and determination to succeed in your endeavors. You have the self-discipline to get the job done. You can balance opposing forces in your life and take control of the reins. You will not be overruled by your animal instincts or ego.
Success and victory are within your reach, but you must take action.
In a reading, The Chariot often suggests that a goal or project is within reach as long as you stay determined and focused. However, you must harness both positive and negative influences or traits to succeed. Spiritual guidance may also be needed to navigate difficulties. The Chariot encourages you to believe in yourself and go after what you desire. Victory will be yours if you show confidence and willpower.
What Does the Chariot Tarot Card Meaning for Love?
In a love reading, the Chariot tarot card indicates a relationship that requires work and commitment to succeed. There may be opposing desires or viewpoints that need to be balanced. Perhaps your personalities conflict or you want different things. However, if you are willing to compromise and find a way to meet in the middle, the relationship can overcome challenges. The Chariot suggests you take control of the relationship and steer it in the direction you want it to go.
Do not let external influences derail your connection. With hard work and determination, love can triumph. Taking control and responsibility for the relationship is necessary. However, if both partners are willing to compromise and find a middle ground, the relationship can overcome challenges. The Chariot tarot love meaning suggests that you have the determination to make the relationship work as long as you're willing to put in the effort. Victory over relationship difficulties is achievable with hard work and discipline.
If you've been questioning yourself about getting into a relationship or advancing the relationship you're in, the Chariot is a sign to strike while the iron is hot. Moving forward with your partner will only help you achieve the goals you have for your life, so long as you're both willing to put in the effort to make it work.
What Does the Chariot Mean In a Career Reading?
When The Chariot appears upright in a career reading, it suggests you have the power to achieve success, especially if paired with the Two of Wands or the Nine of Pentacles. Like a fruit ripe for the picking, you are standing on the verge of a breakthrough. Whatever project you've been working on – research, a manuscript, a sculpture – will soon be complete and your efforts rewarded. If you've been job searching, expect to hear back from a potential employer. Claim your spot as the Achiever you are, and seize the opportunity that awaits you.
This card could also indicate that it's time for a change in direction. Maybe something isn't working out as planned or there's an opportunity for advancing your career.
Remember, the Chariot signifies movement. The wheels do not glide along a defined path but through open land. It is up to you to choose how best to proceed – do not be dejected if you change course along your journey. Sometimes we don't use the degree we earned, or marry the person we thought was the love of our life. Change is a necessary part of the Fool's journey, and embracing it will only improve your career.
What Does the Chariot Mean in a Money Spread?
When The Chariot appears in a money spread, it suggests that you are ready to take control of your financial situation. If you have questions about your career and financial stability, this card is an indicator that all will work out for the best because you will make it happen. You have the ability and drive to make a change for the better. Take responsibility for your actions and claim ownership over your finances.
The card can also be interpreted as an indication of investment opportunities or an inheritance. If you've been wanting to buy property or start a business venture, this card serves as encouragement that now is the time. However, you must take into account any risks involved before making any decisions. This card also reminds us not to be reckless with our money – instead utilize patience and intuition when investing in something new – so that good investments are made rather than bad ones.
What Does the Chariot Mean in a Yes/No Reading
The Chariot upright is a yes card.
Reversed:
What is the Reversed Chariot Card Meaning?
Anxiety creeps into your gut, blurring your senses and wrecking your confidence. When you pull the reversed Chariot from your tarot deck, expect chaos to ensue. Your head and your heart are at war with each other, and unless you can resolve the conflict, you're bound to suffer.
In some renditions of the Chariot card, two horses pull the warrior instead of two sphinxes. When I think of the reversed Chariot, a painful image comes to mind: a criminal, drawn and quartered. Be like the Emperor. Ground yourself and define the course of your life. Otherwrise, work obligations, romantic partners, and family will pull you in different directions until the stress tears you apart.
The reversed Chariot indicates that you're out of control and have lost sight of your goals. This card calls you to take a step back, assess the situation, and take charge again. The reins require tight control if you want to get ahead; if they become too loose, it's difficult to guide your life in the direction you desire. When the Chariot is reversed, take some time for yourself to find inner balance and define what it is you truly want for yourself. Only then will be able to move forward with confidence towards success.
What Does the Chariot Reversed Mean as Feelings?
If The Chariot appears reversed as someone's feelings in a reading, it suggests they are feeling out of control or overwhelmed in their life. They may lack confidence or motivation to make things work. Perhaps they feel powerless against outside influences or inner conflicts. The reversed Chariot could indicate indecision, doubt, frustration, or a lack of commitment. This person needs to find their Strength, confront their fears, and claim ownership over their feelings.
What is the Reversed Chariot Tarot Love Meaning?
When The Chariot appears reversed in a love tarot reading, it suggests a lack of control or direction in the relationship. Perhaps one or both partners are not willing to take responsibility or put in the necessary work. There could be a power struggle, lack of commitment, or inability to balance conflicting desires. As a result, the relationship may be stalled or going around in circles. Like the Hanged Man, you're dangling over the edge, just waiting for the other shoe to drop.
The reversed Chariot encourages you to regain control and decide what you want from the relationship. Unless someone confronts the situation head-on, the connection could fall apart or lead nowhere. Hard work and compromise are needed to get the relationship back on track. Without determination and effort, success will remain out of reach. You will be Lovers no more.
What Does Reversed Chariot Tarot Card Mean In a Career Reading?
When the Reversed Chariot appears in your career tarot reading, you are battling one of the extremes. In the reversed position, one sphinx represents apathy, detachment from the material world, and a lack of self-confidence. The other sphinx represents work ethic that will drive you to exhaustion with its intensity.  The Chariot's reversal implies your ambition (or lack thereof) is harming your career and health.
An obstacle is blocking your path and cutting off any forward momentum. There could be resistance or passive aggression coming from a supervisor or colleague that is hindering your success. The reversed Chariot also suggests you need to find an equilibrium between work and home life, as too much focus on one area can lead to stagnation.
Dedicating yourself too heavily to your career can make it difficult to achieve a satisfying personal life. Investing in both areas equally will bring greater rewards than focusing solely on one aspect of your life. Finally, it reminds us to stay the course and not abandon our goals – but ultimately, it is within our power to decide how to proceed.
What Does the Chariot Reversed Mean In a Money Reading?
The reversed position of the Chariot tarot card in a Money Reading indicates that you may be feeling stressed about your financial situation. You might be struggling to make ends meet or taking on too many financial obligations. It could also signal a lack of control over your finances, and represent careless spending. This card asks that you take a step back and create a plan for making better choices when it comes to money management.
If this card appears in your reading, it's time to reassess how you are dealing with debt. Consider consolidating loans or using credit counseling if necessary. Additionally, find ways to supplement income such as freelance work or side hustles so you can get ahead financially. The reversal warns against rash decisions, so make sure to check in with yourself before committing to anything financially.
What Does the Chariot Mean in a Yes/No Reading
The Chariot reversed is a "no" card. You have no momentum.
Learn More About The Tarot
Explore the rest of the major arcana and check out our other articles!
Major Arcana

| Card | Upright | Reversed |
| --- | --- | --- |
| Fool | Fresh Start, New Adventure  | Poor Planning, Poor Choices, |
| The Magician | Power, Action, Balance | Insecurity, Disorder, Ignorance |
| The High Priestess | Perception, Time, Hidden Truth | Impatience, Stagnationn |
| The Empress | Birth, Abundance of harvest | Neglect, Counterproductive  |
| The Emperor | Power, Fairness, Authority | Cold, Inflexible, Lack of Control |
| The Hierophant | Ceremony, Tradition, Guidance | Hypocrisy, Disillionsioned, Disgrace |
| The Lovers | Love, Blessing, Harmony, Unification | Loss, Shame, Illusion, Hedonism |
| The Chariot | Travel, Victory, Motivation, Speed | Denial, Unstable, Unrealistic |
| Strength | Preparation, self-control, battle of will | Addiction, Abuse of Power, Struggle |
| The Hermit | Enlightenment, Contemplation, Investigation by authorities | Cerebral, Paranoid, Withdrawn |
| Wheel of Fortune | Luck, Cycles, Destiny | Look before you Leap, Prepare |
| Justice | Legalities, Judgement, Truth | Misinformation, Assumption |
| The Hanged Man | Inaction, new perspective | Exoneration, Determination |
| Death | Impermanence, Inevitability | Back to Basics, Rigid, Resistant |
| Temperance | Healing, Harmony, Creative Expression | Waste, Excess, Selfish, Inconsiderate |
| The Devil | Addiction, Abuse, Control | Realization, Relief |
| The Tower | Shock, Upheaval, Weather event | Bailing out, Overreacting |
| The Star | Inspiration, Renewal, Creativity | Exhaustion, Wastefulness |
| The Moon | Lunacy, Intuition, Right timing | Over Emotional, Cognitive Dissonance |
| The Sun | Freedom, celebration, Vitality | Carelessness, Foolhardy, Time Waste |
| Judgment | Relief, answered prayers | Rejection, Cultish behavior, |
| The World | Next level, achievement | Hindsight, more to learn |

These are just quick key meanings for the Major Arcana cards.
You can click any of the names to get a more in-depth analysis of the tarot card meanings in a different context.
Keep forgetting specific Tarot Card meanings?
Visit and bookmark our quick reference guide, made for both beginner and veteran tarot readers.