Seven of Swords – Keywords
Upright
Thief, Spy, Turncoat
Reversed
Loyalty, Brotherhood, Tribe 
Seven of Swords Tarot Card Description
The Seven of Swords tarot card description features a figure carrying five swords, silently creeping away from the camp he's stolen from. Two upright swords stand behind him, partially buried in the earth. The swords may have been abandoned by a careless knight or the thief may have thrown them away after realizing he had taken more than he could handle. Despite his large bounty, no warriors notice him sneaking away from the tents.
This card can represent someone who has chosen to act in questionable ways for their own personal gain, often taking risks without much thought for consequences. It may also signify a person who cannot commit to any cause or group—someone who could potentially be unreliable or untrustworthy.
Yellow dominates the color scheme of this minor arcana card, but it does not symbolize happiness. Instead, it represents traitorous intentions, jealousy, cowardice, and danger. In reference to the Suit of Swords, yellow is also the color of intellect.
---
Upright Meanings
---
What Does the Upright Seven of Swords Mean in a Reading?
Don't turn away, or you'll feel a knife in your back. This is the card of serial cheaters, pathological liars, and controlling narcissists. Although the actions of these individuals may feel like personal attacks, sometimes you were simply a casualty of their end goal.
The upright Seven of Swords appears when someone has acted out of desperation—they may have taken something or betrayed a trust. They don't necessarily have malicious intentions, but their own ambition is more important than the needs of others.
This card can also symbolize the decision to cut ties with those who are closest to you in order to preserve yourself and your interests. To hide any misdeeds, it's likely that this person doesn't want anyone else getting too close. Insecurity and distrust will be key themes here, making it hard for anyone involved to fully trust each other again. For some, they have already crossed the point of no return.
Supporting cards in your tarot spread will provide more context to the Seven of Swords' upright meaning. For example, if you pull the reversed Ten of Pentacles alongside the Swords, it suggests that a family member is deceiving or manipulating you. Consequently, you may consider going no-contact or removing yourself from their life. On the other hand, pulling the Lovers could mean that your partner is entertaining other people or playing games with your feelings.
Clearly, the Seven of Swords has a nasty reputation, but it does have some nicer qualities. The Suit of Swords is like a game of chess, full of moves and counter moves. As the seventh card in this suit, it represents strategy and intelligence. It's up to you to decide whether you will use certain strengths at the expense of others, or if you will walk the path of truth.
Who is the Seven of Swords as a Person?
The Seven of Swords is a sly and calculating individual. They love the challenge of out-smarting other people, whether it's in business or personal matters. Although they may appear to be self-serving, this person goes to great lengths to protect their family and friends. No matter what situation they find themselves in, you can bet that the Seven of Swords has planned ahead for every eventuality.
For the Game of Thrones fans out there, Littlefinger (Lord Baelish) embodies the sharp-minded Seven of Swords. He has no problem betraying Ned Stark to get ahead and even sees it as a strategic move to not only secure his place with the Crown but to position himself closer to Catelyn, Ned's wife. His schemes dominate the books and the TV series, pitting the noble houses of the land against each other to serve his own means. There is only one person Littlefinger looks out for and that is himself.
Distrusting me was the wisest thing you've done since climbing off your horse.

Littefinger, Game of Thrones
What Does the Seven of Swords Mean in a Love Tarot Spread?
In relationships, this card can make for an unpredictable partner who wants complete autonomy. They will guard their emotions closely, never revealing too much about themselves just in case they need to escape later on down the line. In order to get close to them, one must first earn their trust slowly and patiently over time.
Although this minor arcana card could mean that your partner is a logical, careful planner, a more common interpretation is that dishonesty has infiltrated your relationships. Stop ignoring warnings that something is amiss. If your partner is constantly evading questions, that's a red flag.
If you're single and looking for love, this card suggests that it could take some time to find the right person. You may encounter people who don't have your best interests at heart, so use caution when evaluating potential partners. Don't be too eager to jump into a relationship just because you feel empty inside. Take things slowly and make sure they are someone you can trust before committing yourself fully.
What Does the Seven of Swords Mean in a Career Tarot Reading?
This is a dog-eat-dog world, and you're determined not to end up as anyone's meal. The Seven of Swords career meaning is one of ruthless ambition and underhanded plays. At its best, this card means that you are resourceful, intelligent, and driven in your career field. At its worst… well, you aren't the kind of person your coworkers confide in.
With the Seven of Swords in your tarot spread, success is within reach but you will have to play some tricky games in order to get there. This could mean that you need to stay one step ahead of the competition or find a way to outwit those who stand in your way. Be careful not to become so consumed with victory that you forget about your integrity and work ethic.
In addition, this card is warning you against careless gossiping or backstabbing when it comes to office politics. Your colleagues are watching closely and they won't respect someone who constantly seeks revenge or plays manipulative mind games just to get ahead. No pot-stirring allowed.
What Does the Seven of Swords Tarot Card Mean in a Financial Spread?
Your finances are in a precarious state and you need to act quickly if you want to avoid disaster. The Seven of Swords money meaning is one of smart investments with long-term rewards. This card advises you to do your research, ask questions, and make sure that all the facts are on the table before making any commitment.
You could also be dealing with debt or other financial problems, but there's no need to despair. With patience and determination, it's possible to turn things around. If a risky venture presents itself, tread carefully – there's always a chance that it could fail unless you're completely sure of yourself. The same goes for any kind of loan or credit card offer – don't sign on the dotted line until you've read the fine print.
What Does the Seven of Swords Mean in a Health Tarot Reading?
You've been overlooking signs of ill health for a while.  The Seven of Swords' health meaning is one of avoidance and denial. You have a tendency to ignore the warning signs and hope that your problems will just disappear on their own. Unfortunately, this approach will only make matters worse – if you don't address the issue head-on, it could spiral out of control.
It's time to get proactive and take charge of your well-being. The Seven of Swords is the card of self-preservation, so put your mind to work and incorporate healthy activities into your daily routine. Throw a health spread every few weeks to check in.
---
Reversed Meanings
---
What Does the Seven of Swords Reversed Mean in a Tarot Spread?
The Seven of Swords reversed alludes to a plan that is unraveling. Your adversaries see through your tactics, and you need a change in strategy if you hope to achieve success.
Suspect foul play? The Swords suggests that bad behavior will soon come to light. The shadows of the Moon will no longer obscure false intentions from your eye. If someone has done you wrong, the whole town is about to know about it, so sit back and enjoy the work of karma.
The Seven of Swords tarot card also reveals self-deception. You've been ignoring warning signs or keeping secrets from yourself. Perhaps you've shoved down feelings of resentment, lust, or jealousy. Other cards that support this meaning are the reversed Queen of Cups and the Devil card, so keep that in mind when you read tarot spreads.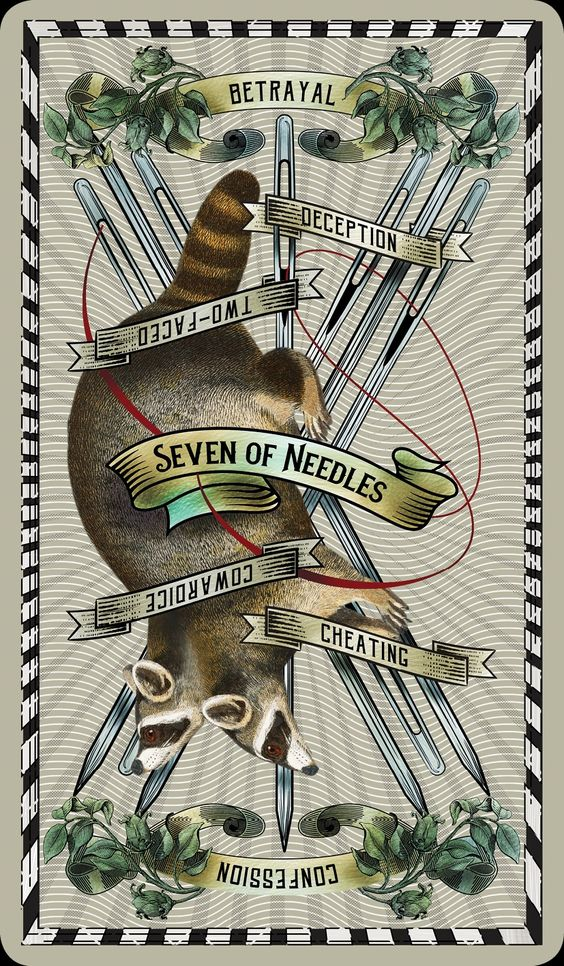 Furthermore, the Swords card reversed appears in your tarot spread when you are ready to take ownership of your misdeeds. The dust has settled, and your conscience kicks in. I think of this as the "apology tour" card. Time passes, and you realize that the effects of your actions matter more than your intentions. The Seven of Swords reversed says you're ready to stop playing games and say goodbye to risky behavior.
Despite its negative connotations, the Seven of Swords isn't all doom and gloom. Another key Swords tarot card meaning indicates that you feel secure in your social spheres. You can speak freely without worry of potential backlash, and you finally feel understood.
In other words, you've found your tribe. Cards like the Three of Cups uphold the idea that your friendships honor and emotionally support you. These could be bridesmaids, sorority sisters, or other female companions. If the Six of Pentacles is paired with the Swords card, it's a sign that your relationships are reciprocal and well-balanced. Make sure that you invite people into your life that prioritize you. No matter the position of the Seven of Swords, self-preservation is key to its meaning.
Who is the Reversed Seven of Swords as a Person?
The reversed Seven of Swords is someone who walks the path of truth. Often, they are described as an open book, their intentions and motivations transparent. Likely, this is someone who is reformed with a history of addiction, infidelity, or criminal behavior. They have the Strength to own up to their mistakes, even if it means facing the consequences.
Think of characters that have a seasons-long redemption arc. These people believe deeply in second chances, justice, and the power of forgiveness. They earn (back) the trust of those around them.
What Does the Seven of Swords Reversed Mean in a Love Tarot Reading?
The Seven of Swords reversed jumps from your tarot cards, and you know that this is a message of hope. In a relationship reading, can signify the end of an unhealthy relationship, and it encourages you to look for a more balanced connection with someone who genuinely loves and respects you.
When this card shows up in your love tarot reading, it could symbolize that you are ready to take back control and move forward without holding on to past hurts or disappointments. It is also a reminder to keep your boundaries secure – don't let others take advantage of your good nature or walk all over your feelings. Be aware of the things you won't compromise on, and make sure that your ideals align with those of your partner. If you don't, you betray yourself.
What Does the Reversed Seven of Swords Mean in a Career Reading?
The Seven of Swords reversed card suggests that you are ready to step up and take control of your career. As a leader, you may be prepared to make decisions with confidence and clarity. You can trust yourself and know that you have the right ideas to move forward successfully.
This card also reflects a sense of ambition, which is essential if you want to move up the ranks or progress in your chosen industry. Trust your gut and look for indicators that you're on the right career path. Don't be afraid to set high standards for yourself and challenge the status quo – there's always room for improvement!
Most importantly, don't let fear hold you back. Cowardice is often associated with the reversed Seven of Swords, and it will not benefit you to hide from your own potential.
What Does the Seven of Swords Reversed Mean in a Financial Reading?
You reap what you sow. Pull the reversed Swords in a financial tarot spread, and know that reckoning is coming. Soon, murky business dealings will come to light. Contract violations, tax evasion, and embezzlement schemes can no longer be ignored. Judgment comes whether someone preyed on you or you cheated a little to get ahead.
On a more positive note, this card suggests that you're getting back on your feet financially. You've stopped making irresponsible decisions and you're starting to take control of your own destiny. Look out for opportunities that offer financial stability and don't be afraid to ask for help if you need it. It's time to move forward with integrity; there's nothing wrong with wanting success, but make sure it comes from honest hard work rather than underhanded means.
What Does the Reversed Seven of Swords Mean in a Health Tarot Reading?
If you've been dealing with health problems, the reversed Seven of Swords tarot card indicates that your luck may be changing. Although this can manifest through an improvement in your overall health, it could also occur through a change in doctor or a first appointment with a specialist. Finally, you'll have more answers than questions.
The Suit of Swords represents your voice and your mind. Therefore, you will feel heard when it comes to your health. Additionally, your mental health could be on the mend, especially if you have started therapy or medication. If the Nine of Cups appears alongside the Swords card, that is an even stronger indicator that your healing journey has truly begun.
What Does The Seven of Swords Tarot Card Say about Timing in a Tarot Reading?
The Seven of Swords indicates that the situation in question takes place during Aquarius season or the months of Autumn. Alternatively, it can occur during/after a period of seven weeks.
Is the Seven of Swords Tarot Card Meaning a Yes or a No?
This Swords card is a hard "no."
Questions For the Seven of Swords Tarot Card
What red flags am I overlooking?
Am I being honest with myself?
Who is deceiving me?
What strategies do I need to change?
Who do I owe an apology?
Check Out These Tarot Card Meanings
There are more tarot card meanings to explore. Keep reading our other articles to learn more about tarot cards and the messages they are trying to tell you.
Suit of Swords

| Card | Upright | Reversed |
| --- | --- | --- |
| Ace | Initiative, Clarity, Focus | Boredom, Insecure, Shy |
| Two | Denial, Impasse, Decisions | Conflicted, Information Overload, Action |
| Three | Heartbreak, Betrayal, Cardiovascular Issues | Following Your Passion, Faith, and Strength from Suffering |
| Four | Rest, Peace, Isolation, Meditation | Refusal, Anxiety, Exhaustion |
| Five | Bullying, Ego, Entitled | Moral Rebellion, Conflict Resolution, Grudges |
| Six | Moving Away From Battle, Seeking Calmer Waters | Procrastination, Passive Aggressive, Wrong Place/Wrong Time |
| Seven | Thief, Spy, Turncoat | Loyalty, Brotherhood, Tribe |
| Eight | A Prison of Your Own Making, Jail, Self-Pity | Integrity, Standing For What You Believe In |
| Nine | Obsessing, sleepless nights, regret | Spirituality, Revelation, Learning from the Past |
| Ten | Health issues, Exhaustion, Surrender | Hope, Acceptance, Renewal |
| Page | Clear Communication, Curiosity, Thoughtfulness | Irritable, Inexperienced, Unwanted. |
| Knight | Quick Wit, Overbearing, Crusader, Tunnel Vision | Unreliable, Aggressive, Perverse, Abrupt |
| Queen | Honesty, Assurance, Refined, Discerning | Ice Queen, Distant, Cruel |
| King | Strength, Determination, Professionalism | Psychopathy, Abuse of Power, Poor leader |