October is in full swing, and that means that Halloween is just around the corner. For some, this is a night of mischief and candy, but for others, it's a night to delve into the unknown. If you're someone who loves all things spooky and mystical, then you may want to try out a Halloween tarot spread. Let's take a closer look at the origins of this ancient practice and beloved holiday, and how you can use a Halloween tarot spread to discover your fate.
The Origins of Tarot
Tarot cards have been used for divination purposes since the 15th century. They originated in Italy as playing cards, but eventually evolved into a tool for fortune-telling. The typical tarot deck consists of 78 cards, divided into two categories: the major and minor arcana.
The major arcana is made up of 22 cards that represent major life events and spiritual lessons. These cards are associated with strong energies and often symbolize important decisions or turning points in one's life. The minor arcana, on the other hand, consists of 56 cards divided into four suits: cups, pentacles, swords, and wands. These cards focus on everyday experiences and emotions.
The Spiritual Significance of Halloween
Halloween is more than scheming witches and ill-fated black cats, it also has a spiritual significance. It is believed that on Halloween night, the veil between our world and the spiritual world is thinnest, making it easier to communicate with spirits and seek guidance from them.
Pagans refer to this time as Samhain, a celebration of the end of the harvest season and the beginning of the darker half of the year. It is also seen as a time for reflection, introspection, and honoring loved ones who have passed away. Although Halloween is a more commercialized holiday, the spiritual roots of Samhain are still recognized and celebrated by many. With a little tweaking, many of our Halloween spreads can easily become a Samhain tarot spread.
How to Lay a Halloween Tarot Spread
Now that you know a bit about the origins of Tarot and the significance of Halloween, let's discuss how you can do your own reading. Follow these steps to perform a Halloween tarot spread:
Set the Scene: Find a quiet and comfortable place to do your reading. Light candles, burn incense, or play eerie music to set the mood.
Shuffle Your Cards: Take a few moments to shuffle your tarot deck while focusing on the questions you want to ask.
Choose Your Spread: Pick a Halloween spread that resonates with you or create your own based on your intentions.
Lay Out the Cards: Place the cards in the designated positions for your chosen spread.
Interpret the Cards: Begin by looking at each card individually and then consider how they relate to each other. Use your intuition and any guidebooks for guidance.
Reflect on Your Reading: Take some time to think about the messages you received and how they apply to your life.
Close the Session: Once you feel complete, thank the spirit guides or deities you called upon and blow out any candles or incense.
Halloween Tarot Spreads
For those who love Tarot, Halloween is the perfect time to break out a new tarot deck and commune with your higher self. With these Halloween tarot card spreads, you can spice up your costume party or uncover the ghosts of your past. Take a look at these spreads and know you're in for fun – or a fright!
"Trick or Treat" Spread: This spread is perfect for those who are looking for a little bit of fun and mystery. Using only three cards, it reveals what trick (challenge) or treat (blessing) the future has in store for you.
"Haunted House" Spread: This spread is great for diving into the unknown and uncovering hidden fears or desires. It consists of five cards placed in a cross formation, with the center card representing your current state and the surrounding cards depicting what may be haunting you.
"Witches' Brew" Spread: This spread is all about embracing your inner witch and tapping into your intuition. It uses six cards to represent different ingredients in a witches' brew, including love, money, health, etc. The combination of these elements will give you a holistic view of your current situation and what to focus on in the future.
Trick or Treat Spread
This a great spread for those wishing to see what sweet gifts life has to offer. The layout also provides insight into the obstacles in your path. Keep in mind that there are no "scary" cards. Instead, think of them as challenges or lessons to be learned.
Position Meanings:
Trick – What challenge are you facing?
Treat – What blessing is coming your way?
Overall Outcome – How will these two factors play out in the end?
Haunted House Spread
This spread is designed to help you face any fears or obstacles that may be holding you back. The cards are read from left to right, with card one representing the past and each subsequent card representing a different aspect of your present situation.
Position Meanings:
Past Haunts – What events or situations are still affecting you?
Current State – What is the current state of your life?
Fearful Desires – What are you afraid to want?
Uninvited Guests – What negative influences are present in your life?
Future Haunts – What may be waiting for you in the future if you don't address these issues?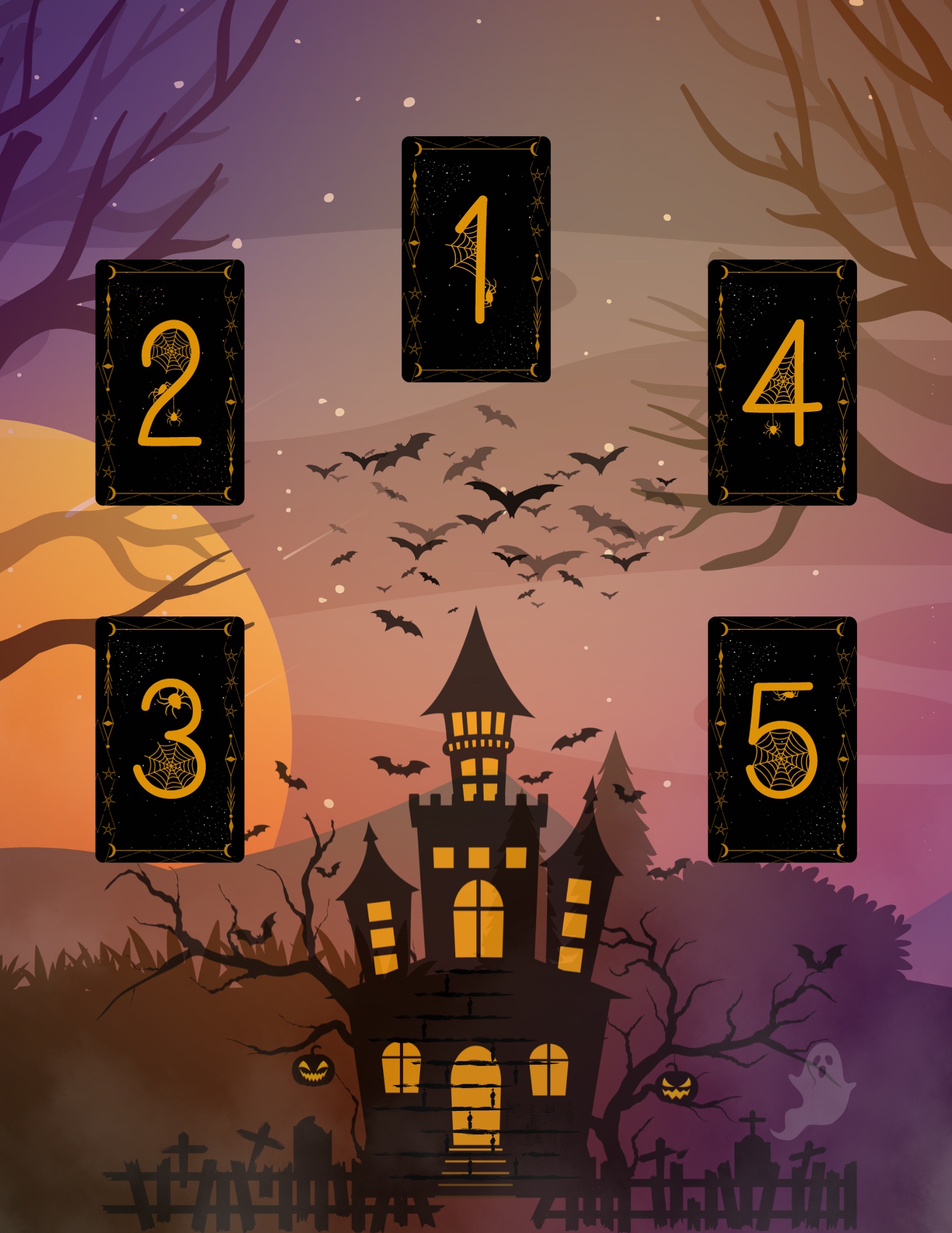 Witches' Brew Spread
This spread is all about taking control of your own fate and using the energy of Halloween to manifest your desires. The six cards represent different aspects of your life and the final outcome card reveals what you can expect if you continue on your current path.
Position Meanings:
Mind – What is on your mind?
Heart – What is in your heart?
Body – How is your physical health?
Spirit – How are you connecting with your spirituality?
Wealth – What is your financial situation?
Magic – How can you use your own magic to create the future you desire?
Final Outcome – What will be the result if you take action on these aspects of your life?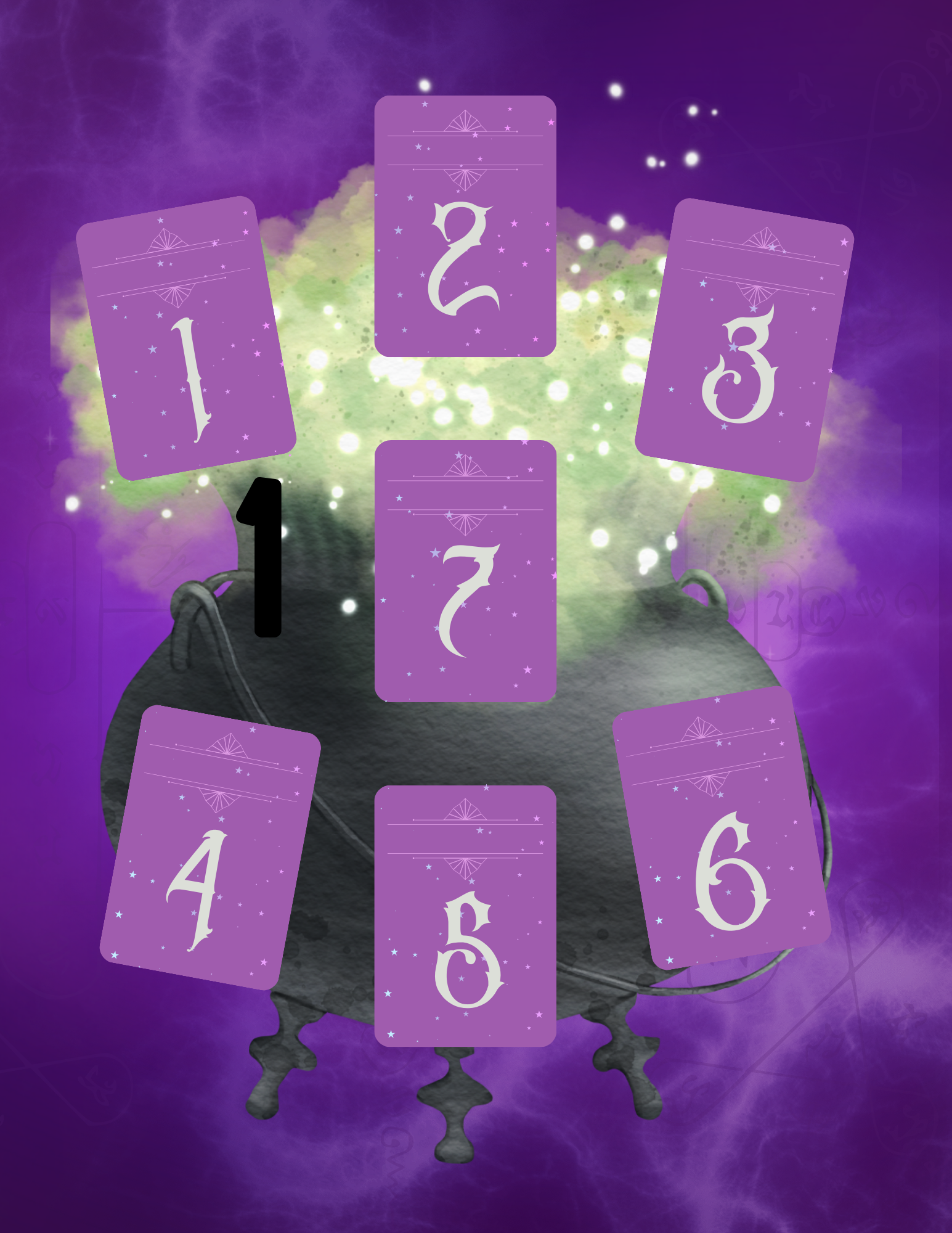 Celebrate Halloween with Tarot Readings
Halloween tarot spreads are a fun and insightful way to connect with the spiritual energies of this holiday. Whether you are looking for a little bit of fun or seeking deeper guidance, these spreads can help you tap into your intuition and receive messages from the spirit world. Remember to always trust your own instincts when interpreting the cards and have fun with it! Happy Halloween and blessed Samhain to all.
Ready to bid farewell to 2022 and welcome 2023 with open arms? What better way to celebrate the New Year…