Ready to bid farewell to 2022 and welcome 2023 with open arms? What better way to celebrate the New Year than with a year-ahead tarot reading! Like all great tarot readings, this spread will give you insight into your days ahead. Take a few moments to focus on what matters most in your life and prepare yourself for a fortune-filled 2023!
Why You Should Use a New Year Tarot Spread
This New Years Tarot Spread gives you a chance to take a closer look at the upcoming year and gain insight into what it may have in store for you. It allows you to clear your mind about the past year and focus your intentions on the coming year. When you understand the obstacles and challenges you'll be facing, you can plan ahead for the new year.
The New Year Tarot Spread is also a great holiday tradition. It's actually one of my favorite tarot spreads and has given me a lot of good insight throughout the years. I've been throwing this spread for myself and my friends for four years now, and it's a nice way to embrace the new beginning that the next year brings.
Getting Started
To start this reading, gather up your favorite tarot deck, put on some music, and get comfortable. Take some deep breaths and reflect on your last year. No doubt, you've faced many ups and downs as you navigated the seasons. Acknowledge the work you've put forward and the lessons you've learned, and let go of the rest.
Next, think about what you want from your life moving forward. Every new year is a fresh start, and you have new opportunities to make the new year better than all the past years you've experienced. Ask the tarot cards for guidance and shuffle your tarot deck.
After shuffling and cutting the deck three times, draw thirteen cards from the top. Set them out one by one in the following formation: the first card is placed at the top of the circle, followed by the next 12 tarot cards in a clockwise direction. Then, once the circle is completed, place the thirteenth card in the center.
I like to wait until I've fully laid my spread before I turn over my cards, but you can do whatever feels right to you. If you're already experienced in the Tarot, you'll likely see recurring cards and themes in your New Year Tarot Spread. Let's get into what the specific cards represent.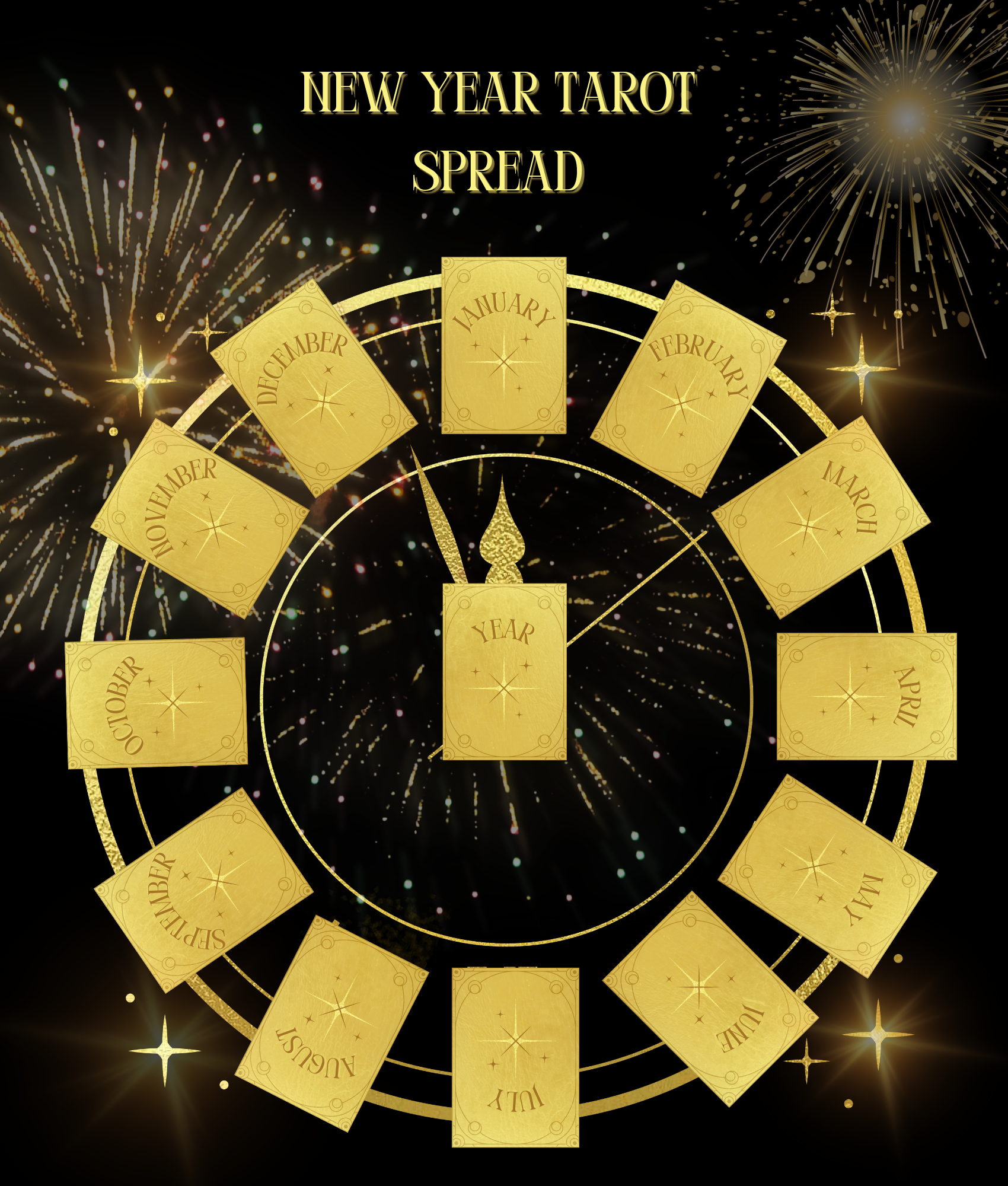 Monthly Card
The first twelve tarot cards in the New Year's tarot spread represent each month in the year. Each tarot card you pull reflects a theme or challenge you will face during that month.
However, a single card can't always give us the full picture of how our month will go. As a rule, I like to review my New Year tarot spread on the first of each month and do a clarity reading. This helps me get more information and focus my intentions for the month.
As an example, I pulled the reversed Hierophant tarot card for the month of December last year. This has always been a negative card for me, but I wasn't surprised when I felt rebellious and rejecting of conventional family standards when the holiday season rolled around. Often, the tarot cards tell us what we already suspect to be true. Some people believe the cards workbecause of the energy we put into them, while others believe they work by tapping into the collective unconscious. Either way, you get good advice when you lay a tarot spread.
Whole Year Card
The final card in the New Years Tarot Spread will be your theme for the year. This will be the predominant challenge or determining attitude that you carry throughout the year. As someone whose 2022 theme for the year was the reversed Seven of Swords, don't be discouraged if this card seems outright negative. There is always something to learn from this card.
If you want more information about the new year, you can also try our Year Ahead tarot spread. Instead of pulling thirteen cards, you'll pull seventeen. This way, you will learn about four other prominent themes throughout your year.
New Year Tarot Spread Interpretation
Once all your cards are laid out, take some time to interpret what each card is trying to tell you. Look at how they relate to each other — Is there a particular card that stands out? Do any cards appear together? I can often find connections between consecutive months. For example, if I pulled the Ace of Wands for February and then the Six of Swords for March, I could interpret the two cards as a new opportunity gaining traction through the months.
Additionally, I take note of the suits that appear most frequently. I also consider how those suits relate to me personally. My sun sign is Libra and my moon sign is Aries, so I often feel a stronger connection to the Suit of Swords and Suit of Wands, which share the elements of air and fire. However, every reader has a unique relationship with the Tarot, so another suit may appeal to you or appear for you more.
Another thing I look at is what arcana the cards belong to. The major arcana deals with overarching, longstanding themes or situations. I think of them like a forest, vast and long-lasting. In order to appreciate the forest for what it is, I put forward much effort and time to properly explore it. The minor arcana is like a flower, here for a moment before it wilts away. It does not carry the weight that the major arcana does, but the cards within it are just as important and can be powerful in their own ways.
The last thing I do with my New Year Tarot Spread is look for cards that tend to pop up in my other readings. In life, we often experience recurring patterns, especially if there is a lesson we need to learn. Our personalities also influence what themes appear. It's no wonder a handful of cards seem to keep throwing themselves at me – clearly, they have something to say.
Take the Tarot into the New Year
As 2023 approaches, take a moment to reflect on what you want for yourself in the coming year. With this New Year's Tarot Spread, you can gain insight into what may be ahead and prepare yourself for whatever twists and turns come your way. Here's to a magnificent 2023 filled with joy and prosperity! Cheers!