Page of Swords Tarot Card – Keywords
Upright
Clear Communication, Curiosity, Thoughtfulness
Reversed
Irritable, Inexperienced, Unwanted
Page of Swords Tarot Card Description
Look to the Page of Swords, and you will see a heroic young man standing on a hillside as he looks determinedly into the distance. He is poised for action, his hands wrapped firmly around his sword, his feet in position. The young man's hair blows in the wind. It is indicative of the air sign that rules this card and the swirling energy of youth.
This is a card that illustrates movement and dynamism both through the man's appearance and his environment.
The Page's waist bends at an angle. He is flexible and moves with grace. In the background, the wind pushes the clouds across the blue sky and toward a newer world. Underneath the page's feet, the earth is green and flourishing. It symbolizes fertile ground for new ideas, intellectualism, and interpersonal communication.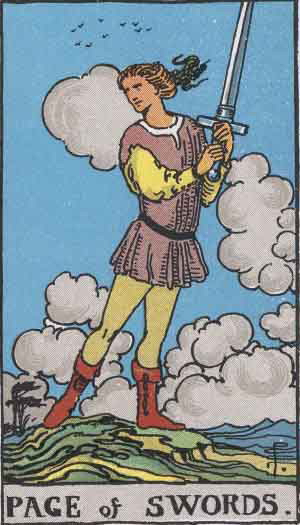 Upright Page of Swords Tarot Card Meanings
The Page of Swords in an upright position is a card that represents the need for clear communication and swift action. It speaks to moments when you must be decisive and take ownership of your ideas. The Page also stands for being proactive by voicing any difficult conversations or opinions in order to get ahead.
The individual represented by this card typically has a sharp wit, a bright mind, and strong intuition. The Page of Swords is often seen as someone who speaks their truth without hesitating or worrying about what other people think.
If this court card represents the querent in a reading, it means that there is an innate curiosity within you to under how the World works. You are constantly archiving and absorbing the information around you. The Page of Swords encourages this thirst for learning, and it emphasizes knowledge of the self.
Situationally, the Page of Swords speaks of a new project, a new relationship, or a new job on the horizon. The upright position of this card implies that you have the mental agility to conquer the challenges of these events.
Page of Swords as a Person
Court cards can represent abstract concepts, but they can also serve as archetypes or symbolize actual people in your life. The person represented by the Page may be an apprentice in their field — someone young who is eager to learn and take action.
The Page of Swords as a person tends to be straightforward or blunt with their words. They don't hesitate to express their opinions or thoughts. They might also come off as judgmental or condescending, but this isn't always the case. It can just depend on the situation and how they're feeling
Page of Swords – Tarot Love Meaning
The upright Page of Swords represents the initial stages of romance. It symbolizes the first moment of interest, the positive appraisal, the subtle flirtations. Something in your brain clicks, and that's when it hits – the desire to know. This potential lover is a mystery you crave to unravel.
Curiosity takes hold, and within the hour, you're on his mother's best friend's niece's Facebook post from two years ago. That is what the Page brings to a love reading.
Pages signify energy, youth, fascination, and new ideas. As such, its tarot love meaning extends to the puppy love phase of a budding romance. During this period, the Lovers rarely leave each other's side. Together, they map the stars of their lives, exploring hopes, fears, and dreams. The Page of Swords reminds us that this kind of enthusiasm and curiosity should not be taken lightly — it is the force that propels us to discover what we cannot see.
Pages in the Tarot

| Card | Upright | Reversed |
| --- | --- | --- |
| Page of Wands | Artistic, Travel | Lazy, Fickle, Snobby |
| Page of Swords | Clear Communication, Curiosity, Thoughtfulness | Irritable, Inexperienced, Unwanted |
| Page of Cups | Confident, Insightful, Spiritual, Sensual | Ostracized, Disconnected, Disappointed |
| Page of Pentacles | Service, Idealism, Travel | Emotionally Tone Deaf, Self-involved |
Page of Swords – Health Meaning
The upright Page of Swords card is for first-timers that are learning ways to better take care of their bodies. Often, it appears in a health tarot reading when someone begins a new diet, takes up boxing classes, or alters medications.
This card also has a more general connection to bodily development and processes. It can be used to describe someone who is still developing, such as a young toddler or adolescent.
It can also represent physical recovery from an illness, trauma, or surgery.
In this context, the Page is a card of transitions. Its energy encourages us to listen to our bodies and recognize when we need rest and when we're ready to move forward. This transition can be emotional as well as physical. The Page of Swords urges you to be honest with yourself and take control of the healing journey.
Page of Swords – Financial and Career Meaning
In a financial tarot spread, the Page of Swords upright meaning pertains to someone with an aptitude for financial planning, budgeting, and investments. Even though they are just starting out, they have the potential to rise to the top and create generational wealth. The Page of Swords card is a good sign if you have recently opened a bank account or purchased your first stock.
In a career context, this card symbolizes starting again, gaining new skills, and adapting to changing environments. It is a reminder that one must be flexible in order to stay competitive and successful. In order for you to move forward, you must be brave enough to take risks and think of innovative ways to solve problems.
The Page is an imploring card that encourages us all to use our intellect and courage in order to make improvements in our lives. However, it warns us against weaponizing our quick wit at the expense of others.
Page of Swords Reversed Meaning in a Tarot Spread
When reversed, the Page of Swords is a warning card that signifies confusion, impulsive behavior, and careless talk. It can mean that someone is suppressing their own ideas in order to fit into a certain group or is not trusting their intuition.
Pages are the messengers of the Tarot, and their reversed position belies difficult or challenging communication. Unfortunately, you may soon be on the receiving end of disappointing news. Rejections, gossip, and misunderstandings are all possibilities.
Empty words can easily fill a room with tension and stress. This card advises you to be aware of your own words as well as those of others. Instead of speaking out of impulse or frustration, be mindful and choose your words carefully.
Lastly, the reversed Page represents situations that challenge your integrity. You may be tempted to act out of convenience instead of doing what's right. This card serves as a reminder to stay true to yourself and your beliefs, even when faced with difficult choices.
Reversed Page of Swords as a Person
Despite their lack of experience, the reversed Page comes across as a total know-it-all. They are convinced that their ideas and opinions are the right ones, even if they don't have much evidence to back them up. In conversations, they can be overly critical of others and come off as arrogant or smug.
This person also suffers from a lack of focus or direction. They are constantly shifting from one thing to another without settling down. Long-term commitment is a no-go. While this gives them an opportunity to explore a variety of topics, it can also lead to half-hearted efforts and unfinished projects.
Page of Swords Reversed – Love Meaning
Although there is nothing wrong with preferring logic over emotion, the reversed Page of Swords suggests an internal disconnect between the head and the heart. Someone in your relationship prioritizes thinking over feeling, leaving no room for softness or warmth. This can be a sign of miscommunication or a lack of understanding between you and your partner.
An element of the past is interfering with your relationship. When this minor arcana card appears in your love tarot reading, it indicates suppression in one or both partners. It is possible that one partner dominates the other. A parent may also be overinfluencing or giving unneeded advice in their child's love life. Nervous energy abounds, and you can't shake the feeling that someone is playing mind games.
Societal or religious expectations may be at the heart of romantic suppression. You may feel inexperienced or unsure of how to express your affections or sexuality. For those in the very early stages of dating or marriage, the Page of Swords reversed also represents the awkwardness of finding your footing and learning the other person. Remain patient with yourself and your partner as you navigate love together.
Page of Swords Reversed – Career or Financial Meaning
Unsolicited calls, negative financial news, and all kinds of delays are all signs that the reversed Page of Swords is present in a financial or career tarot reading. This is a card that can signal financial instability, overly-ambitious investments, and poor spending habits.
It could mean that you are taking on too much risk without considering the consequences. On the other hand, it might indicate an unwillingness to take risks and try new things. If this is the case, you will need to make some changes in order to move forward.
The reversed Page of Swords can also signify that you are not taking advantage of all the resources available to you. Not putting in the effort or asking for help could be holding you back from reaching your full potential.
Page of Swords Tarot Card Reversed – Health Meaning
There is a disconnect between your mind and body. Possibly, you are so preoccupied with your emotional baggage that your mind cannot process anything else. Physical sensations are dulled and waning. You may forget to eat or drink.
In a health tarot spread, the Page says that your stress manifests through aches, pains, and fatigue. Impatience means you push too hard, too fast. It's important to note the signs of physical exhaustion before they become severe.
The reversed Page of Swords card can also refer to an inability to make decisions or take action. This could lead to serious health risks, as procrastination has been linked with higher stress levels and further complications. It is important to take your physical health seriously even if the mind is occupied with other matters.
Page of Swords Tarot Card – Timing Meaning
In a question about timing, this tarot card signifies the Winter months or a period or delay of 11 weeks. Although this event will test your patience, you will learn a valuable life lesson once it is complete. Open your mind to new possibilities and try to take advantage of the opportunities that will come your way.
Air signs reign over the Swords Suit, and Gemini rules the Page. As such, the answer to your question may come during the warm days of May 21st through June 21st.
Page of Swords Tarot Card Meaning – Yes or a No
The Page of Swords says "yes" to new experiences and relationships!
Questions For the Page of Swords Tarot Card
What can I do to restore trust in relationships that have been damaged by a lack of understanding?
How can my curiosity benefit me?
Who sparks my intellectual interest?
What makes up for my lack of experience?
How can I stay humble in the face of success?
More Tarot Card Meanings
The Page of Swords tarot card represents the individual's capacity to learn, explore, and think critically. It encourages a thirst for knowledge and emphasizes the importance of staying humble in the face of success. The reversed Page warns against taking on too much risk without considering the consequences. With patience and analytical thinking, you will be able to get through any challenge that comes your way.
For more information on tarot cards, read more of our blog for up-to-date knowledge and news about all things related to tarot readings.
Suit of Swords

| Card | Upright | Reversed |
| --- | --- | --- |
| Ace | Initiative, Clarity, Focus | Boredom, Insecure, Shy |
| Two | Denial, Impasse, Decisions | Conflicted, Information Overload, Action |
| Three | Heartbreak, Betrayal, Cardiovascular Issues | Following Your Passion, Faith, and Strength from Suffering |
| Four | Rest, Peace, Isolation, Meditation | Refusal, Anxiety, Exhaustion |
| Five | Bullying, Ego, Entitled | Moral Rebellion, Conflict Resolution, Grudges |
| Six | Moving Away From Battle, Seeking Calmer Waters | Procrastination, Passive Aggressive, Wrong Place/Wrong Time |
| Seven | Thief, Spy, Turncoat | Loyalty, Brotherhood, Tribe |
| Eight | A Prison of Your Own Making, Jail, Self-Pity | Integrity, Standing For What You Believe In |
| Nine | Obsessing, sleepless nights, regret | Spirituality, Revelation, Learning from the Past |
| Ten | Health issues, Exhaustion, Surrender | Hope, Acceptance, Renewal |
| Page | Clear Communication, Curiosity, Thoughtfulness | Irritable, Inexperienced, Unwanted. |
| Knight | Quick Wit, Overbearing, Crusader, Tunnel Vision | Unreliable, Aggressive, Perverse, Abrupt |
| Queen | Honesty, Assurance, Refined, Discerning | Ice Queen, Distant, Cruel |
| King | Strength, Determination, Professionalism | Psychopathy, Abuse of Power, Poor leader |