Eight of Swords Tarot Card – Keywords
Upright
A Prison of Your Own Making, Jail, Self-Pity
Reversed
Integrity, Standing For What You Believe In
Eight of Swords Tarot Card Description
In this minor arcana card, a woman stands with her hands tied, eight swords surrounding her. Not only is the woman bound, but she is also blindfolded, which represents feeling trapped in one's situation. The grey sky represents her sadness and desolation as she trembles in the mud. Unfortunately, she has no safe place to land.
The misery of the Eight of Swords is often caused by an outside force. The rocky fortress on the hillside symbolizes the oppressor, and the swords indicate boundaries that are put up to prevent the woman from finding freedom. The key message here is to be mindful of people or situations that can limit your growth and progress.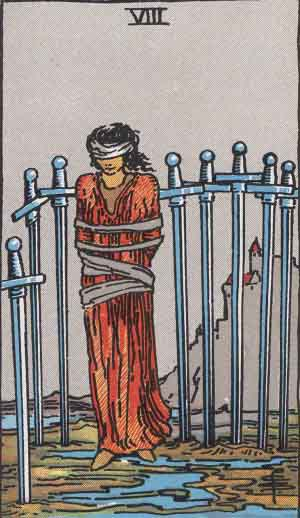 Upright Eight of Swords Tarot Card Meanings
If you pull the Eight of Swords card from your tarot deck, ask yourself if your perception aligns with reality. Recent fights with friends, disagreements at work, and bad fortune in love are valid frustrations, but a victim mentality may hold you back.
Often, mental blocks hinder us more than we realize. Self-limiting beliefs make you feel trapped in your current situation. People that struggle with compulsivity, depression, and other mental health issues are represented by this card.
The general meaning of the upright Eight of Swords alludes to an abusive relationship, mental prisons, and feeling helpless. An unhealthy relationship can be between you and your partner, family member, or even yourself. Negative self-talk is just as damaging as verbal abuse from another person.
Eights in Tarot symbolize movement, resilience, and achievement. The Eight of Swords tells the story of the underdog, a person who meets serious obstacles in their journey to true happiness. Whether this story ends in defeat or triumph is entirely up to us.
Eights in Tarot

| Card | Upright | Reversed |
| --- | --- | --- |
| Eight of Swords | A Prison of Your Own Making, Jail, Self-Pity | Integrity, Standing For What You Believe In |
| Eight of Cups | Transition, Walking Away, Travel, Seeking New Opportunities | Rejection, Confusion, and Running Away Will Only Make it Worse  |
| Eight of Wands | Messages, Aim | Discord, Frustration |
| Eight of Pentacles | Creativity, Passion Project, Efficiency | Obsessed, Reclusive, Nutty professor  |
| Strength | Preparation, self-control, battle of will | Addiction, Abuse of Power, Struggle |
As with all cards in the Suit of Swords, the experience begins and ends in our minds.
Eight of Swords as a Person
The Eight of Swords is a person who feels completely powerless and unable to make decisions. They know that they need to break free from what has tied them down, but something holds them back from taking action. This individual knows the truth deep in their heart but lacks the courage to do something about it. They are always questioning themselves and second-guessing their actions.
The Eight of Swords' fear of change is so deeply rooted that they will stay stuck in unhealthy situations even if it means compromising their happiness and freedom. They may have experienced a traumatic event or felt betrayed by someone, and this has caused an emotional wound that hasn't yet healed.
Eight of Swords – Love Meaning
We often ask the Tarot questions that revolve around our love life. The Eight of Swords appears in a love tarot spread when we are in an unhappy or abusive relationship.
This card cautions us to recognize the signs of a toxic relationship, even if we don't want to face them. Pay attention to how your friends and family react to your partner. Personality differences can lead to tension, but if everyone in your life seems against your so-called soulmate, that is a red flag for your relationship.
People who have been hurt in the past may be hesitant to break free from these bonds, but it is essential for emotional healing and personal growth.
Take the blindfold off and see what's really happening. Love isn't easy, but it shouldn't be a source of constant pain either.
The Eight of Swords symbolizes mental limitations that stop us from finding true love. You may be staying with your partner out of loyalty instead of love, or perhaps you've grown comfortable in half-measures and lifeless conversations.
Alternatively, the Swords card implies a single person is avoiding emotional connection and hindering their own chance at love.
If you are scared of taking risks and putting yourself out there, start by working on self-acceptance. You deserve love just as much as anyone else.
Eight of Swords – Health Meaning
The Suit of Swords represents your mentality. The upright meaning of this card in a health tarot spread says that you feel stuck in your mind. Its inherent negativity is associated with dwindling self-confidence, recurrent panic attacks, and feeling suicidal.
If you relate to these tarot card meanings, it's time to speak with a mental health professional.
On a physical level, look out for changes in vision or eye problems. The woman's blindfold can represent a loss of reasoning but also a loss of sight.
Eight of Swords – Financial and Career Meaning
Overall, this is a negative card in a career tarot reading. It indicates that management is passing you over for promotions. Additionally, supervisors or coworkers are blind to the problems in your workplace. They are overlooking inefficiencies, refusing to update their practices, or ignoring harassment and interpersonal conflict.
If this card represents your workplace in a career tarot spread, good luck. Voicing your opinions or concerns is like screaming into an empty void.
As the Suit of the Mind, the Eight of Swords can also reflect your inner dialogue about your job. Are you feeling trapped or undervalued? No matter what it is, the sword's razor-sharp point symbolizes a need to cut away at your mental bonds. Uncertainty about your career path blocks you from success.
Financially, the Eight of Swords upright meaning relates to budgeting, saving money, and making investments. You may suffer from an underlying fear of scarcity or know that you are not spending your money wisely.
Eight of Swords Reversed Meaning in a Tarot Spread
The Eight of Swords reversed card meaning has far more positive implications for your romantic life, health, and career. This card appears when you take back your power from the Devil that oppressed you and break free from your bindings. It can also represent breaking generational curses and surpassing the experiences of your ancestors.
College students often pull this card as they transition into campus life. First-time exposure to diverse populations inspires new perspectives for adolescents away from their parents' influence. The Eight of Swords signifies changing minds and discovering one's true ideals as an adult.
On a societal level, the Swords card appears prior to or during a change in political power. Protests, demonstrations, and social movements are all highlighted by the inverted Eight.
Reversed Eight of Swords as a Person
We all know the reversed Eight of Swords person. She is freshly divorced and happier than ever. Finally free from her partner's controlling behavior, she lives the way she always wanted to. Hair dye, new shoes, a quote about strength on her collarbone – these are the hallmarks of the Eight of Swords woman. She burned her blindfold and posted the pictures on Facebook.
This is the person who regained control of their life after being stuck in a dark, oppressive place. They opened up to themselves and embraced their own independence. She changed her environment and pushed past unhealthy relationships that she had been clinging to out of comfort or fear of change. Her life illustrates the effects of an empowered mindset.
Eight of Swords Reversed – Love Meaning
The reversed Eight appears in a love tarot reading when you find a supportive partner who loves you unconditionally. You may be in a committed relationship with someone who values your feelings and opinions, a soulmate who understands your emotional needs and beliefs.
This card also comes to people who have been in unhealthy relationships and are finally ready to break free. It's a sign that you should let go of any negative relationships or patterns from the past and make room for something better.
If you're single, this card is a reminder to trust your instincts in love. Someone can seem like a good match on paper but can feel wrong in reality. Follow your heart, not rules or expectations.
Eight of Swords Reversed – Career or Financial Meaning
The Eight of Swords reversed in a career tarot reading symbolizes standing up for yourself in the workplace and taking control of your situation. This is the card of unions, collective bargaining, and activism. Employees are fed up with their bosses' unjust decisions and are ready to fight back.
The reversed Eight of Swords can also represent a career breakthrough. You may finally get that promotion or pay raise you've been working hard for. People are listening to your voice and ideas, and it's time to step into the spotlight.
In a financial tarot spread, this card might represent unlearning bad money habits and adopting healthier ones. Your credit score is rebounding and your debt is being paid off. You feel confident in your ability to reach financial goals and set a successful budget. The Eight of Swords reversed invites us to take control of our finances, invest in our future, and create more wealth for ourselves.
Eight of Swords Tarot Card Reversed – Health Meaning
No door-knob confessions here. The Eight of Swords reversed in a health tarot reading signifies that you are finally ready to open up and share your thoughts with someone. Whether it be a therapist, mentor, teacher, or friend – the healing process is initiated when you bravely tell your story.
On the other hand, the eight's meaning reversed can also signify physical improvements in vision or hearing if you've recently had surgery. It can also represent terminating a pregnancy and taking ownership of your own body. Overall, this card is all about seeing through illusions and standing confidently on your own two feet.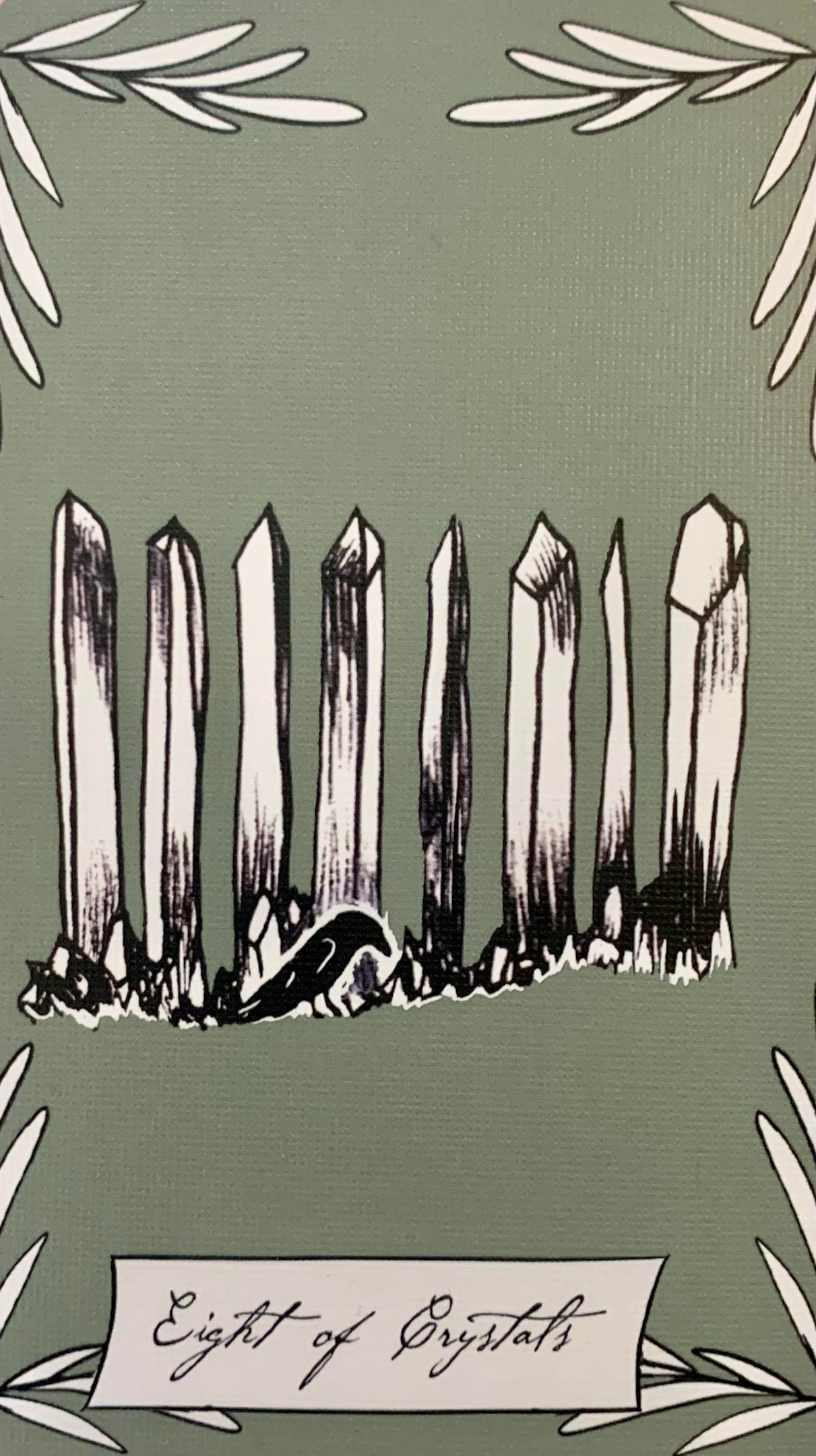 Eight of Swords Tarot Card – Timing Meaning
When you ask the Tarot questions about timing, the Eight of Swords indicates delays in progress. You may feel like something is holding you back or preventing you from achieving your goals. This could be due to external forces, financial issues, or relationship problems.
More concretely, the Suit of Swords refers to increments of months, so anticipate the answer to your question occurring after or during an eight-month period.
Conversely, this minor arcana card can also represent the astrological season of Gemini, which lasts from May 21st to June 20th.
Eight of Swords Tarot Card Meaning – Yes or a No
The Eight of Swords is a hard "no!"
Questions For the Eight of Swords Tarot Card
What insecurities hold me back?
How do I react to my limitations?
What habits should I break free from?
Can I trust myself to make the right decisions in love and life?
What are my boundaries?
Free Yourself Through Tarot
The Eight of Swords upright and reversed can represent a tremendous mental transformation. Although its meaning is often associated with oppression, this card also symbolizes freedom.
No matter what the context, allow your journey to be a reminder that you are in control of your future. Consult with your higher self and ask yourself the questions you need answered. In the meantime, explore our other content and learn how the Tarot can benefit your life!
Suit of Swords

| Card | Upright | Reversed |
| --- | --- | --- |
| Ace | Initiative, Clarity, Focus | Boredom, Insecure, Shy |
| Two | Denial, Impasse, Decisions | Conflicted, Information Overload, Action |
| Three | Heartbreak, Betrayal, Cardiovascular Issues | Following Your Passion, Faith, and Strength from Suffering |
| Four | Rest, Peace, Isolation, Meditation | Refusal, Anxiety, Exhaustion |
| Five | Bullying, Ego, Entitled | Moral Rebellion, Conflict Resolution, Grudges |
| Six | Moving Away From Battle, Seeking Calmer Waters | Procrastination, Passive Aggressive, Wrong Place/Wrong Time |
| Seven | Thief, Spy, Turncoat | Loyalty, Brotherhood, Tribe |
| Eight | A Prison of Your Own Making, Jail, Self-Pity | Integrity, Standing For What You Believe In |
| Nine | Obsessing, sleepless nights, regret | Spirituality, Revelation, Learning from the Past |
| Ten | Health issues, Exhaustion, Surrender | Hope, Acceptance, Renewal |
| Page | Clear Communication, Curiosity, Thoughtfulness | Irritable, Inexperienced, Unwanted. |
| Knight | Quick Wit, Overbearing, Crusader, Tunnel Vision | Unreliable, Aggressive, Perverse, Abrupt |
| Queen | Honesty, Assurance, Refined, Discerning | Ice Queen, Distant, Cruel |
| King | Strength, Determination, Professionalism | Psychopathy, Abuse of Power, Poor leader |