The Devil Tarot Card Keywords
Upright
Addiction, sexuality, attachment
Reversed
Detachment, freedom, reclaiming power
---
The Devil Tarot Card Description
Like the Death tarot card, the Devil card is often featured in horror movies, instilling dread in the audience as a doe-eyed teenager looks on in fear at their tarot spread. In truth, the traditional Rider Waite imagery is nightmarish at best, summoning to mind stories of demon possession and eternal hellfire. However, as with much of the Tarot, the cards are metaphorical – though that doesn't mean the warning isn't real.
In the Devil arcana, a horned being perches on a black pedestal, a burning torch in one hand. His other hand rests against his knee, palm outstretched as if to say "stop!"
Two naked people stand at the Devil's feet, chained to the pedestal. However, they don't look ill at ease. They look bored and complacent. In the time they've spent in the darkness, they've grown horns of their own, seeming almost at home in the Devil's lair.
Look closer, and you'll see that the captives could walk away if they muster enough willpower. Their collars hang loosely around their necks, an invitation to slip away and back to a life of light – perhaps to the Lovers card that mirrors their own.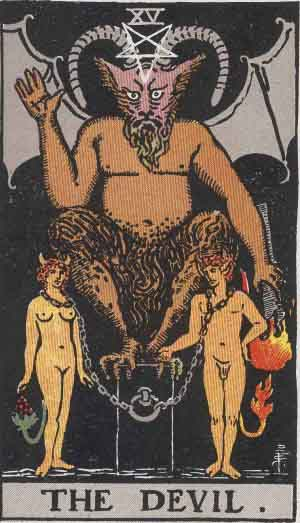 The Devil card is the card of Addiction.
It is the card of hedonism gone too far, when the pleasure outweighs everything else in the world and you feel captive to the craving. The Devil sits at your shoulder, and your life is overtaken. 
When the Devil tarot card appears in your reading, it's a sign that you have given your power to someone or something else. You are being controlled by an outside force, but only you have the power to break free. Your circumstances will not change unless you are ready to embrace that change.
It is kind of a Rider Waite joke that the Devil tarot card follows the Temperance tarot card. Once again, we have the counterbalance of dualities.
While the original Rider Waite version has religious symbols that many relate to and fear (looking at you, inverted pentagram), the Shadowland Tarot takes on a more secular tone, one that personally speaks to me.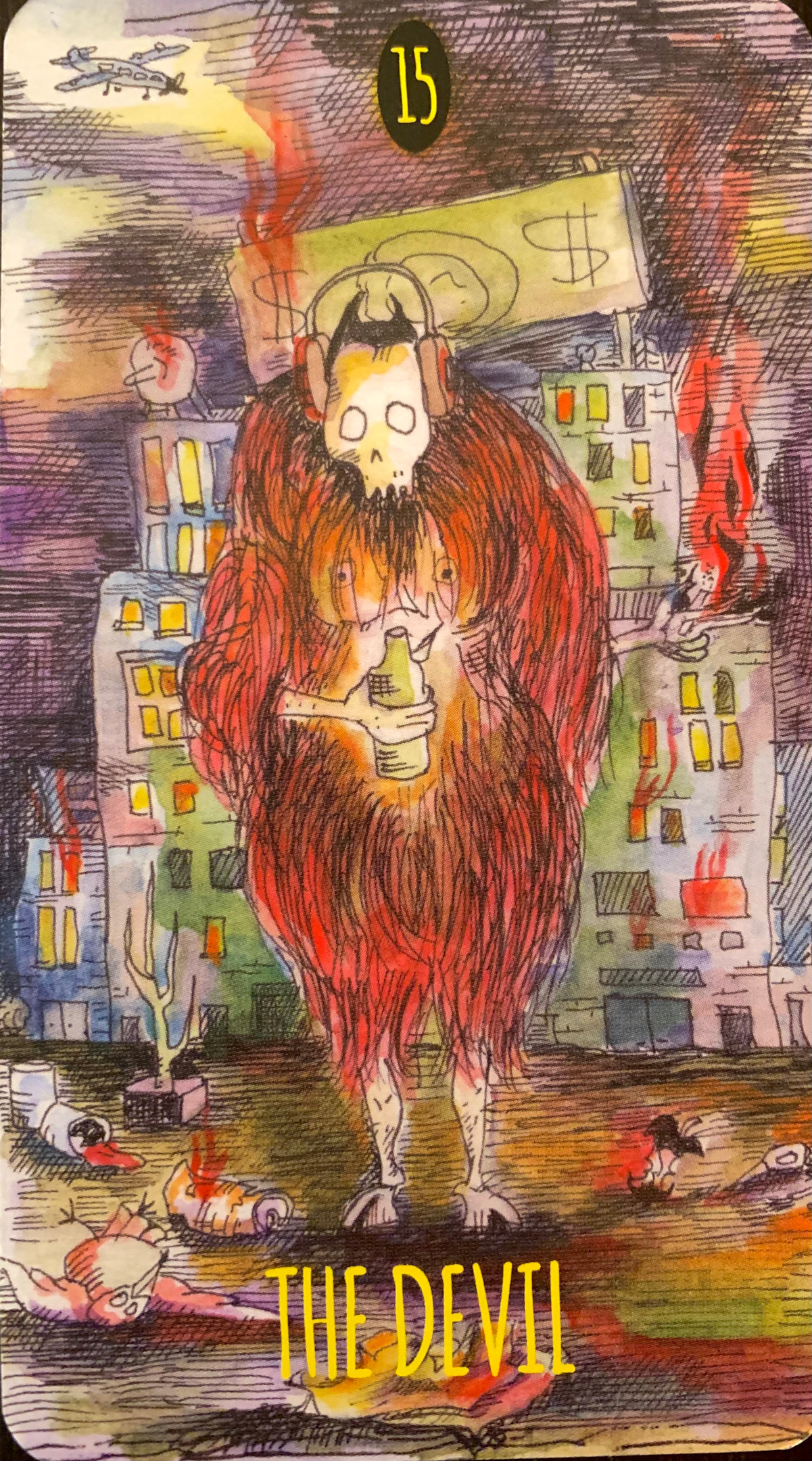 In this Devil tarot card, the figure stands in front of a burning building, the landscape polluted from greed. As the wildlife dies around him, the Devil smokes a cigarette and clutches a bottle of alcohol to his chest, drowning out the sound of destruction with headphones.
The Devil is apathetic to the pain around him, even when he is the cause. The embers from his cigarettes are catching all around him, and he can't be bothered to care.
In this version, the Devil represents both the obstacle/addiction and the person engaged with it. To me, the Devil has never been a physical entity hellbent on damning humanity. The Devil is a reflection of our ability to hurt ourselves, to be our own boogeyman, our own worst enemy. He exists in the corruption of societies, in the emptiness of apathy, both the pilot dropping bombs and the people who plug their ears and turn away from the sounds of screams. He is the evil we inflict on ourselves.
The Devil doesn't have to be real. We make him real.
This card beautifully illustrates the temptation that the Devil card symbolizes, along with the rubble it leaves in its wake. When we bury ourselves in bad habits, we dig our own graves.
Maybe it's time for an exorcism.
---
Devil Tarot Card Meanings
Devil Tarot Card Meaning as Feelings
When I see an upright Devil tarot card, I envision a hazy party, faces blurred by smoke and smeared mascara. People are slinking off to have sex and passing pills and baggies between each other. Someone's eyes drink you in, obsessively circling as the room spins. You're too drunk, too high, and you have no ride. The Devil card is the card of addiction, but it's also the card of stagnation. It comes when you think, "fuck, I'm stuck here."
The Devil card comes when you are feeling trapped. You may be a slave of the material world, plagued by the need to grab for more. This card shows how addiction manifests in all forms, creating a void so vast that it swallows you whole. Personal boundaries are demolished by negative influences. Suddenly you're in bed with the enemy, and damn it if he isn't half goat.
Given the original Catholic imagery of the Rider Waite Deck, it's no surprise that the Devil can represent sexuality. Of course, we know how puritanical rules demonize sex. Still, in the case of the Devil, healthy sexual exploration is not on the table. It's the dark side of sex with all of its unhealthy attachments and obsessive infatuation. Our animal nature roars with this card, galloping headfirst into sexual encounters without thought of the consequences. We feel half-human in their wake.
This major arcana card signals that you are hiding from the real issues at hand, seemingly happier to be with the devil you know than the devil you don't. Maybe you're unwilling to end a relationship because the unknown element of being alone or with someone else is far more frightening.
The Devil also reflects the hopelessness and apathy we feel when we're in the throes of crisis. After the extreme emotions are wrung from us, there is nothing left but numbness. In a way, this emptiness is our mind protecting itself from the horror of what's transpiring, but without the clarity of pain, we cannot progress.
When you throw the upright Devil Tarot Card, you must focus on releasing limiting beliefs to move forward. You are the only one who can sign your soul away, and you are the only one who can save it. When the party becomes a prison, it's time to sober up or phone a friend. Who knew ditching the solo cup would feel like breaking free?
Devil Tarot Card Meaning as a Person
When the Devil card appears in your tarot reading, there may be a traitor in your midst. This person does not have your best interest in mind. In fact, they are manipulating you for their own gain. The Devil symbolizes the narcissistic parent or partner, feeding off your energy like an emotional vampire. This person can also be an enabler, especially if they encourage or stand idly by as you give in to your shadow self. They could be your weed dealer or the friend that presses you to do another shot when you're already past your limit. The Devil has many faces, and most of them are stunningly seductive.
Sometimes, the face is your own. You are your devil – your own betrayer. If you've been spiraling mentally, racking up mistakes and crossing lines, you may have already sprouted horns.
In the same vein, the Devil card may also suggest someone in your life who is overcome with their own demons. Maybe they're obsessively searching for love in the wrong people or using sex, drugs, or material objects to fill the void. Although many people fear the Devil tarot card, it can often represent the people we love most.
Devil Tarot Card – Love Meaning
When you see the Devil card appearing in your love reading, your knight in shining armor might actually be a vampire bat. Ask yourself: are your needs being met, or are they sucking you dry?
For readers who aren't in a relationship but are showing interest in someone, the Devil suggests this may be an infatuation or negative relationship. Just because someone is on your mind all the time does not mean that you're meant to be together. Do you really think this person will make a worthy partnership or are you using them to satisfy another need?
If you're in a relationship, one of you is unhappy with where it currently stands. Discuss the issue. Otherwise, you may find yourself or your lover in the arms of another…. without breaking off the relationship first.
The Devil tarot card does not necessarily mean only one person is at fault or that the relationship is on the edge. Instead, you and your partner may be using each other as a form of escapism, losing sense of your individual identities in the process. The Devil card is all about unhealthy attachments, and a co-dependent relationship meets all the criteria. Both the man and woman in the card are chained to the Devil's podium, but they're also chained to each other.
Remember, this card is not a signifier of bad luck in love. The Devil shows that you make your own luck. Take responsibility for your role in the relationship. Every relationship faces its trials, but if it's putting you through hell, it may be time to make an escape.
Devil Tarot Card – Money Meaning
The Devil is not a positive tarot card where money is concerned. The Devil card represents greed and excess, so you are likely living beyond your means or making impulsive financial decisions.
The material world is influencing your choices. Don't be seduced into buying things just because they are flashy or new. Instant gratification will not help you pay the bills.
Any bad habits related to spending are catching up with you. In the vein of addiction, the Devil can allude to gambling your money away. Otherwise, it can simply mean that you're not being smart with your money. However, you have the control to better your financial situation if you so choose.
In a career reading, the Devil card means you aren't moving forward in your occupation. Your workplace environment may be stifling or unhealthy. The Devil tarot card career meaning is that you must either work harder to resolve the obstacle or begin looking for another job. The other cards in your tarot reading will give you better insight into which career path you should take.
Forewarned is forearmed, and if the Devil card comes up in a business partner possibilities reading, or if you are pulling to understand a negotiation better, a little research into your adversaries' addictions may be in order.  They can be avoided if necessary or exploited for leverage.
Just make sure you are the one holding the leash not the one wearing the collar.
Devil Tarot Card – Health Meaning
The Devil tarot card meaning speaks to a battle with mental health issues. When this major arcana card appears in a health reading, depression, anxiety, and manic episodes are on the horizon.
Mental health problems often involve obsessive, destructive patterns of thinking. The Devil card represents a mental spiral or breakdown. For me, this tarot card can also signify self-harm, a harmful coping mechanism with addictive qualities. Self-harm exists in many forms, including physical harm to the body, the withholding of vital needs like sleep and food, and the sabotage of relationships or happiness. The vicious cycle offers temporary release, but the Devil will always ask for something in return. If this card appears in your health reading, it may be time to consult with a professional.
Devil Tarot Card – Timing Meaning
Capricorn is the zodiac sign associated with the Devil tarot card, so this card can represent the cold days of December 22nd to January 19th. Depending on the year, this card accounts for the winter solstice, the longest night of the year. Indeed, we can feel like we are trapped in the unending darkness when we pull this tarot card from our deck, but we know that sunny days are ahead if we just keep pushing forward.
Devil Card Yes/No Meaning
The upright devil tarot card is a firm "No". The devil reversed is a "Yes!"
---
The Devil – Reversed Meaning
Free at last!  Free at last!  The reversed Devil tarot card means the time of darkness and doubt has ended for you, and you have made the necessary realizations to help you change course.  
The Devil card reversed is a good sign. You will soon see improvement in the situation that was making you feel powerless and while will is like a muscle that has to be retrained it will get easier as you get stronger.
It may mean you have to learn to be vulnerable and let go of trying to be in control of all situations.
It may mean you have learned to rise above the underworld you were living in and see things from the perspective of a soaring bird.  
Practice long-term solutions, not short-term fixes.
Questions For The Devil Tarot Card
What am I not taking responsibility for?
Am I obsessing over something or someone?
What situations in my life do I feel trapped in?
What can I do to move past this situation?
What are my addictions?
In what areas of my life am I too apathetic?
How can I regain control of my life?
Take a Look at The Mystical Major Arcana
The Devil reveals our greatest vices but also our greatest virtues. Learn more about the rest of the major arcana and all the Tarot knowledge our blog has to offer.
Major Arcana

| Card | Upright | Reversed |
| --- | --- | --- |
| Fool | Fresh Start, New Adventure  | Poor Planning, Poor Choices, |
| The Magician | Power, Action, Balance | Insecurity, Disorder, Ignorance |
| The High Priestess | Perception, Time, Hidden Truth | Impatience, Stagnationn |
| The Empress | Birth, Abundance of harvest | Neglect, Counterproductive  |
| The Emperor | Power, Fairness, Authority | Cold, Inflexible, Lack of Control |
| The Hierophant | Ceremony, Tradition, Guidance | Hypocrisy, Disillionsioned, Disgrace |
| The Lovers | Love, Blessing, Harmony, Unification | Loss, Shame, Illusion, Hedonism |
| The Chariot | Travel, Victory, Motivation, Speed | Denial, Unstable, Unrealistic |
| Strength | Preparation, self-control, battle of will | Addiction, Abuse of Power, Struggle |
| The Hermit | Enlightenment, Contemplation, Investigation by authorities | Cerebral, Paranoid, Withdrawn |
| Wheel of Fortune | Luck, Cycles, Destiny | Look before you Leap, Prepare |
| Justice | Legalities, Judgement, Truth | Misinformation, Assumption |
| The Hanged Man | Inaction, new perspective | Exoneration, Determination |
| Death | Impermanence, Inevitability | Back to Basics, Rigid, Resistant |
| Temperance | Healing, Harmony, Creative Expression | Waste, Excess, Selfish, Inconsiderate |
| The Devil | Addiction, Abuse, Control | Realization, Relief |
| The Tower | Shock, Upheaval, Weather event | Bailing out, Overreacting |
| The Star | Inspiration, Renewal, Creativity | Exhaustion, Wastefulness |
| The Moon | Lunacy, Intuition, Right timing | Over Emotional, Cognitive Dissonance |
| The Sun | Freedom, celebration, Vitality | Carelessness, Foolhardy, Time Waste |
| Judgment | Relief, answered prayers | Rejection, Cultish behavior, |
| The World | Next level, achievement | Hindsight, more to learn |

These are just quick key meanings for the Major Arcana cards.
You can click any of the names to get a more in-depth analysis of the tarot card meanings in a different context.
Keep forgetting specific Tarot Card meanings?
Visit and bookmark our quick reference guide, made for both beginner and veteran tarot readers.