Page of Cups Tarot Card – Keywords
Upright
Confident, Insightful, Spiritual, Sensual
Reversed
Ostracized, Disconnected, Disappointed
What Does the Page of Cups Look Like?
The Page of Cups card in a tarot deck typically features an image of a young page, standing in a meadow filled with flowers and holding a golden cup. The cup could be overflowing with water or fish, depending on the specific deck being used. The Page is often wearing bright colors, such as blues and greens, which symbolize his youthful and trusting nature. Behind him can be seen an ocean horizon and rolling hills that extend into the distance.
The imagery of this card offers meanings related to emotional maturity, intuition, creativity, imagination, dreams, and spiritual growth. It suggests that you are ready to take up new opportunities for personal growth or creative endeavors. This card also encourages you to be open-minded about something different and to trust your inner thoughts and feelings. The Page of Cups is a harbinger of messages from the spiritual realm, so it's important to be open to receiving these divinely inspired messages. When this card appears in a tarot reading, it often indicates that now is the time for taking risks, embracing change, and trusting your intuition. This can lead to great personal growth and success!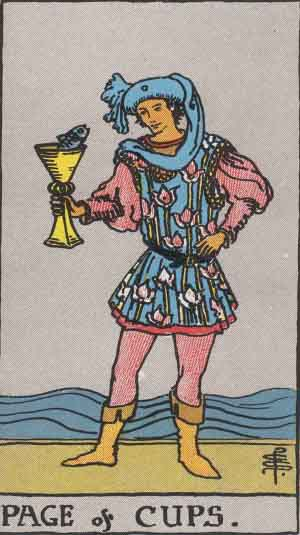 What Does the Page of Cups Card Mean in a Tarot Reading?
When the Page of Cups appears in your tarot spread, it can indicate changes in your emotional intelligence, psychic abilities,  creativity, and imagination. It often signifies a time of new beginnings in a relationship, career, or endeavor. If you've been experiencing creative blocks, expect to move past them soon! Unexpected inspiration will soon come into your life.
This card may also represent a need to move beyond the boundaries of your comfort zone in order to discover something new and gain wisdom.
The Page of Cups card can also be a sign that you are about to receive an intuitive message from the spirit world, much like the High Priestess. Pay close attention to any signs or visions that come through as they could hold important information for you. Additionally, this card can be connected with spiritual teachers who bring us knowledge and understanding of the deeper mysteries of life.
In the Tarot, Pages represent young people, so the Page of Cups can also represent a message from someone in your life who is younger than you. This could be a child, a student, an apprentice, or anyone else who is still finding their way in the world. These people may bring new ideas and perspectives that can help us grow and evolve.
Pages in the Tarot

| Card | Upright | Reversed |
| --- | --- | --- |
| Page of Wands | Artistic, Travel | Lazy, Fickle, Snobby |
| Page of Swords | Clear Communication, Curiosity, Thoughtfulness | Irritable, Inexperienced, Unwanted |
| Page of Cups | Confident, Insightful, Spiritual, Sensual | Ostracized, Disconnected, Disappointed |
| Page of Pentacles | Service, Idealism, Travel | Emotionally Tone Deaf, Self-involved |
Many of the Page of Cups tarot card meanings reflect your inner child and your relationship with that part of yourself. Inner child work involves facing the traumas or difficulties you faced in childhood and letting the little boy or girl inside experience the things they missed out on during that pivotal time. Inner child work looks different for everyone. While some people may wish to meditate or undergo talk therapy, healing your inner child can also look like buying yourself toys that you wanted in childhood or engaging in activities that you liked when you were younger, like visiting playgrounds or carnivals.
Even if it feels silly, listen to your inner voice. The child in you deserves to be heard just like the adolescent, young person, or older adult.
What Does the Page of Cups Tarot Card Imply About Feelings?
The Page of Cups upright feels like the burst of energy you get when things finally fall into place, especially when it comes to a project or a relationship. It represents the power of emotion and how it can create opportunities for growth, change, and success. This card also signifies that you should follow your inner voice or intuition when it comes to making decisions as this will lead to greater happiness in the long run.
The Page of Cups reversed implies feelings of disappointment or disillusionment from unmet expectations, blocked creativity, or a lack of trust in yourself. This card suggests that it's time to re-evaluate what felt true before, so as to find new meaning and purpose. Working on understanding your emotions better will help you move through any difficult situations with more clarity and grace.
What Does the Page of Cups Tarot Card Mean in a Love Reading?
In a tarot love spread, the Page of Cups has several key meanings. The Suit of Cups represents emotions, love, and intimacy. In the same vein, the Page of Cups can signify a time for new beginnings in relationships. It can be a sign of renewed passion and a deeper understanding within the relationship. This court card also signifies that both partners should trust their intuition when it comes to making decisions, as this will bring greater harmony.
The Page of Cups can also indicate an increasing level of emotional intimacy between two people, possibly leading to marriage or long-term commitment. Additionally, this card can suggest that one partner is ready to take things further while the other may need some time before they are comfortable with progressing in the relationship.
The Page of Cups may also represent your new love interest, suggesting that this person is a wellspring of creativity and emotional understanding. They bring joy and beauty to any situation, and you both may be able to explore new depths of connection with each other.
When reversed, the Page of Cups tarot card implies that you have not yet achieved balance in your relationship and could be blocking yourself from experiencing true intimacy and connection. Someone in the relationship is fighting against emotional vulnerability, either because they never learned how to be open with another person or because they are afraid of being hurt in the process. It's important to remember that true love cannot be achieved without taking risks, so try not to hold back!
The Page of Cups tarot card is a reminder that our feelings can open us up to new experiences or bring us tremendous joy. By trusting in your heart and listening to the whispers of your intuition, you can discover how love enhances your life and teaches you meaningful lessons along the way.
What Does the Page of Cups Tarot Card Mean in a Money Reading?
Good financial news is on the way! The Page of Cups tarot card is a sign that you will soon receive an influx of money or financial opportunities. This could come in the form of a new job, inheritance, or investment. It's important to stay open-minded about potential sources of income and be willing to take some calculated risks in order to maximize your earnings.
The Page of Cups also signifies that you should listen to your gut when it comes to making decisions related to money. This card is a reminder that success often comes down to trusting your intuition and following what feels right for you. Remember that all financial decisions have a ripple effect, so make sure they are aligned with your core values and goals.
In a career reading, the Page means you will find new creative opportunities through your work or a new job will give you more room for artistic and personal expression. This could also be a sign that you're ready to move on from your current job and explore other options.
When reversed, the Page of Cups tarot card can indicate an inability to trust yourself when it comes to money matters. You may be easily influenced by others or be too hesitant when it comes to making financial decisions. This card can also be a warning that you are not seeing the bigger picture or not considering all of your options before making a decision. If you're a student or someone who recently graduated college, you may still be stuck in the financial and emotional mindset that no longer benefits you or applies to your life as you enter your career.
What Does the Page of Cups Tarot Card Mean in a Health Reading?
The Page of Cups tarot card is a sign that it's time to take care of your body and mind. This could mean taking the time out to relax, eating healthy, or getting some exercise. You may be ignoring your body's natural cues, depriving yourself of adequate sleep, or putting off your meals until you're sick from hunger. In a health reading, Page of Cups encourages you to pay attention to your mental and physical health in order to live a balanced life.
This card can also be an indication that you are in need of emotional healing or have been avoiding dealing with certain issues related to your health. Mentally, you may lack the maturity to face your inner demons and seek the help you need. It's important not to ignore any underlying emotions as they may be contributing factors to physical symptoms.
What Does The Page of Cups Tarot Card Say about Timing in a Tarot Reading?
The Page of Cups reveals that you are on the brink of a major change. This could be related to either a personal or business matter. In terms of timing, this card suggests that you should take action now to ensure positive outcomes. If it's something related to love, then now is the time to take risks and embrace new possibilities with an open heart and mind.
If it's related to business, then now is the time to take the leap and pursue new opportunities. No matter what you decide to do, live with intention, and don't be afraid to express yourself in unique ways. Life is too short for regrets.
Is The Page of Cups Card a Yes or a No Meaning Card?
If you ask the tarot cards a yes or no question, the Page of Cups tarot card description is a firm "yes!"
What Does the Page of Cups Card Mean if Reversed in a Tarot Reading?
The reversed Page of Cups can mean you feel emotionally stunted or have low self-esteem preventing you from tapping into your creative potential. It can also signify an overindulgence in pleasure or fantasy, leading you astray from achieving your goals. In other cases, it could reflect a lack of trust in yourself or others as well as difficulty with communication or expression. Emotional immaturity is holding you back from establishing meaningful connections with others.
Finally, it could simply mean that you need to take a break from the mundane and rediscover your creative side.
Explore the Tarot
Now that you've learned more about the Page of Cups, take a look at the other tarot cards in the Suit of Cups. We also have plenty of articles on tarot spreads, manifestation techniques, and more!
Suit of Cups

| Card | Upright | Reversed |
| --- | --- | --- |
| Ace | Fresh Start, Abundance, Spirituality  | Endings, Resources Drying Up, Missed Opportunity |
| Two | Strength Through Partnership, Understanding, commitments | Poor Choices, Bad Company, Forced Separation |
| Three | Female Power, Joy, Community Support | Over Indulgence, Following the Crowd, Irrational |
| Four | Hesitation, Insecurity, Doubt | Inexperience, Rejection, Depression  |
| Five | Grief, Self-Recrimination, Set Backs | Resourcefulness, Self Reliance, Creative Problem Solving |
| Six | Nostalgia, Wistfulness, Idealizing the Past | Stinginess, Bitterness, Dark View of the World  |
| Seven | Illusion, Delusion, Mental instability | Insecure, Indecisive, Don't know which way to go |
| Eight | Transition, Walking Away, Travel, Seeking New Opportunities | Rejection, Confusion, and Running Away Will Only Make it Worse  |
| Nine | Wishes Granted; You Feel Healthy, Wealthy, and Wise | Hoarding Resources, Unappreciative, Selfishness  |
| Ten | Abundance, Flourishing, Happy Family | Separation from Family, Exhaustion, Disconnected |
| Page | Confident, Insightful, Spiritual, Sensual | Ostracized, Disconnected, Disappointed |
| Knight | Idealism, Chivalry, Bringing the World Into Order | Bull in a China Shop, Overly Rigid and Forceful |
| Queen | Intuition, Deep Meditation, Balanced Feminine Leadership | Self-Sabotage, Substance Abuse, Deep Unhappiness |
| King | Balanced Male Energy, Perceptive, Self-Assured | Power-hungry, Controlling, Cruel |