Knight of Cups Tarot Card – Keywords
Upright
Idealism, Chivalry, Bringing the World Into Order
Reversed
Bull in a China Shop, Overly Rigid, Forceful
What Does the Knight of Cups Look Like?
The Knight of Cups tarot card description is that of a knight on horseback, a golden cup in hand. He maintains a tight grip on the reins of his white horse, bringing its pace to a crawl. This represents his self-control and cautious outlook. A brook babbles in the background, its leisurely flow reflecting both the nature of this card and the emotions it captures.
Look closer, and you'll see the Knight wears armor with fish woven into the scales. The feathers of his hat blow in the wind, signaling his progress, however paced.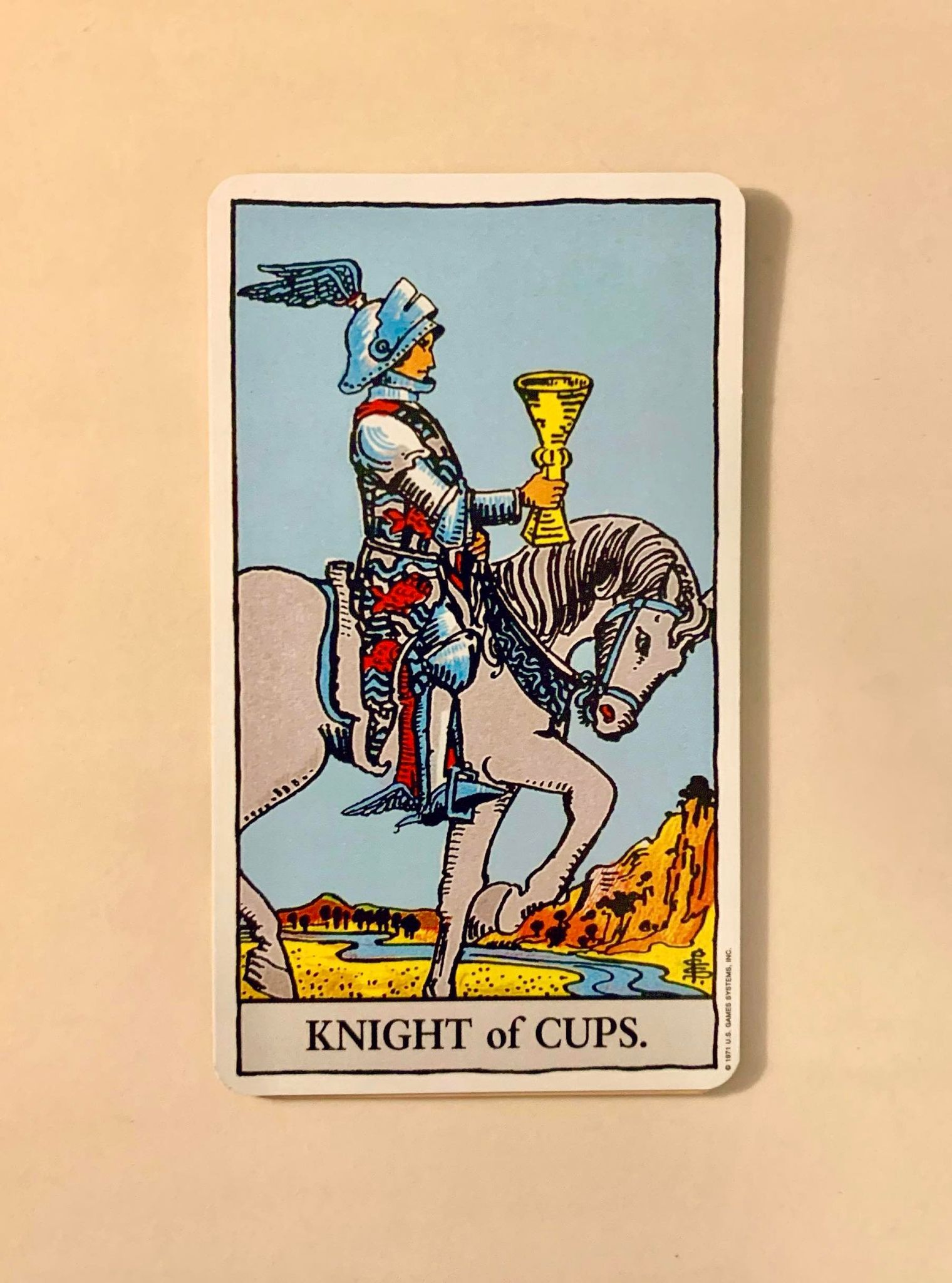 What Does the Upright Knight of Cups Mean in a Tarot Reading?
If the Knight of Cups card appears in your tarot spread, you may soon be riding off into the sunset with a new love. The Knight of Cups is a card of romantic partnerships and new beginnings. It suggests that you are open to the possibility of love.
The Knights of the Tarot represent movement. Unlike the Knight of Wands that barrels recklessly ahead, the Knight of Cups carefully measures every step forward. However, this caution does not reflect an unwilling heart. In fact, the Knight of Cups is dedicated to the pursuit of finding his one true love. He deeply feels his emotions but may not allow them to rise to the surface, thus maintaining his grip on his outer facade.
Ruled by the zodiac sign Pisces, the Knight of Cups is also a symbol of creativity and imagination. If you have an idea or project that you've been working on, the Knight of Cups suggests success in this area. This card often indicates that there might be a new collaboration forming with someone who shares your passion for the same thing.
This card can also indicate that you need to take a more abstract approach to problem solving or allow yourself to be more open and vulnerable in order to reach a resolution. It is a sign that you need to take time to nurture yourself and your relationships. A trip with someone you love may be in the cards.
Who is the Knight of Cups as a Person?
The Knight of Cups is a romantic and emotional person who is often looking for their soulmate. If love is satiation, he is a starving artist longing for his masterpiece. He is patient and cautiously takes steps forward in order to find what he's looking for, but once he is locked in, there is little that will tear him away from the object of his affection. He has a deep inner life that he may not be willing to share with others. In his quest for companionship, the Knight of Cups has much to offer and seeks out connections that are meaningful and genuine, even if there are obstacles in the way. Often, he represents a lover in tarot readings.
You love me, real or not real?

Peeta Mellark, The Hunger Games
In the spirit of The Hunger Games Renaissance, I'm reminded of Peeta Mellark when the King of Cups appears in my spread. He often showcases his creative abilities as a baker and painter, each an artistic field, and he maintains his sense of self even through the horrors of the first two books.
More importantly, Peeta is dedicated to Katniss since childhood. He supports her mentally and emotionally even when under immense pressure and stress, and lets her see his most vulnerable self. In turn, he inspires her to reveal her own feelings. Even when he is unsure of what memories of her are fact or fiction, Peeta finds his way back to Katniss. His dedication is a sign of his personality type, the Enneagram 2. To me, he is a perfect example of the Cups knight, a classic romantic and devoted partner.
What Does the Knight of Cups Mean in a Love Tarot Reading?
The Knight of Cups tarot love meaning is one of new beginnings, romance, and strong feelings. The card could suggest that you are about to embark on a romantic journey with someone or that your current relationship may be taking a turn for the better. It also suggests that even if you have been single for some time, you may soon find love as the Knight brings with him the promise of a passionate connection.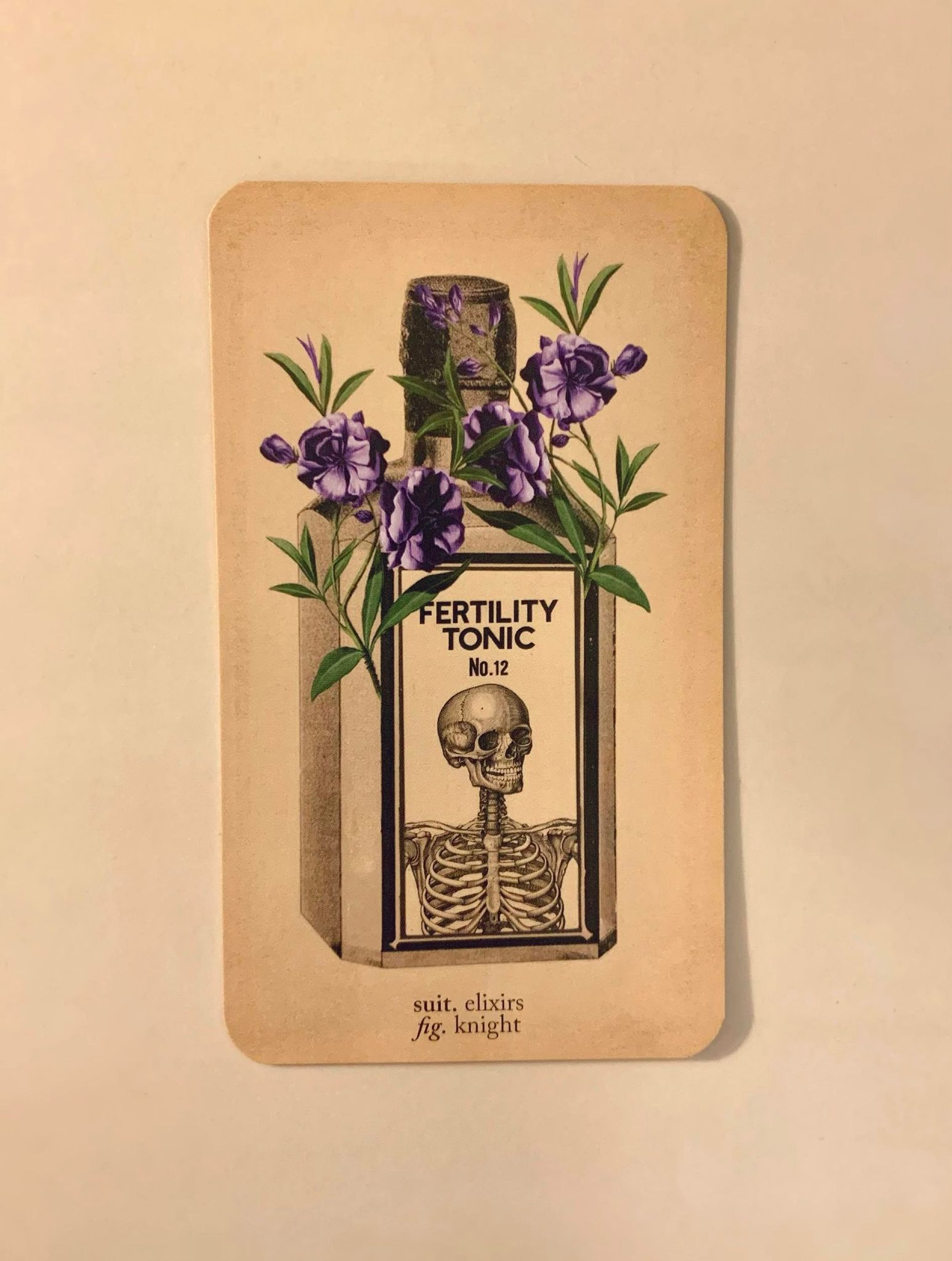 This minor arcana card can also indicate that it's time to go beyond just talking about your feelings and start showing them in tangible ways such as through acts of kindness or by taking physical steps toward those you care about. If there has been a misunderstanding in your relationship, this card can mean that now is the time to communicate openly and honestly in order to reach an understanding.
Lastly, the Knight of Cups meaning alludes to romantic proposals of all sorts. Whether it's making a relationship official, moving in together, or tying the knot, the Knight of Cups is a good omen for a long-lasting relationship.
What Does the Knight of Cups Mean in a Career Tarot Reading?
The Suit of Cups is associated with emotions, and so the Knight of Cups career meaning signifies emotional intelligence. This card encourages you to use your feelings to inform your decisions and work on cultivating an understanding of how different people tick. If you have a background in the social sciences, you can rely on your education and experience to propel you forward and forge connections with your coworkers and clients.
If you're inquiring about what career path will most fulfill you, the upright Knight of Cups points you toward a creative or artistic field. Furthermore, if you've been doubting your abilities to complete a creative project, this minor arcana card gives you the go-ahead. Write the book, launch the website, and showcase your sculptures. The World will reward you for sharing your creative side.
What Does the Knight of Cups Mean in a Health Reading?
When the Knight rides into your health reading, he's bringing with him a message of emotional well-being. The Knight of Cups serves as an invitation to start looking at your health from the inside out, and to treat your body with care in order to restore balance. To do this, you will need to listen to the signals that your body is sending and act accordingly.
Furthermore, the upright Knight of Cups is a good sign that you're regaining your strength and momentum after sickness or a bout of depression. Like his shining armor, your immune system is protecting you from short-term threats, and the healing process has begun. Your spirit is coming alive again and your outlook on life is becoming more positive.
What Does the Knight of Cups Reversed Mean in a Tarot Reading?
The Reversed Knight of Cups is an unreliable narrator, and you're treating his word like the gospel. The sermon is a lie, so leave the pew behind and interpret the story from a logical point of view.
The Knight of Cups reversed often reveals that you have a romanticized view of the situation and you're seeing things through rose-tinted glasses. You have unrealistic expectations, or you may be paying too much attention to external signs rather than looking within for answers. The card is telling you to take off the mask and face reality so that your decisions are based on facts instead of fantasy.
Mentally, your overactive imagination has monopolized your time and impeded your work. Maladaptive daydreaming dissociates you from the real world around you. You've fought the same imaginary battle dozens of times now, your perfect maiden's heart long since won. It's time to put the sword down and pick up the cup. Drink deeply and experience.
In a physical sense, the reversed Knight of Cups can indicate stagnation or delay in material matters. If something should have manifested itself by now but hasn't, it's time to remove any blocks created by unrealistic hopes and dreams. If action has been taken but progress is still lacking, the reversed Knight suggests that some re-evaluation is in order.
Finally, this card can also be a warning that negative emotions are hindering your growth and development. You may be feeling jealous of someone who's had more success than you, or you might be holding onto the past in such a way that it's preventing any meaningful progress in the present. Your grudges are hurting you. It's time to move on and face the future with an open mind and heart. The Knight of Cups reversed encourages you to stay true to yourself and make decisions without letting emotion cloud your judgment. With enough determination and optimism, anything can be achieved.
Who is the Reversed Knight of Cups as a Person?
In his more negative aspects, the Knight of Cups can represent an individual who is overly romanticized or prone to idealism. When reversed, he may be so lost in his own thoughts that he neglects to consider reality and what it actually takes to make a relationship successful. He may come across as insincere or even manipulative at times. In addition, if someone is not being true to themselves, this card could be suggesting they need to face the truth in order for real love and connections to form.
Love isn't brains, children, it's blood — blood screaming inside you to work its will. I may be love's bitch, but at least I'm man enough to admit it."

Spike, Buffy the Vampire Slayer
Taking inspiration from the small screen, the Reversed knight is well-represented in the obsessive enemy-turned-lover of Buffy the Vampire Slayer, the one and only Spike. As a human, Spike was a sheltered Mama's boy who spent his days writing terrible poetry for his unrequited love, Cecily. After being turned into a vampire, he loses his soul but not his obsessive nature, and he spends the rest of the series simping after an insane, sociopathic oracle, followed by the do-gooder, emotionally damaged slayer after he threatened to make her neck his chalice.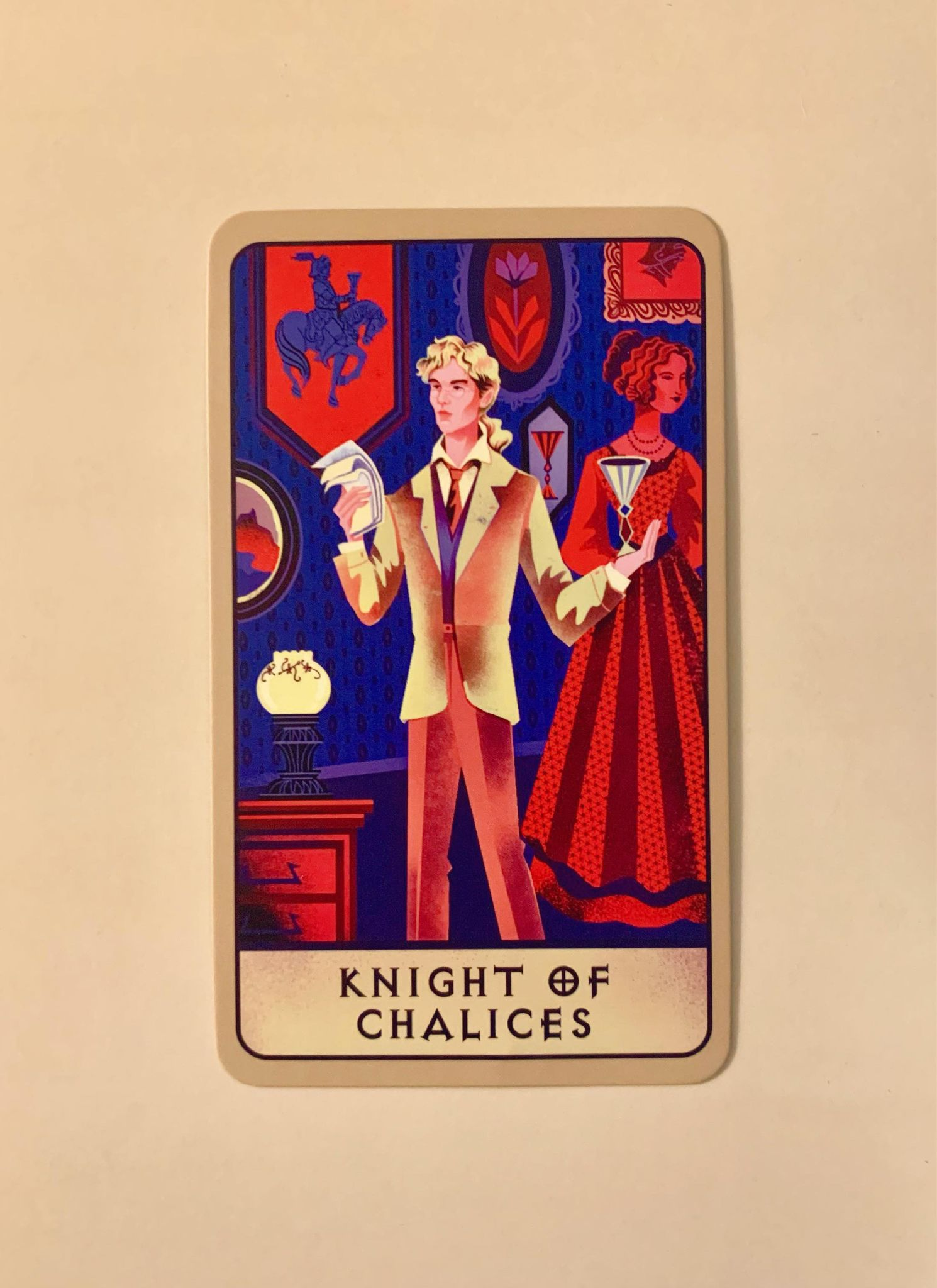 This man stood outside Buffy's window for so long that he went through an entire pack of cigarettes. His infatuation became so crazed that he even commissioned a robot in her likeness so he could act out his delusional fantasies of her. Once they begin to sleep together, the darkness only grows, as his possessive nature poisons the already unhealthy relationship. In the end, he is doomed to forever chase the phantom of love. He exemplifies the dark side of this card.
What Does the Knight of Cups Reversed Mean in a Love Tarot Reading?
Cracks are forming in the fantasy you've created. The love of your life may actually be the Devil in disguise. The Knight of Cups reversed suggests that your relationship may be crumbling or that you are playing a role for someone else. It could also mean that your feelings are being misused in order to make the other person feel good about themselves. This card can be a warning sign to step back and take an honest look at the situation.
The Knight of Cups reversed can also represent someone who is afraid to face their feelings, due to fear of rejection or vulnerability. If you're asking a love tarot spread about someone's emotional availability, the answer is door slamming in your face. Unless you or your lover gain the Strength to let down your guard, the relationship is bound to end in a stalemate. You will never reach true intimacy hiding behind your shields, so move forward or part ways once and for all.
What Does the Knight of Cups Reversed Mean in a Career Reading?
The Knight of Cups reversed suggests that if you're too idealistic in your approach, it could have negative consequences for your career prospects. You might have unrealistic expectations or find yourself getting carried away with ideas without considering the practicalities of making them happen. Unfortunately, you may be falling behind due to poor time management or lack of organization. As much as you'd like to, you will never make it to the other side of the river without a paddle.
Jealousy or passive aggression may also be blocking your progress. Someone in your office or art gallery is getting under your skin, and you're spending too much of your time thinking of how to squash their success instead of working on your craft. Perceiving someone as a rival does not mean that they see you in the same light or have bad intentions for you. When the Knight of Cups is in the reversed position, you need to take a step back and look at the situation logically. As long as your emotions control you, money will slip through your fingers like sand.
What Does the Knight of Cups Reversed Mean in a Health Tarot Reading?
The Knight of Cups reversed may be a warning sign that your emotions are becoming too unbalanced or out of control, leading to physical ailments or stress. You can't take care of yourself if you don't recognize what's going on inside you. This message is especially clear if cards like the Nine of Swords or the Moon reversed appear in the same spread. Pay attention to how are feeling, mentally and physically. If you intellectualize your emotions and feel out of touch with your body, look into somatic therapy to help ground yourself.
The Knight of Cups also implies that you may be relying too heavily on substances or short-term fixes to bring you out of an illness, instead of focusing on making lifestyle changes that will benefit your long-term health.
In addition, the Knight of Cups reversed suggests that it might be time for some self-compassion. Taking regular breaks from stressful activities such as work or studying can help keep your mental health in check and ensure that your physical wellness is not compromised. Don't be afraid to give yourself a break if you need one, and look for ways to incorporate relaxation into your daily routine. Meditation and breathwork can be part of a healthy daily routine.
What Does the Knight of Cups Tarot Card Say about Timing in a Tarot Reading?
The Knight of Cups has various tarot card meanings when asking about timing. Its appearance indicates that events are due to happen in the near future. The card suggests that now is the right moment to act, but only if you are prepared to expose the softest parts of yourself. In relation to the seasons, the situation you're asking about should occur during Pisces season or during springtime.
When the watery Knight is in the reversed position, it can be a signal that the timing is off. The card may indicate that you should wait a little longer before making any rash decisions or taking action. In relation to the seasons, this could mean delaying your plans until summertime. Ultimately, this card cautions against being reckless and encourages patience. Take your time and make sure all pieces are in place before taking the plunge into unknown waters.
Is the Knight of Cups Tarot Card Meaning a Yes or a No?
The Knight of Cups is a feminine, optimistic card. It is "yes" to new opportunities, creative endeavors, and romantic proposals.
Questions For the Knight of Cups Tarot Card
How can I open myself to the experience of love?
What is the difference between dedication and obsession?
Am I spending too much time in my own head?
What artistic opportunities are available to me?
Is my perception of reality realistic?
Embrace the Depths of the Tarot
No matter where your journey through the Tarot takes you, we have plenty of articles to feed your mind and spirit. If you enjoyed this card meaning page, please explore the rest of our site, including the rest of the Suit of Cups!
Suit of Cups

| Card | Upright | Reversed |
| --- | --- | --- |
| Ace | Fresh Start, Abundance, Spirituality  | Endings, Resources Drying Up, Missed Opportunity |
| Two | Strength Through Partnership, Understanding, commitments | Poor Choices, Bad Company, Forced Separation |
| Three | Female Power, Joy, Community Support | Over Indulgence, Following the Crowd, Irrational |
| Four | Hesitation, Insecurity, Doubt | Inexperience, Rejection, Depression  |
| Five | Grief, Self-Recrimination, Set Backs | Resourcefulness, Self Reliance, Creative Problem Solving |
| Six | Nostalgia, Wistfulness, Idealizing the Past | Stinginess, Bitterness, Dark View of the World  |
| Seven | Illusion, Delusion, Mental instability | Insecure, Indecisive, Don't know which way to go |
| Eight | Transition, Walking Away, Travel, Seeking New Opportunities | Rejection, Confusion, and Running Away Will Only Make it Worse  |
| Nine | Wishes Granted; You Feel Healthy, Wealthy, and Wise | Hoarding Resources, Unappreciative, Selfishness  |
| Ten | Abundance, Flourishing, Happy Family | Separation from Family, Exhaustion, Disconnected |
| Page | Confident, Insightful, Spiritual, Sensual | Ostracized, Disconnected, Disappointed |
| Knight | Idealism, Chivalry, Bringing the World Into Order | Bull in a China Shop, Overly Rigid and Forceful |
| Queen | Intuition, Deep Meditation, Balanced Feminine Leadership | Self-Sabotage, Substance Abuse, Deep Unhappiness |
| King | Balanced Male Energy, Perceptive, Self-Assured | Power-hungry, Controlling, Cruel |