King of Cups Tarot Card – Keywords
Upright
Balanced Male Energy, Perceptive, Self-Assured
Reversed
Power-hungry, Controlling, Cruel
King of Cups Tarot Card Description
This minor arcana card depicts a mature male figure with light hair sitting on a large stone throne in the middle of the sea. Look closely, and you can see a fish jumping in the background and a large ship sailing by. These clues show the depth of the ocean beneath the King of Cups, but the raging tides do not sway him. He sits between the emotional and material worlds, a perfect balance of logic and feeling.
The King gazes intently into the distance, his foot already edging off the platform to signify his preparedness to act. He is a man of great passion and creativity, but he is too emotionally mature to give in to impulse. The King of Cups understands that there is a time to wait and a time to act.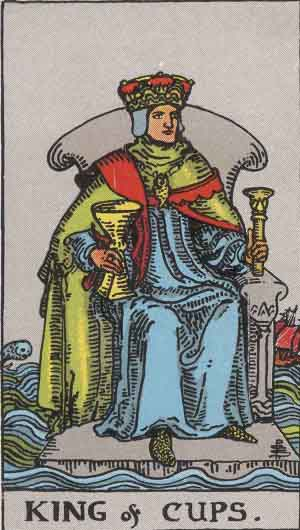 What Does the Upright King of Cups Mean in a Reading?
The King of Cups represents emotional balance and maturity. Like a sailor who masters the sea, the Cup King is the master of his own emotions, and he can handle any situation with grace and stability. If the King of Cups appears in your spiritual tarot spread, it may be an indication that you need to take control of your emotions or channel them into something productive. The King also conveys a sense of calm authority — when the King appears, it's time to take charge!
Kings in Tarot represent authority figures and are masters of their suits. They are natural leaders, but they approach situations differently.
Tarot Kings

| Card | Upright | Reversed |
| --- | --- | --- |
| King of Wands | Preparedness, Protection | Intolerant, Impatient |
| King of Pentacles | Charisma, Strength, Strategy | Belligerence, Overbearing, Windbag |
| King of Cups | Balanced Male Energy, Perceptive, Self-Assured | Power-hungry, Controlling, Cruel |
| King of Swords | Strength, Determination, Professionalism | Psychopathy, Abuse of Power, Poor leader |
The upright Cup King can also symbolize a mature man in your life who is emotionally stable and wise. He may be a father figure, partner, or mentor, but his presence can provide solid guidance and stability through difficult times.
The King of Cups has answers to life's most difficult questions, but he will only share his wisdom if you trust him enough to listen. Allow yourself the time and space to open your heart and mind.
The King of Cups also encourages us to be kinder and more compassionate with ourselves — take some time out from the hustle and bustle of life to give yourself some much-needed TLC! With the King of Cups involved, you can trust that whatever decisions you make will always be in your best interest.
Who is the King of Cups as a Person?
The King of Cups is the master of his emotions, finding joy in life's little pleasures without letting himself be overwhelmed by them. He is perceptive to the feelings of others and shows an understanding that allows him to move past conflicts peacefully. As a result, he has earned the respect and admiration of those around him. He is self-assured and a natural leader, but he never uses his power to manipulate or control anyone. The King of Cups is an emotionally balanced person who follows his intuition and remains true to himself.
What Does the King of Cups Mean in a Love Tarot Spread?
Cups court cards often allude to specific people in your life. In a love tarot spread, the King of Cups signifies a partner that prioritizes your emotional well-being and checks in with you about how the relationship is progressing. He is attentive to your needs and has a knack for understanding how you feel.
If you're considering marriage or starting a family with your partner, the King of Cups is a positive card! In fact, it is often referred to as the father card. Likely, your partner will make a good husband and parent to your children, especially if paired with the Ten of Pentacles card.
Because the King of Cups represents emotional control, this card appears in your love reading when you need to approach a situation logically. Of course, take your feelings into account, but don't let them overwhelm good judgment.
What Does the King of Cups Mean in a Career Tarot Card Reading?
The King of Cups in a career tarot spread can be an indication that it is time to take charge and make well-informed decisions. Because the card represents emotional balance, it may also signify that you need to create a harmonious work environment by cultivating relationships with your colleagues and fostering open communication. The King of Cups encourages you to trust yourself and your judgment when it comes to your career. He also suggests that you stay focused on the task at hand rather than getting distracted by emotions such as anger, fear, or envy.
Ultimately, the King of Cups advises you to be mindful of how your actions can affect others in the workplace and create a positive atmosphere for everyone to be successful. If you find that someone you work with is using emotional manipulation to get their way or is creating a hostile environment, the King of Cups implies that this behavior should be dealt with swiftly and professionally.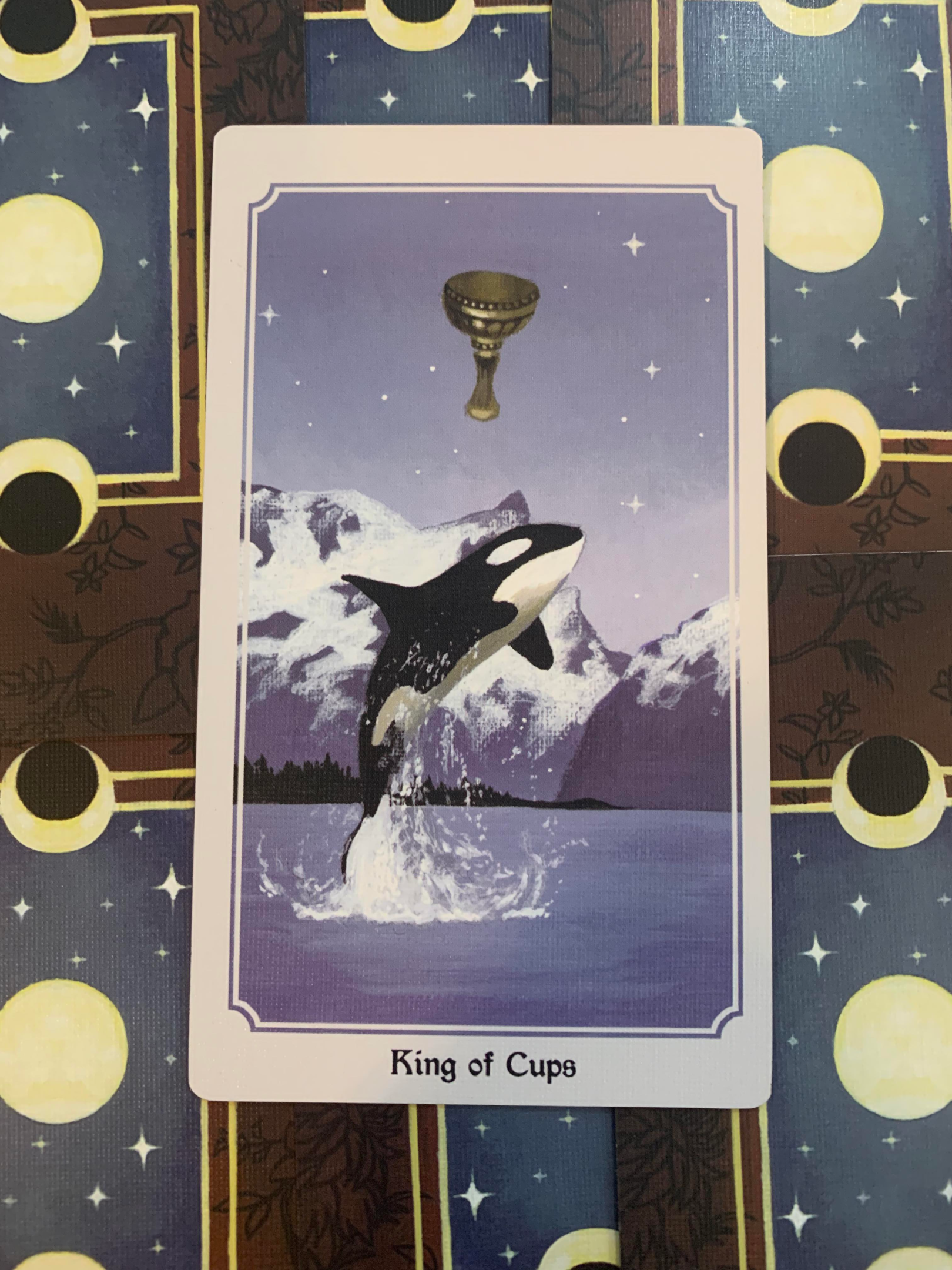 What Does the King of Cups Mean in a Money Reading?
In a financial context, the King of Cups upright is a positive sign.  It suggests that you are managing your finances in a mature and responsible way. You may be looking for ways to save money, earn extra income, or make investments with confidence. The King of Cups encourages you to stay focused on the task at hand and not let emotions like fear or greed get the better of you.
Alternatively, the King of Cups can mean that a wealthy family member or friend will help you financially, either through their sound advice or through monetary transfers.
What Does the King of Cups Mean in a Health Tarot Spread?
When the King of Cups appears in your health reading, it indicates that you are taking care of business in regard to your physical, emotional, and mental states. Maybe you've been hitting the gym more lately or started seeing a therapist to work through negative energy – either way, the King of Cups takes notice and advises you to keep on keeping on. He represents balance and stability, suggesting that if you remain disciplined in your self-care practices you will continue to feel strong and healthy.
What Does the King of Cups Reversed Mean in a Tarot Spread?
If a tarot reader pulls the King of Cups reversed, understand that you lack balance in your life. You may be prioritizing pleasure over progress, becoming overly emotional or sensitive, or avoiding responsibility in favor of escapism. Avoidance comes in many forms – oversleeping, partying your nights away, or spending too much time wrapped up in your favorite Netflix show can all be ways that you are ignoring your responsibilities. This card suggests it's time to reel it in and get practical about what needs to be done.
Discipline is a sign of emotional maturity, and the reversed King of Cups says "Time to grow up!" Take care of business and your life will start to feel more stable and fulfilling.
Additionally, the King of Cups comes when someone in your life is using emotional blackmail against you or taking advantage of your kind nature. Be wary of this person and don't let them manipulate you. On the other hand, the King of Cups can also represent the inner self, so analyze your actions and make sure you're doing everything above board. Ultimately, you benefit yourself and those around you more by staying in control of your dark side.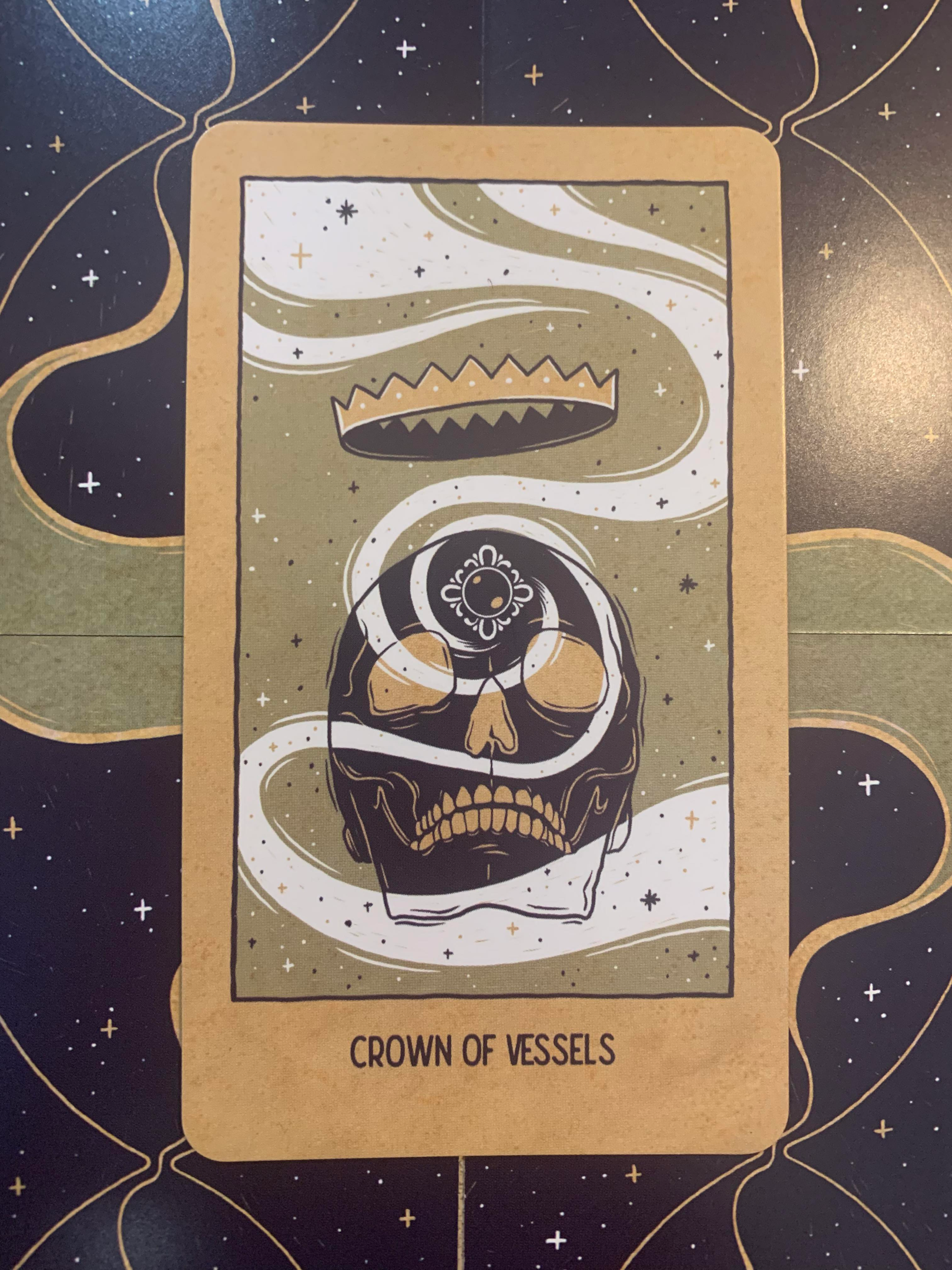 Who is the Reversed King of Cups as a Person?
The Reversed King of Cups is the boy who never grew into a man. Emotionally unstable, he gives in to his every whim, lacking the discipline to self-soothe. He takes out his frustration on whatever is nearest – you, or maybe the drywall. His emotional instability overrides all else, and he may be someone who jeopardizes your personal safety. At his worst, he may even commit crimes like sexual assault.
What Does the King of Cups Reversed Mean in a Love Tarot Reading?
Are you dating your boyfriend, or are you raising him? The King of Cups in a reversed position is an emotionally immature deviant who expects to be coddled. This card can also be indicative of a lack of commitment, someone who is always looking for greener pastures, or even an affair.
In a love reading, the Cup King can represent an older male who isolates you from the outside world and takes advantage of your naivete. It could also indicate an emotionally draining relationship that you're better off escaping from.
The reversed King of Cups says it's time to stand up for yourself, take control of the situation, or walk away altogether if need be. Establishing healthy boundaries is key to having emotional fulfillment in a relationship – one in which both parties respect each other and keep their commitments. Only then can true love blossom.
What Does the Reversed King of Cups Mean in a Career Reading?
When you pull the reversed King of Cups from your tarot cards, its career meaning is that need to get your priorities straight. This card symbolizes an emotional blockage when it comes to staying disciplined and getting things done.
It may be time to evaluate your career choices, take a break from the hustle and bustle, or do some soul-searching about what you really want in life. Are you working yourself too hard without enough reward? Are you settling for something less than what you deserve? Reevaluate your goals and make sure they're aligned with your values before taking any further steps.
The reversed King of Cups also suggests there are hidden dynamics at play in the workplace – perhaps colleagues who don't have your best interests at heart or superiors who are using their power in negative ways. It's time to take a stand and make sure your rights are respected.
What Does the King of Cups Reversed Mean in a Money Reading?
The reversed King of Cups card in a money reading often alludes to a lack of financial stability. You may be struggling to stay afloat or feeling overwhelmed by the amount of debt you have accumulated. Alternatively, it can imply that you are using your emotions to make financial decisions — such as spending impulsively or taking on risky investments — which could leave you destitute.
The King of Cups reversed also suggests that you are not in control of your finances. You might be relying too heavily on the advice of others without thinking critically about it, or being too trusting with your money. It is important to take charge and become more mindful about how you manage your money, otherwise, you may find yourself in a difficult position.
What Does the Reversed King of Cups Mean in a Health Tarot Reading?
In a health reading, the reversed King of Cups represents a difficult emotional period. You may be struggling with mental health issues, experiencing mood swings, or feeling overwhelmed by your emotions. The King's reversed state encourages you to take a step back and assess yourself honestly so that you can make the best decisions for your future.
While it may feel tempting to push away your problems, remember that it is important to face them head-on. Take the time to nurture yourself and practice self-care. With the King's help, you can make it through this difficult time with grace and balance.
What Does The King of Cups Tarot Card Say about Timing in a Tarot Reading?
When the King of Cups appears in your spread, it could mean that you have the opportunity to make an important decision now, or that there will soon be an opportunity for you to gain insight into any situation. It is also a reminder not to act impulsively and use your intuition when making decisions. Additionally, this card can represent a period of time when emotions are running high—be sure to manage them effectively so that they don't interfere with what needs to be done
Is the King of Cups Tarot Card Meaning a Yes or a No?
The King of Cups is a yes card.
Questions For the King of Cups Tarot Card
Who gives you the best advice?
How can you honor your emotional need while remaining logical?
How can someone who is emotionally intelligent become manipulative?
What are the pros and cons of being emotionally attached to a situation?
When is it best to take action, and when should you remain patient?
Are there any hidden feelings or dynamics in your current life path that need to be addressed?
More Tarot Card Meanings
In conclusion, the King of Cups tarot card is a reminder to be in control of your emotions, practice self-care, and make informed decisions. It can also represent a manifestation period where you are able to take advantage of an opportunity or gain insight into any situation. When it comes to answers, this card does not necessarily provide yes/no answers but rather encourages you to explore all possibilities. Be sure to practice self-awareness and take your intuition into consideration when making decisions. If you would like to learn more about tarot card meanings, be sure to read our other articles for further insight!
Suit of Cups

| Card | Upright | Reversed |
| --- | --- | --- |
| Ace | Fresh Start, Abundance, Spirituality  | Endings, Resources Drying Up, Missed Opportunity |
| Two | Strength Through Partnership, Understanding, commitments | Poor Choices, Bad Company, Forced Separation |
| Three | Female Power, Joy, Community Support | Over Indulgence, Following the Crowd, Irrational |
| Four | Hesitation, Insecurity, Doubt | Inexperience, Rejection, Depression  |
| Five | Grief, Self-Recrimination, Set Backs | Resourcefulness, Self Reliance, Creative Problem Solving |
| Six | Nostalgia, Wistfulness, Idealizing the Past | Stinginess, Bitterness, Dark View of the World  |
| Seven | Illusion, Delusion, Mental instability | Insecure, Indecisive, Don't know which way to go |
| Eight | Transition, Walking Away, Travel, Seeking New Opportunities | Rejection, Confusion, and Running Away Will Only Make it Worse  |
| Nine | Wishes Granted; You Feel Healthy, Wealthy, and Wise | Hoarding Resources, Unappreciative, Selfishness  |
| Ten | Abundance, Flourishing, Happy Family | Separation from Family, Exhaustion, Disconnected |
| Page | Confident, Insightful, Spiritual, Sensual | Ostracized, Disconnected, Disappointed |
| Knight | Idealism, Chivalry, Bringing the World Into Order | Bull in a China Shop, Overly Rigid and Forceful |
| Queen | Intuition, Deep Meditation, Balanced Feminine Leadership | Self-Sabotage, Substance Abuse, Deep Unhappiness |
| King | Balanced Male Energy, Perceptive, Self-Assured | Power-hungry, Controlling, Cruel |