Queen of Cups Tarot Card – Keywords
Upright
Intuition, Deep Meditation, Balanced Feminine Leadership
Reversed
Self-Sabotage, Substance Abuse, Deep Unhappiness
What Does the Queen of Cups Look Like?
The Queen of Cups tarot card description shows a queen dressed in finery, her head adorned with a crown. Cherubs are carved into her throne, representing her connection to the divine. Ocean waves lap at the shore, but they never reach her feet, showing that she is in tune with the emotional realm but not drowning beneath its surface.
The Queen grasps a golden cup in both hands, staring at it in deep concentration. In this instance, the cup is her mind, her motivations, and her emotions. Her focused gaze communicates that she exists more in the emotional and mental realms than the physical. Alongside the King of Cups, she rules this watery suit.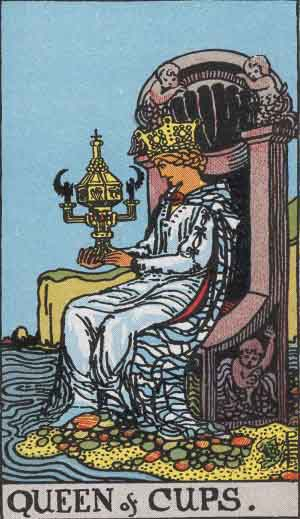 What Does the Upright Queen of Cups Mean in a Reading?
In a tarot reading, the Queens represent emotionally mature females, including mothers, wives, leaders, and bosses. They are often someone of influence and power and personify the qualities of their suit. The Suit of Cups is like a symphony by the sea, and the Queen of Cups is the concertmaster, the liaison between the King (the conductor) and the rest of the Suit (the orchestra).
The Queens of Tarot

| Card | Upright | Reversed |
| --- | --- | --- |
| Queen of Swords | Honesty, Assurance, Refined, Discerning | Ice Queen, Distant, Cruel |
| Queen of Wands | Intuition, Truth | Domineering, cold |
| Queen of Pentacles | Nurturing energy, Sensitive, Self Reliant | Martyrdom, Guilt, Relying on Others Too Much |
| Queen of Cups | Intuition, Deep Meditation, Balanced Feminine Leadership | Self-Sabotage, Substance Abuse, Deep Unhappiness |
The Queen of Cups is an embodiment of feminine intuition and spiritual depth. What she lacks in physicality, she makes up for in her mental fortitude. Unlike the Queen of Swords, who is astute but removed from her emotions, the Queen of Cups prioritizes her emotional well-being and weighs both her heart and mind when making decisions.
When the Queen of Cups tarot card appears in your spread, the time has come to look beyond the surface and explore the watery depths beneath. Think deeply about your feelings and emotions and how they might influence your decisions. The Queen of Cups wants you to face your fears and explore the depths of your unconscious mind, being brave in the face of what you may find. The Queen of Cups asks you to face the temptations and vices of the Devil, as well as the darkness and hidden motivations of the Moon card. Learn yourself, or be trapped beneath the waves of uncertainty and ignorance.
The Queen of Cups honors her emotions, but she does not let them control her. Instead, she channels them into the world around her, practicing compassion and providing emotional support for others. Upright, the Queen of Cups can bring balance and peace to a situation. She is calm and collected, patient and loving — a true symbol of feminine power.
When this minor arcana card appears upright, it is a sign that you are in tune with your intuition and have the gift of connecting deeply with others. You may feel like your empathy is heightened, allowing you to understand people more easily. Often, you "feel out" situations and recognize when something is off. On a practical level, this can help you make decisions based on wisdom rather than emotion.
At its best, the upright Queen of Cups represents emotional intelligence, self-awareness, and spiritual insight – all of which will help guide you through any challenges in life.
Who is the Queen of Cups as a Person?
As a person, the Queen of Cups is an emotionally mature female. Often, she is someone in your life who is older or more experienced than you and serves as a guide or mentor. Because of her connection to the otherside, she may have psychic talents or a defined spiritual direction in her life.
When I think of the Queen of Cups, I think of Melinda Gordon, the protagonist of the supernatural drama Ghost Whisperer. Melinda is a caring, nurturing soul, as well as female psychic, who spends her time running an antique shop and helping trapped spirits move on to the afterlife. Often, she is plagued with visions and snippets relating to the spirit's death or the reason that they're still on earth. Her psychic abilities reflect the watery, ethereal nature of the Suit of Cups, as well as her compassion for others and her roles as a caregiver, guide, and mother.
Places aren't haunted. People are.

Melinda Gordon, Ghost Whisperer
Another reason Melinda embodies the Queen of Cups tarot card is that she is willing to look past the confusing and often frightening exterior of her ghostly visitors and explore their pasts and motivations. She walks with them through the shadows, through their worst moments, and leads them to the light. That is the joy of the Queen of Cups.
What Does the Queen of Cups Mean in a Love Tarot Reading?
When the Queen of Cups appears in a tarot love reading, it usually indicates that the querent has a strong connection with their partner. It suggests an emotional bond and understanding between two people, where each is able to trust the other and feel safe in the relationship. You may share past lives together. It can also indicate that a new relationship is starting and it will bring the querent feelings of love, compassion, and security.
Depending on other cards that appear in the love tarot spread, this card can signify a long-term relationship or even marriage. It can also indicate a period of intense emotions, in which the querent is learning more about their partner and themselves. If a situation is unclear, the Queen of Cups can suggest that the querent should trust their feelings and intuition to help them make decisions.
What Does the Queen of Cups Mean in a Career Tarot Reading?
In a career context, the Queen of Cups could mean that you are attached to your career on an emotional level. You may mentally take work home with you, thinking of your patients, clients, or coworkers. Your empathy is a gift, and you tap into it to build rapport with those you work with.
Professionally, the Queen can also represent a position of influence in the workplace. This could mean you're moving up the corporate ladder or that you have a team of people, such as interns or employees, that you mentor and empower. You may be in charge of setting the tone for the atmosphere at work and ensuring everyone is comfortable and safe.
The Queen of Cups encourages us to prioritize our own emotional health while pursuing our career goals. She reminds us not to neglect ourselves in pursuit of success—to take the time to listen to our intuition and trust our feelings when making decisions. Even if it takes time away from your desk, it's important to find outlets for processing your emotions so that you can approach challenges with clarity and emotional balance. Doing this will help ensure that your decisions are sound, thoughtful, and constructive.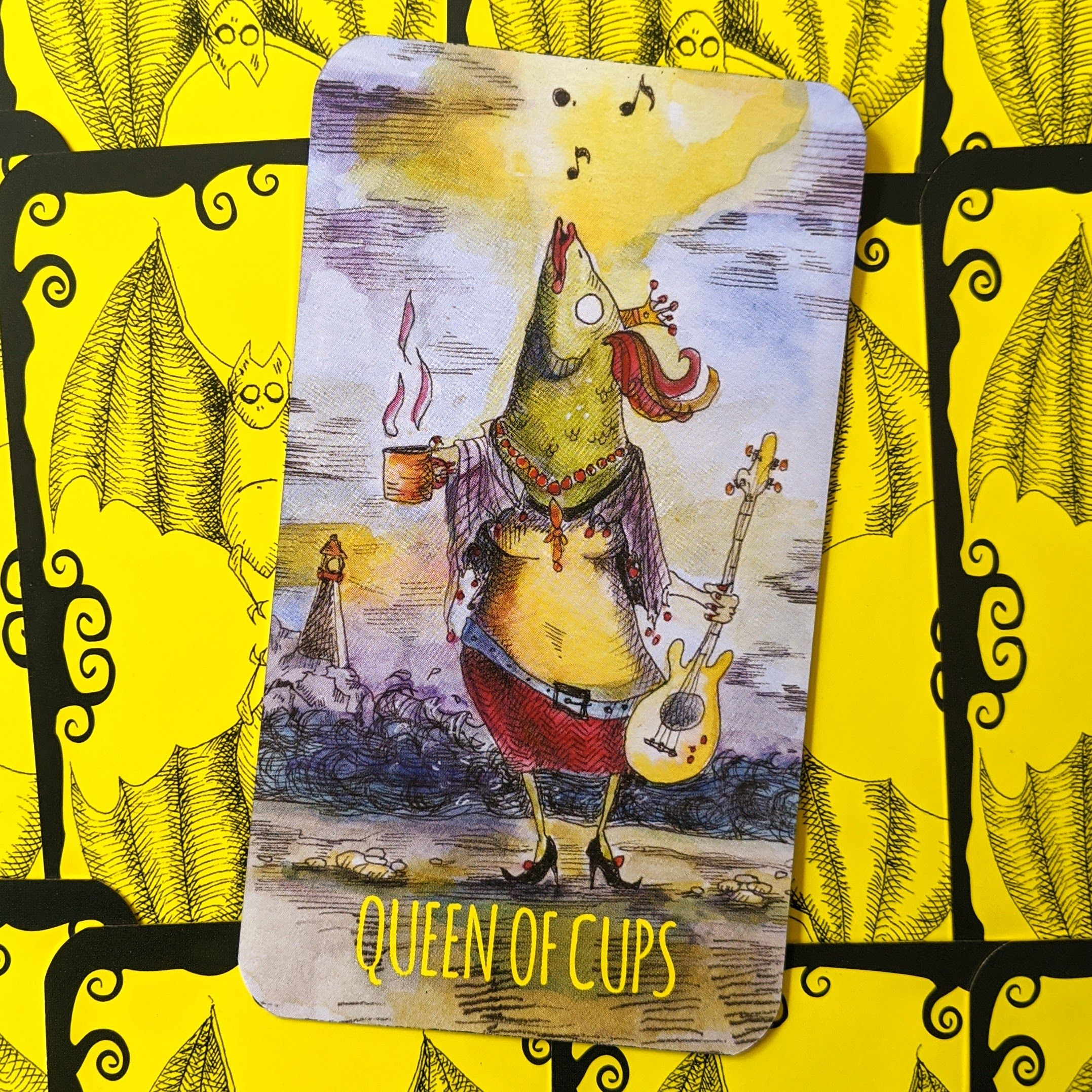 The Queen of Cups can also represent a female or feminine person in your workplace that you can confide in and lean on for support. You will recognize this person as someone who listens thoughtfully to your concerns or feelings and encourages emotional expression in the workplace. She is someone who makes you feel safe and supported.
Additionally, this card suggests that you will be successful if you cultivate your intuition and use your emotional intelligence to make informed decisions. It could also signify the need for patience and an open mind when dealing with difficult people or situations. The Queen of Cups can suggest that by listening to your heart, you will be able to find greater success than expected.
Overall, the Queen of Cups upright is a card of emotional stability and connection. She reminds us to take time to nurture our relationships with ourselves and others, connect deeply with our feelings, and trust our intuition as we move through life
What Does the Queen of Cups Mean in a Health Tarot Card Reading?
The Queen of Cups suggests that emotional healing is the key to physical health. To find the areas you need the most help with, consider throwing a tarot spread for trauma healing. This upright Cups card can also signify the need for more self-care, such as taking time out to relax, meditate, or get more in tune with your spiritual gifts. You are in a period of growth and learning more about yourself. While this experience can be uncomfortable, remember that growing pains do not last forever. You cannot dive into the deep end without first learning how to swim.
This card could also represent visiting a medical professional or counselor for help with an emotional issue. The Queen of Cups encourages us to trust our feelings and find ways to nurture ourselves both mentally and physically. Taking the time to process our emotions is essential for being able to move through life with clarity and balance.
The Queen of Cups can also be a sign that you need to take better care of yourself by spending more time with loved ones, creating a safe space in which you can share your feelings, or going on solo adventures that help you understand yourself better. No matter what form it takes, the Queen of Cups encourages us to explore our inner depths, listen to our intuition, and be honest with ourselves about our emotional needs in order to achieve inner peace.
What Does the Queen of Cups Reversed Mean in a Tarot Spread?
Sirens blare when the reversed Queen of Cups crashes onto your shores. Like a tsunami, she represents a tidal wave of emotions that drown the logical parts of you. You may be feeling overly sensitive or volatile, relying on unhealthy coping mechanisms to avoid reality. She can also mean that you're unbalanced, unable to access your intuition and make wise decisions.
The Queen of Cups reversed can be a sign that you are struggling with emotional stability and connection. You may be feeling lonely or isolated from the people who matter most in your life. Stranded on a desert island, you're slowly losing it. Bottling up your emotions will only delay the inevitable explosion of inner turmoil, volcanic gas bursting through the surface and boiling the sea that was once a refuge. It is important to take the time to acknowledge and address your feelings, even if it takes a bit of patience.
The Queen of Cups reversed can also mean that you are struggling with feeling overwhelmed by the expectations of others. You may be so focused on pleasing everyone else that you forget to fulfill your own needs. This card encourages you to move away from people-pleasing and nurture yourself instead. Learn how to say no and make decisions based on what makes sense for you, not what other people want or expect from you. Otherwise, you will continue living in fear of disappointing those around you, continuing an exhausting cycle that cannot lead anywhere good.
This card can also signify clinging onto hurtful relationships or patterns of behavior because they are familiar. Reversed, it is warning us not to ignore any negative recurring themes in our lives and make a conscious effort to let go of unhealthy habits. The Queen of Cups reversed is an invitation to take a step back and ask yourself if these relationships are really serving you or only weighing you down. It's time to choose self-care over people-pleasing.
In conclusion, the meaning of the Queen of Cups reversed in a tarot reading can be interpreted as a warning for us to reevaluate our emotional issues before they get out of hand. This card is asking us to pay attention to recurring themes in our lives and take steps towards healing ourselves rather than continuing on the same path with no progress being made. With some introspection and patience, we can find strength in understanding our difficult emotions and restore our own inner equilibrium.
Who is the Reversed Queen of Cups as a Person?
The reversed Queen possesses the same complex inner feelings as her upright counterpart but with none of the emotional security. Her emotions are like a flash flood, sudden and destructive, overwhelming the shoddy foundations she has built in her life. While the upright Queen uses her watery qualities to form connections with others, the reversed Queen becomes possessive and controlling toward the people she's attached to, often delving into rage and jealousy when she reaches her boiling point. At times, people question her sanity.
My whole life, I've been doing what it takes when I love someone.

Love Quinn, after killing Delilah
The perfect fit for the compelling reversed Queen is Love Quinn from the Netflix hit You. The daughter of neglectful upper-class parents, Love is a dedicated sister, daughter, friend, and baker, using her expressive and observant nature to learn and influence those around her — at least, on the surface. Look deeper, and you'll see an obsessive, jealous woman that will kill for those around her, if only so she can control her environment. Love is the first character in the series that the protagonist, Joe, is unable to conquer, having truly met his insane match in his new wife and baby mother.
What Does the Queen of Cups Reversed Mean in a Love Tarot Reading?
The Queen of Cups in a tarot love reading is a bad omen. Reversed, she means that you may be losing yourself in your partner. You are feeling bogged down by the weight of your partner's expectations or emotional immaturity. Often, you are overly sensitive or prone to volatile outbursts due to unresolved feelings. Tension dominates your relationship and not the sexy kind.
The Queen of Cups reversed can indicate that one person in the relationship is struggling with self-love or has had difficulty being emotionally honest with themselves. The result is an unbalanced and unhealthy dynamic where one person is left feeling neglected and lonely while their partner focuses on pleasing others instead of meeting their own needs. Ultimately, this is the card of self-sabotage in a relationship. Because one person feels they do not deserve love, they will subconsciously undermine and ruin the relationship, caught in confirmation bias that confirms they are unlovable and worthless. You don't have to have psychic abilities to see it's a self-fulfilling prophecy.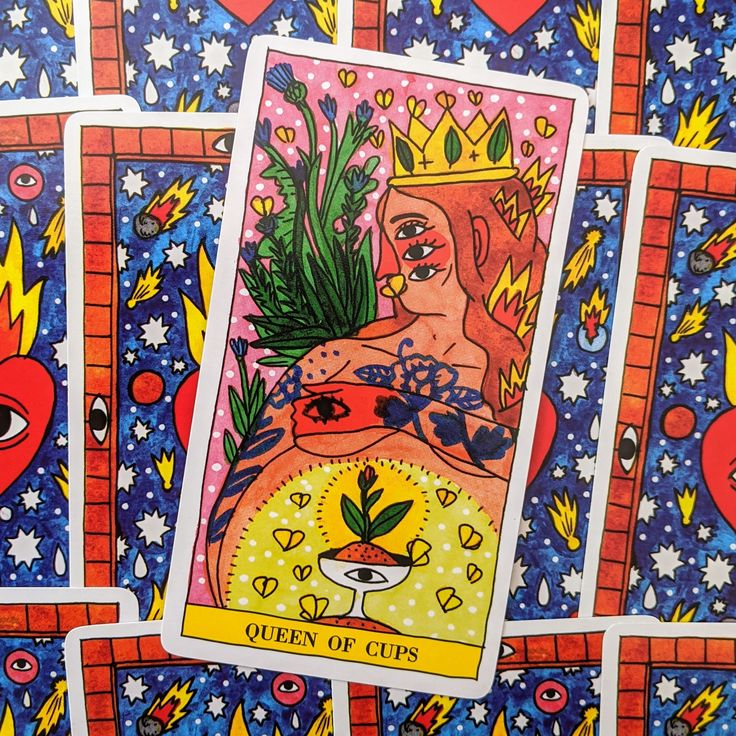 This card cautions us to take a step back and evaluate what is happening. Dissect the dynamics of your relationship, and identify which feelings are yours and which ones belong to someone else. Doing this work will help you find a true connection with yourself rather than relying on external sources for your emotional sustenance. Learning how to express yourself honestly and openly is key in order to making sure that both people are getting their needs met in the relationship. This card can also be a call for self-compassion and understanding so that we do not fall into destructive patterns of behavior or stay in relationships that are no longer serving us. With some patience and inner reflection, it is possible to restore balance in our love lives and nurture healthy connections with those who matter
What Does the Reversed Queen of Cups Mean in a Career Reading?
The reversed Queen of Cups in a career reading can be interpreted as a sign that you are feeling unmotivated and uninspired. You may feel like your work is not making an impact, or worse yet, you don't know what direction to go in. It could mean that it's time to take a step back and analyze how fulfilled you are with your current job. Do the tasks make you excited? Are there other paths that would bring more joy into your life?
Additionally, this card warns against allowing emotions to dictate our decisions and behaviors at work. If you let yourself become too affected by your feelings, you risk losing your cool, and by extension, your financial security. This card is a reminder to take the time to reflect and get back in touch with your values. When you focus on what matters to you and act accordingly, you can make decisions that are beneficial for you as well as those around you.
The reversed Queen of Cups can also indicate a need to work on your emotional intelligence skills. You should be able to control your feelings and respond thoughtfully when put in difficult situations rather than simply relying on instinctive reactions. It's important that you are mindful of how your emotions may affect others so that you do not unintentionally hurt or upset them at work. Learning these skills will help boost morale in the workplace, which is essential for any successful team.
What Does the Queen of Cups Reversed Mean in a Health Tarot Reading?
In a health context, the Queen of Cups reversed suggests that you need to take a good look at how your emotional state is affecting your physical well-being. You may be experiencing mental strain, stress, or repressed feelings that are eventually leading to physical symptoms like headaches, stomachaches, and overall fatigue.
Practicing emotional self-care is key to restoring balance and healing any physical issues. Start by being honest with yourself about how you're feeling and try to identify where these emotions stem from. Doing this can help you gain insight into possible causes for your ailments as well as recognize unhealthy patterns of behavior or beliefs that are negatively impacting your health.
What Does The Queen of Cups Tarot Card Say about Timing in a Tarot Reading?
Because the Queen of Cups is associated with the zodiac sign of Cancer, the situation that you ask the Tarot about may occur during Cancer season, from June 22 to July 22. In other contexts, this card appears in a time when you need to evaluate your emotions and motivations or practice compassion for others.
Is The Queen of Cups Tarot Card Meaning a Yes or a No?
The Queen of Cups upright is a "yes" card.
Questions For the Queen of Cups Tarot Card
Do I have a negative or positive influence on other people's moods?
How can I strengthen my spiritual gifts?
What is preventing me from regulating my emotions?
How can I use my empathy to connect with others?
Do I ignore or rely too heavily on emotions when making a decision?
Who in my life can help me get in touch with my feminine side?
More Tarot Card Meanings
The Queen of Cups is a card of psychic powers, empathy, and emotional balance. Explore the rest of the Suit of Cups and our other articles to learn more about the Tarot!
Suit of Cups

| Card | Upright | Reversed |
| --- | --- | --- |
| Ace | Fresh Start, Abundance, Spirituality  | Endings, Resources Drying Up, Missed Opportunity |
| Two | Strength Through Partnership, Understanding, commitments | Poor Choices, Bad Company, Forced Separation |
| Three | Female Power, Joy, Community Support | Over Indulgence, Following the Crowd, Irrational |
| Four | Hesitation, Insecurity, Doubt | Inexperience, Rejection, Depression  |
| Five | Grief, Self-Recrimination, Set Backs | Resourcefulness, Self Reliance, Creative Problem Solving |
| Six | Nostalgia, Wistfulness, Idealizing the Past | Stinginess, Bitterness, Dark View of the World  |
| Seven | Illusion, Delusion, Mental instability | Insecure, Indecisive, Don't know which way to go |
| Eight | Transition, Walking Away, Travel, Seeking New Opportunities | Rejection, Confusion, and Running Away Will Only Make it Worse  |
| Nine | Wishes Granted; You Feel Healthy, Wealthy, and Wise | Hoarding Resources, Unappreciative, Selfishness  |
| Ten | Abundance, Flourishing, Happy Family | Separation from Family, Exhaustion, Disconnected |
| Page | Confident, Insightful, Spiritual, Sensual | Ostracized, Disconnected, Disappointed |
| Knight | Idealism, Chivalry, Bringing the World Into Order | Bull in a China Shop, Overly Rigid and Forceful |
| Queen | Intuition, Deep Meditation, Balanced Feminine Leadership | Self-Sabotage, Substance Abuse, Deep Unhappiness |
| King | Balanced Male Energy, Perceptive, Self-Assured | Power-hungry, Controlling, Cruel |