Three of Wands Tarot Card – Keywords
Reversed
Dejected, Self-Pity
Three of Wands Tarot Card Description
The Three of Wands is a card that typically appears when delegation and strategic planning are necessary in order to achieve one's goals.
In many decks, the Three of Wands depicts a man standing on a cliff, looking out over the sea towards distant lands with three wands beside them. This suggests that the querent is at a point in their life where they would like to venture beyond their comfort zone in pursuit of their goals but are vital for the home front, so they will have to delegate the adventure to others on their team.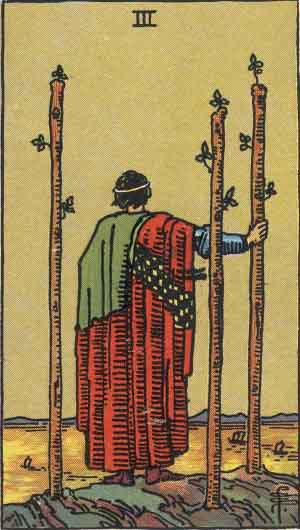 Upright Three of Wands Tarot Card Meanings
In the Tarot, the Three of Wands is associated with negotiated settlements and giving instructions. It can also indicate that you feel left out of the action.
Despite your FOMO, the Three of Wands says you are in a position of power. You have the ability to negotiate from a place of strength. This is a good time to give instructions or directions to others.
There is a sense of isolation or disconnectedness from the world around you. It's killing you to think like you are just a bystander or missing out on some opportunity.
You are no unwilling Hermit. Keep in mind that the coach directs from the sidelines.
Situationally, the upright Wands card alludes to travel overseas, maybe even settling down in other countries to build a better future. Think of new relationships, new careers, and fresh starts. You're expanding your horizons and getting to know yourself in this vast open space.
Threes in Tarot signify growth, development, and moving in new directions. The Three of Wands in the tarot deck can represent a number of different things. One of the key meanings is a deep sense of longing.
The Three of Wands upright tarot card can also represent what lies ahead. This may be something that you have been planning for some time, or it may be a new opportunity that is just around the corner.
Threes in Tarot

| Card | Upright | Reversed |
| --- | --- | --- |
| Three of Wands | Strategy, Belief | Dejected, Self Pity |
| Three of Swords | Heartbreak, Betrayal, Cardiovascular Issues | Following Your Passion, Faith, Strength from Suffering |
| Three of Cups | Female Power, Joy, Community Support | Overindulgence, Following the Crowd, Irrational |
| Three of Pentacles | Getting noticed, Moving up in the organization, Raw talent | Working harder, not smarter, getting blocked by jealous coworkers |
| The Empress | Birth, Abundance of Harvest, Creation | Neglect, Counterproductive  |
Three of Wands as a Person
The Three of Wands person is someone who has a great deal of confidence and ambition. They are usually very creative, with a desire to journey down roads less traveled.
They often have a strong sense of intuition that can help them make quick decisions in the face of challenging situations. The Three of Wands individual may also be quite entrepreneurial by nature, looking for new outlets to express their creativity.
The Three of Wands is an individual who knows what they want and isn't afraid to go after it. They tend to be very steadfast in their convictions, unafraid of the challenges they may face along the way.
Three of Wands – Love Meaning
In a love reading, the Three of Wands meaning signals long-distance relationships. Someone you see every day may soon be seen in mere glimpses.
This may be a new long-distance relationship that is starting, or it could be that you and your partner are communicating more (texting, video chatting, etc.) to stay connected.
The Three of Wands in the upright position can also indicate that your soulmate is just beyond your reach. You stand at the cliff edge, dreaming of a person you haven't yet met.
The Three of Wands can also signify a need for space in an existing relationship. This is not necessarily a bad thing, but it may cause some distance between you and your partner. However, it's important to remember that sometimes distance can make the heart grow fonder.
Three of Wands – Health Meaning
Finally, you're getting somewhere! In health tarot reading, the Three of Wands card appears when your health takes a turn for the better or a diagnosis is made. It's the definition of a "long time coming."
The Three of Wands card speaks to the idea that you will need to strategize and plan in order for your health to improve. It could be a reminder that you need to take better care of yourself, such as getting enough sleep or eating healthier. You may also find it helpful to reach out for help from a doctor or therapist and create an action plan together.
Three of Wands – Financial and Career Meaning
The Three of Wands is a tarot card that represents the search for better opportunities. Given the emphasis on foreign lands, this card indicates that you'd be happier working abroad.
In a career reading, this card indicates that you may be considering making a change in your current situation. Whether you are looking for a new job or exploring different options within your field, you are ready to take action. This is a positive time for making decisions about your future.
The wands in the card represent your goals and ambitions. The number three represents progress and possibility.
Look to supporting cards for clarification. If paired with the Star, expect good fortune as you embrace change in your work life. The next phase of your career will be better than the last.
Financially, it is a good time to take risks and make investments, as you are likely to see a good return. The Three of Wands suggests that you should take advantage of the opportunity before it passes. It is essential to remember, however, that success often requires hard work and dedication.
Three of Wands – Spiritual Meaning
When it comes to spiritual readings, the Three of Wands encourages you to reach out for new experiences—particularly those that involve healing. This could be anything from visiting psychics or energy healers to participating in group meditations or taking part in a spiritual retreat.
This card also suggests that you are ready for change. Taking the time to explore new paths can help you grow and expand your consciousness. You may even come across a spiritual practice that resonates with you, leading to a deeper understanding of yourself and your place in the world.
Three of Wands Reversed Meaning in a Tarot Spread
The Three of Wands in the reversed position often indicates a situation in which someone is feeling rejected or isolated. This may be due to a long-distance relationship, or it may be the result of self-doubt and insecurity.
In either case, the Seeker is likely to feel as though they are not good enough or that they do not deserve love.
The Three of Wands reversed can also indicate a fear of commitment or a fear of failure. Likely, the fear derives from a previous relationship that ended badly, or it may be the result of unresolved issues from childhood.
Reversed Three of Wands as a Person
The 3 of Wands reversed represents an individual that is struggling with self-doubt and insecurities. They may fear embarking on new journeys or taking risks, as they have experienced failure before.
The 3 of Wands meaning suggests this person is often stunted by their own negative thinking and can become overwhelmed easily due to their lack of confidence. They may also struggle with indecision, finding it difficult to make decisions.
Three of Wands Reversed – Love Meaning
When the reversed Three of Wands appears in your love tarot spread, a failed long-distance relationship may be in your future. This card signifies a lack of progress in a relationship, and time apart certainly strains the closeness between two people.
As a love card, it represents a paralysis in romance. In other words, you've stalled out. If you're in a relationship, you may be clinging to the other person – or the idea of that person – instead of making a clean break. If you're single, you're likely holding on to past relationships or romantic pain that is preventing you from embracing your life unattached or from pursuing a new, healthy relationship.
Three of Wands Reversed – Career or Financial Meaning
The Three of Wands tarot card reversed indicates that you may be feeling a lack of direction in your career. You may be uncertain about your next move or what steps to take to further your business.
However, this is a time to trust your intuition and follow your heart. The tarot card meanings also reveal that this is a time of new opportunities.
The Three reversed in a financial tarot card reading suggests that you may be experiencing some challenges or setbacks related to your finances. Hard-earned money goes down the drain.
The Suit of Wands tarot card meanings generally depict action, progress, and movement. However, when the card is reversed, it can indicate that these things are not happening as smoothly as you would like.
It is important to remember that reversals are not always negative. Sometimes they can simply indicate a need for patience or a period of transition.
Three of Wands Tarot Card Reversed – Health Meaning
Healthwise, this reversed card means you may be feeling overwhelmed. Your health is going through a challenging time, and maintaining your well-being can seem like a difficult task.
However, it is important to remember that even in times of difficulty, there are still choices you can make. Remember to take care of yourself. Pay attention to any signs your body gives you.
The 3 of Wands reversed can also indicate a need for rest. You may be pushing yourself too hard or running on empty. The card asks you to listen to your body.
Three of Wands Tarot Card Reversed – Spiritual Meaning
In a spiritual context, the reversed Three of Wands tarot card meaning can be a warning to take it slow, especially in combination with the Hanged Man. The Wands encourages patience and discernment when trying new things, especially when those activities may push you out of your comfort zone.
Your intuition may be screaming that something isn't quite right or that a spiritual practice is not aligned with your beliefs. Make sure to trust these instincts and take the time to find what is truly right for you.
This card also warns against over-spiritualizing things. It's easy to get swept up in a spiritual journey, but don't forget the details of day-to-day life that may need your attention. While it's important to explore and expand your spiritual path, make sure to be realistic about what can be achieved in a practical, day-to-day sense.
Three of Wands Tarot Card – Timing Meaning
When you ask the Tarot questions about timing, this card suggests that the situation will occur within three days or during the Summer. Alternatively, it can take place when the Sun is in Aries.
Furthermore, this card implies that travel is imminent or must occur for this situation to take place.
Three of Wands – Yes or No Meaning
Upright – The 3 of Wands upright is a "not yet" card
Reversed – This is a not right now card.
Questions For the Three of Wands Tarot Card
Do you have anything in your life that's not serving the purpose it was designed for? If so, now is a great time to let go and engage with something else.
What are some ways that I can improve my decision-making process?
What is the secret behind your success?
Explore Beyond the Wands
The 3 of Wands asks to work on personal development and focus on moving forward. It suggests that the best time to take action on an idea or goal is now. To learn more about the Suit of Wands and the rest that the Tarot has to offer, keep reading our articles!
Suit of Wands

| Card | Upright | Reversed |
| --- | --- | --- |
| Ace | Action, Inspiration | Stuck, Lackluster |
| Two | Travel, Dreaming | Undetermined, Erratic |
| Three | Strategy, Belief | Dejected, self-pity |
| Four | Celebrations, Enthusiasm | Extravagance, Ego |
| Five | Power Struggle, Resistance | Manipulation, negotiating |
| Six | Victory, Integrity | Misdirection, Rebellion |
| Seven | Defending, Justification | Inferiority, Weakness |
| Eight | Messages, Aim | Discord, Frustration |
| Nine | Determined, Resolute | Mental Decline, failure |
| Ten | Homecoming, end of a task | Hoarding, selfish |
| Page | Artistic, Travel | Lazy, Fickle, Snobby |
| Knight | Passion, Manifestation | Anger, Overzealous |
| Queen | Intuition, Truth | Domineering, cold |
| King | Preparedness, Protection | Intolerant, Impatient |