Tarot cards have long been used for guidance, divination, and manifestation over the centuries. Some believe that the practice of Tarot brings the reader misfortune and woe, but we know better. Many tarot cards actually speak of good fortune, success, and abundance. Whether it's a career opportunity or a romantic relationship, these lucky tarot cards will help you make the right decision and provide a hint of luck to get you through even the most difficult times.
So, spread out the deck and get ready to find your fortune!
1. Wheel of Fortune
The Wheel of Fortune is one of the major arcana cards in a tarot deck, representing major life changes and significant moments. This card symbolizes luck, destiny, and the fickle nature of fate. It can represent cycles of destiny as well as constant change.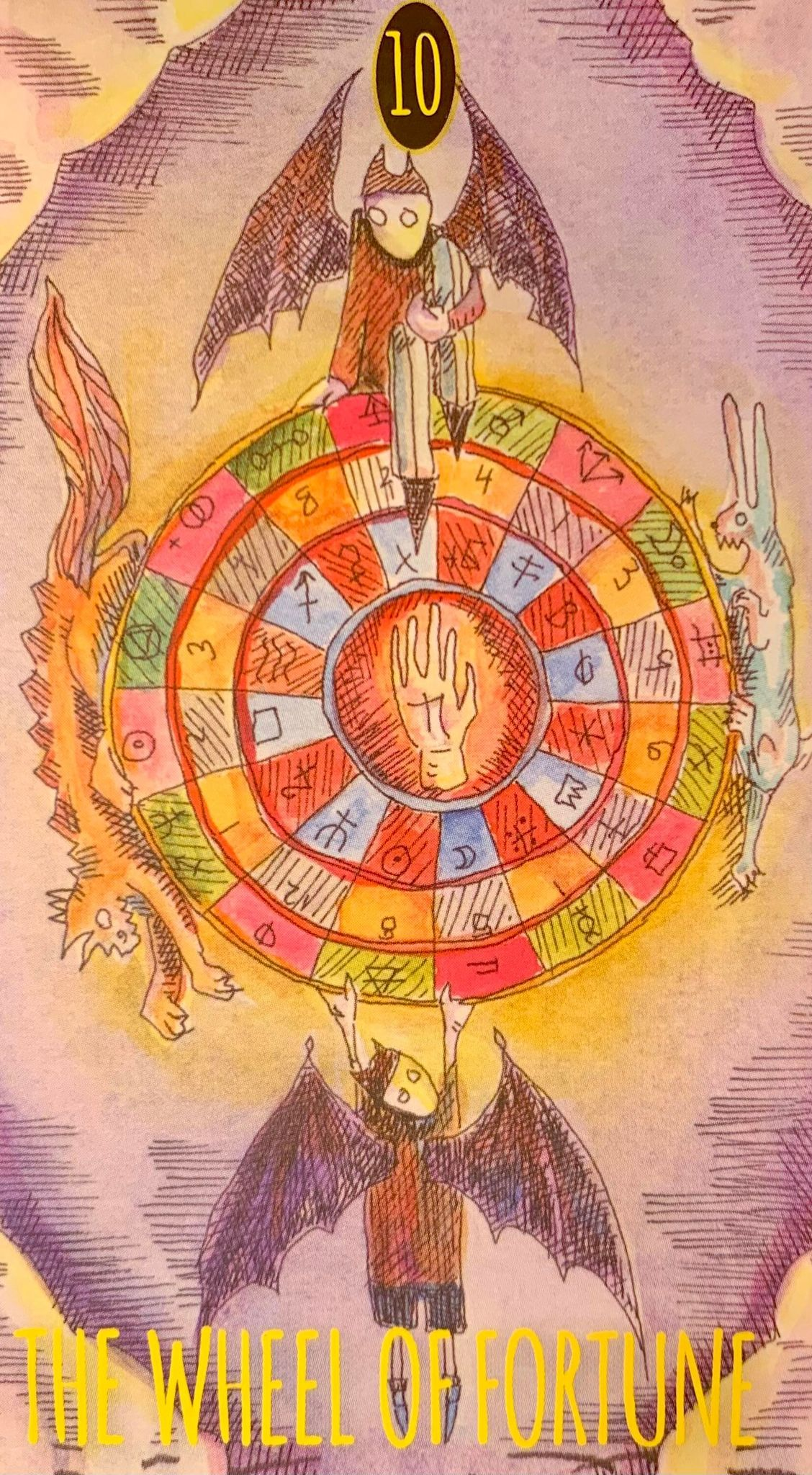 Often, the Wheel of Fortune indicates a need for us to take risks and accept our fortune – whatever it may be – with an open heart. By embracing the unknown, we can learn to harness the power of this major arcana card to take control of our lives and make things happen! So spin the wheel and see where your luck takes you!
2. Ace of Pentacles
The Ace of Pentacles is one of the best tarot cards for good luck. It symbolizes a new beginning – something that can be seen as both an opportunity and a challenge. It suggests luck and prosperity in your career and is a great indicator of financial success. As part of the Suit of Pentacles, this card is one of many which represents material abundance and financial stability. This suit is associated with manifestation, the power to create wealth, and the potential for success in practical matters.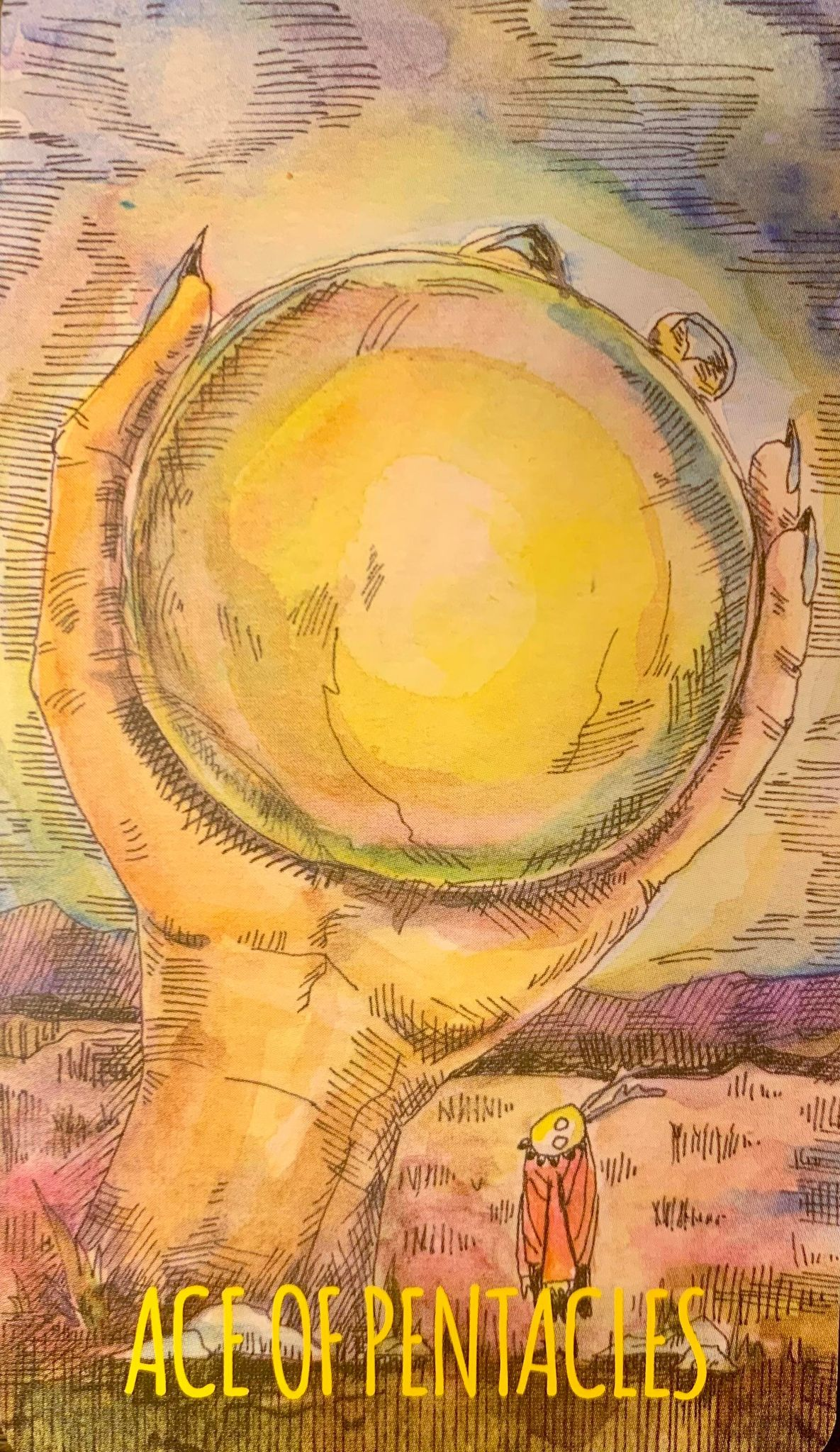 Additionally, the Ace of Pentacles can indicate the need for us to take advantage of an opportunity that has presented itself. In a love reading, this means your new romantic affair has wonderful potential. Overall, this card encourages us to be open to the magic of luck and use our creativity to manifest what we want in the material world.
3. The Star
The Star tarot card is one of the most positive tarot cards in the deck. It represents harmony, balance, hope, and a bright future. It is a reminder that no matter how dark the situation may seem in the present, there is always something to look forward to in the future. The Star encourages us to trust our intuition and rely on our inner guidance as we work towards achieving harmony and balance. To further guide us on our journey, the Star card can also represent finding mentors or teachers who can help us learn valuable lessons about life.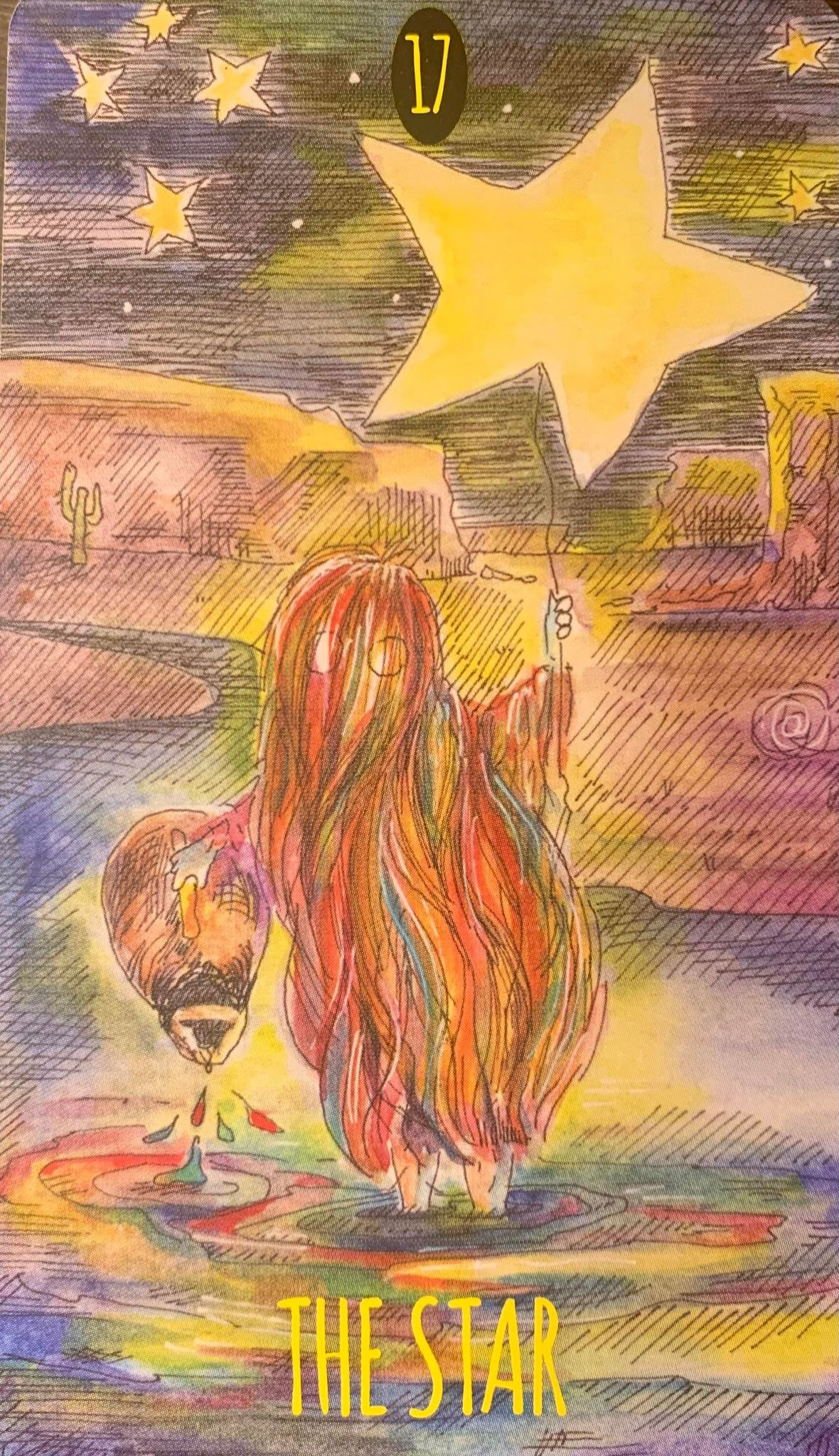 The Star is a card of renewal, symbolizing an opportunity for us to take advantage of our inner strength and potential. It suggests that luck is all around us, just waiting for us to take advantage of it. So keep your eyes and heart open – luck may be just around the corner!
4. Nine of Cups
The Nine of Cups card is part of the minor arcana in a tarot deck, representing material satisfaction, abundance, and good luck. This card is often referred to as the "wish card" because it symbolizes the fulfillment of wishes and desires. It suggests that all your hopes, dreams, and goals are within reach, as long as you remain open to opportunities and take action. When this card appears in a reading, it is an indication that anything is possible if you put your mind to it.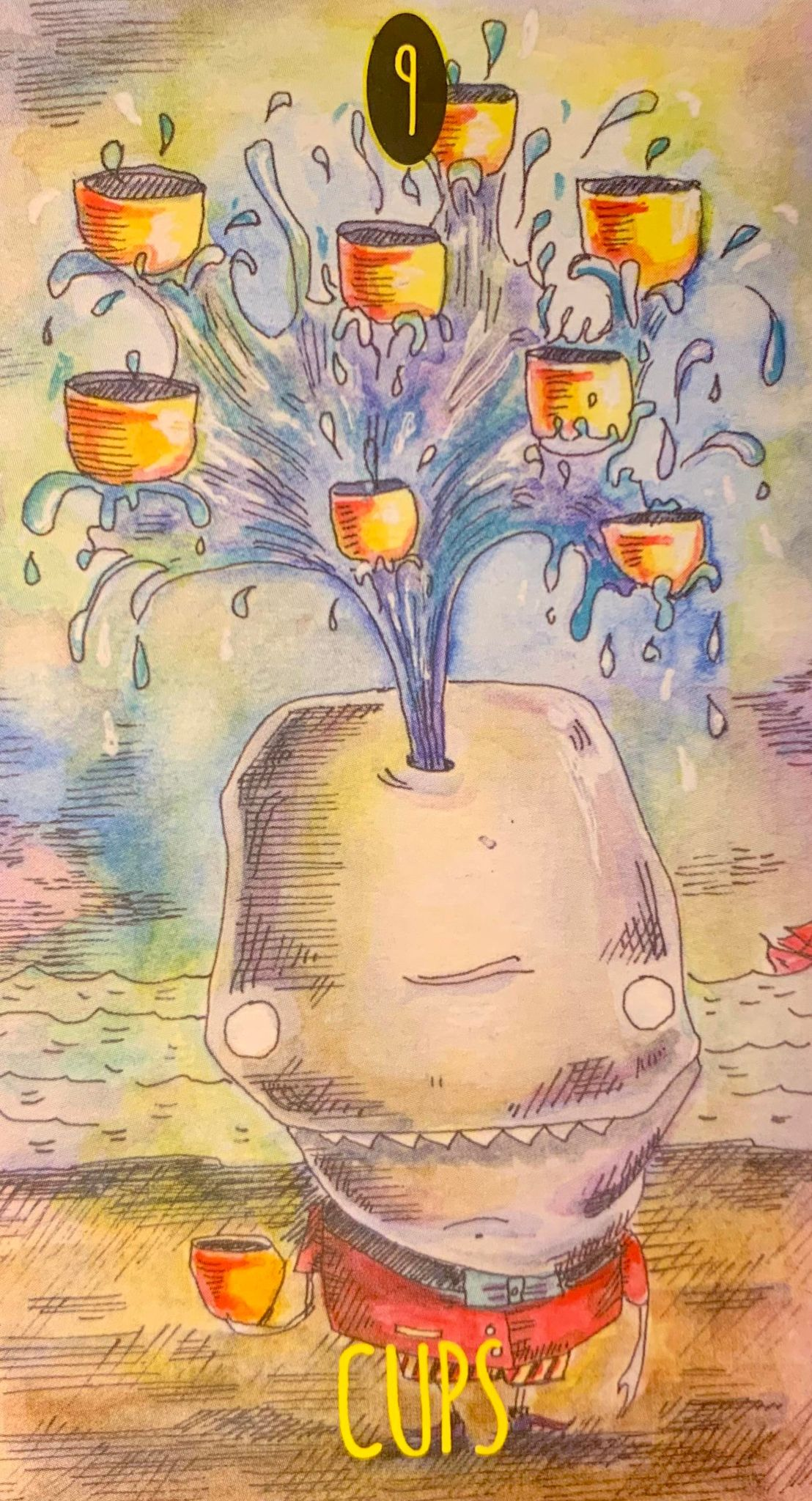 In astrology, the Nine of Cups is ruled by the sign of Pisces, which is associated with emotional fulfillment. If you pull the Nine of Cups in a career reading, you can expect prosperity and progress in your chosen career path. In a love reading, the Nine of Cups indicates that your true love is waiting in the wings, ready to embrace you. In all, this tarot card suggests that luck is on our side in all areas of our life – we just have to be open to receiving it.
5. Six of Wands
You may have heard that "fortune favors the bold." This sentiment has never held truer than in the Six of Wands.
The Six of Wands is a card that represents victory, success, and good luck in a tarot reading. This card suggests that you have the power to reach any goal or dream as long as you keep your focus on it and stay motivated. The message behind this card is that every effort will be rewarded with success. In romantic relationships, the Six of Wands indicates that a relationship is heading on the right track and love will soon follow.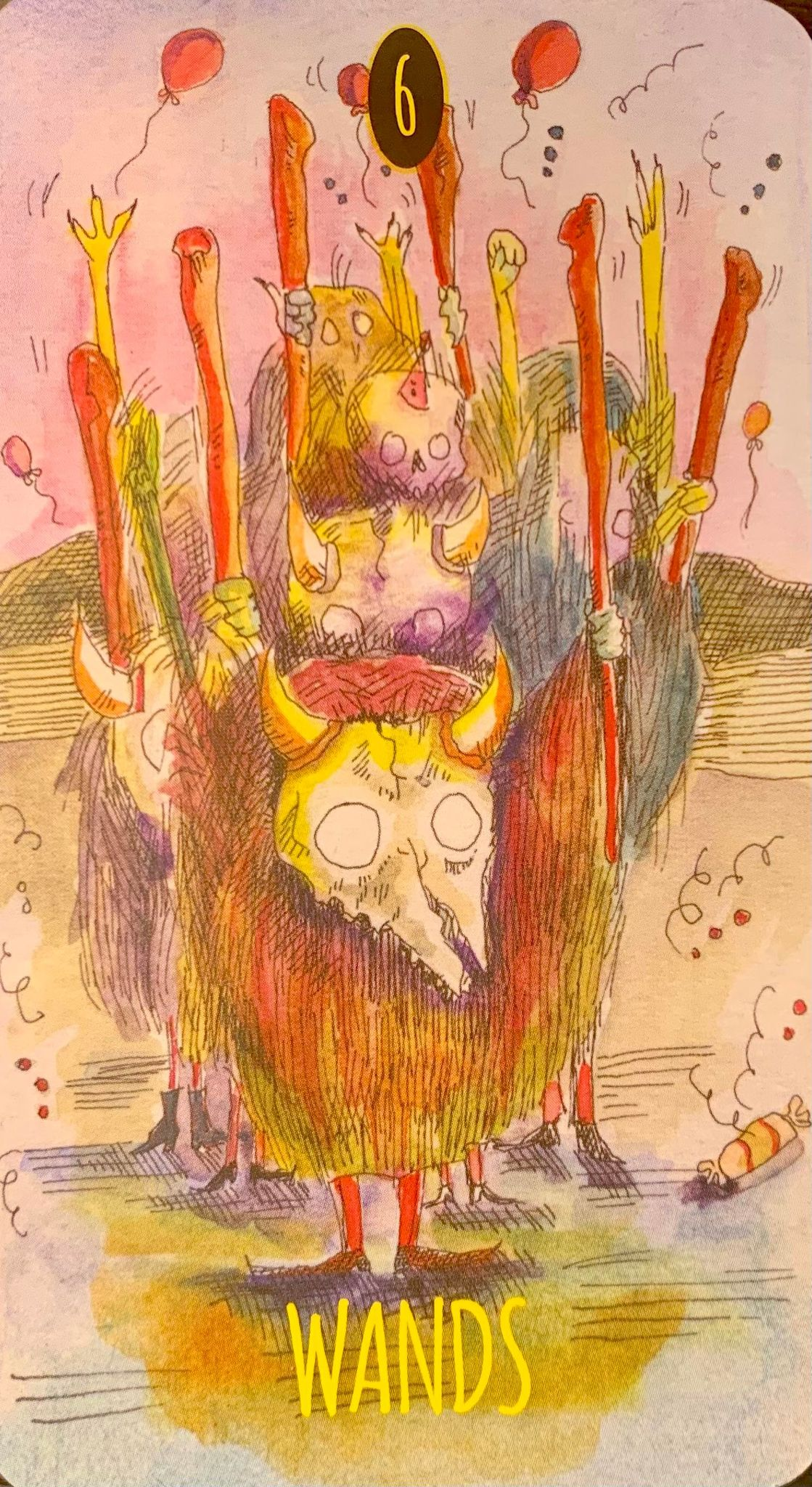 This tarot card also symbolizes courage and resilience – qualities which are essential in order to take advantage of opportunities that come our way. Think back to those moments when you overcame challenges, faced fear head-on, or persisted even when all hope seemed lost – these accomplishments will be remembered for years to come.
The Six of Wands encourages us to use our creativity to manifest what we want in the material world. With each success, a new level of self confidence emerges that allows us to take on even more challenging tasks. So don't be afraid to take risks and trust your inner guidance – you may just find yourself luckier than ever before!
6. The Sun
The Sun shines brightly at the center of our universe, giving life to all that bask in its radiance. With its strength and optimism, it's no surprise that the Sun is one of the most positive cards in the deck. The Sun tarot card signals abundance, happiness, and good fortune in all aspects of life. When this card appears in a tarot reading, it's time to focus on positive energy and be open to receiving blessings from the universe.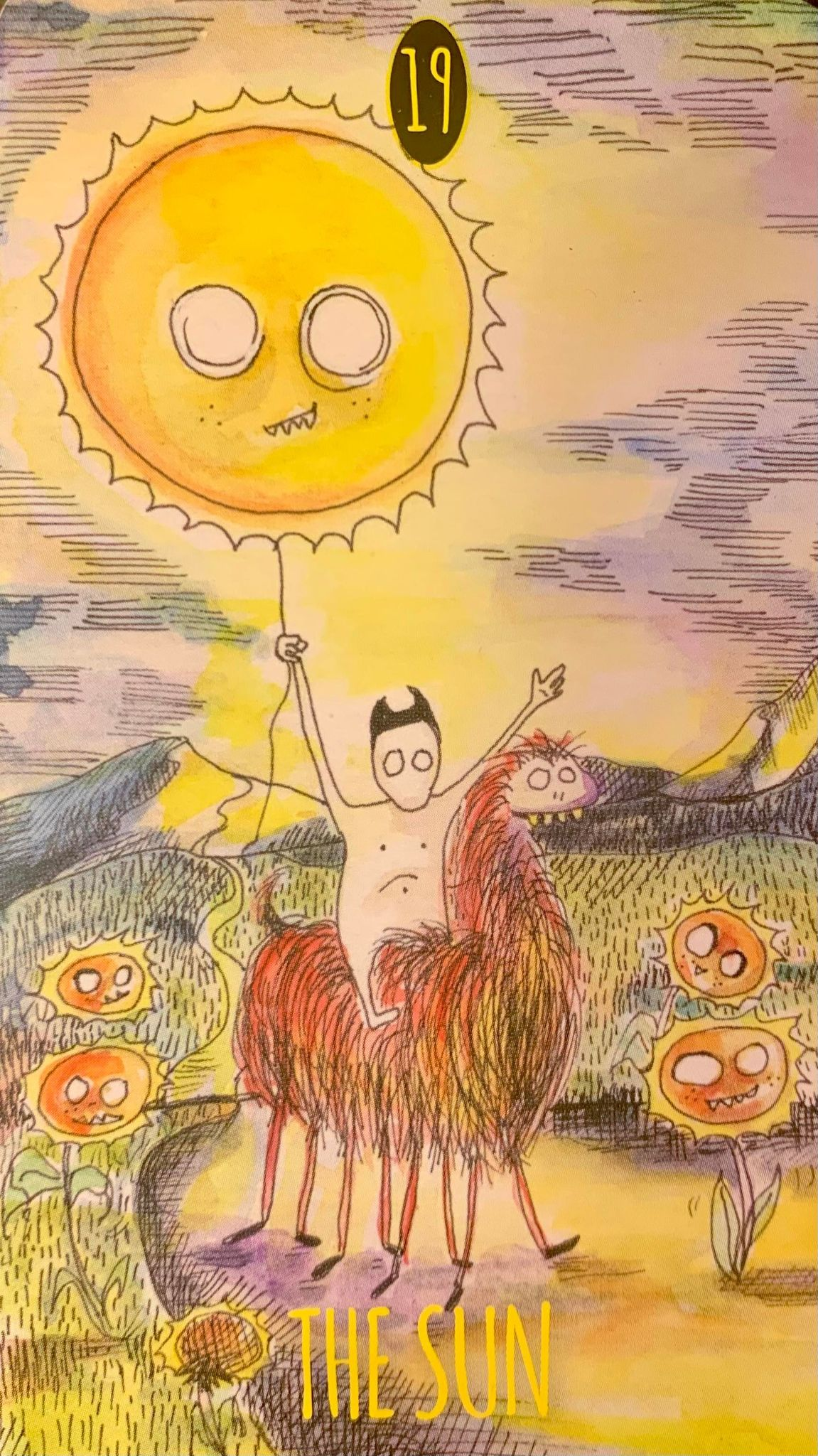 The Sun card often indicates a new beginning or an exciting opportunity. It suggests that now is the time to build relationships, develop creative ideas, and explore new possibilities. The Sun is luck in its purest form, providing us with the energy to take action and make the most of our lives.
In tarot, the Sun is associated with Leo, a zodiac sign known for its boldness, courage, and ambition – traits that can bring luck in all areas of life. So if you're feeling stuck and need a change of pace, the Sun tarot card can be your spark of inspiration. With the Sun's encouragement, you can take the initiative and create your own luck.
7. Ten of Cups
The Ten of Cups is an especially lucky card in a romance reading. It suggests unity and celebration, as well as the fulfillment of wishes. When you pull the Ten of Cups, you can trust that your partner really is the one. Ultimately, this is the card of contentment, suggesting that you will find true love and emotional satisfaction.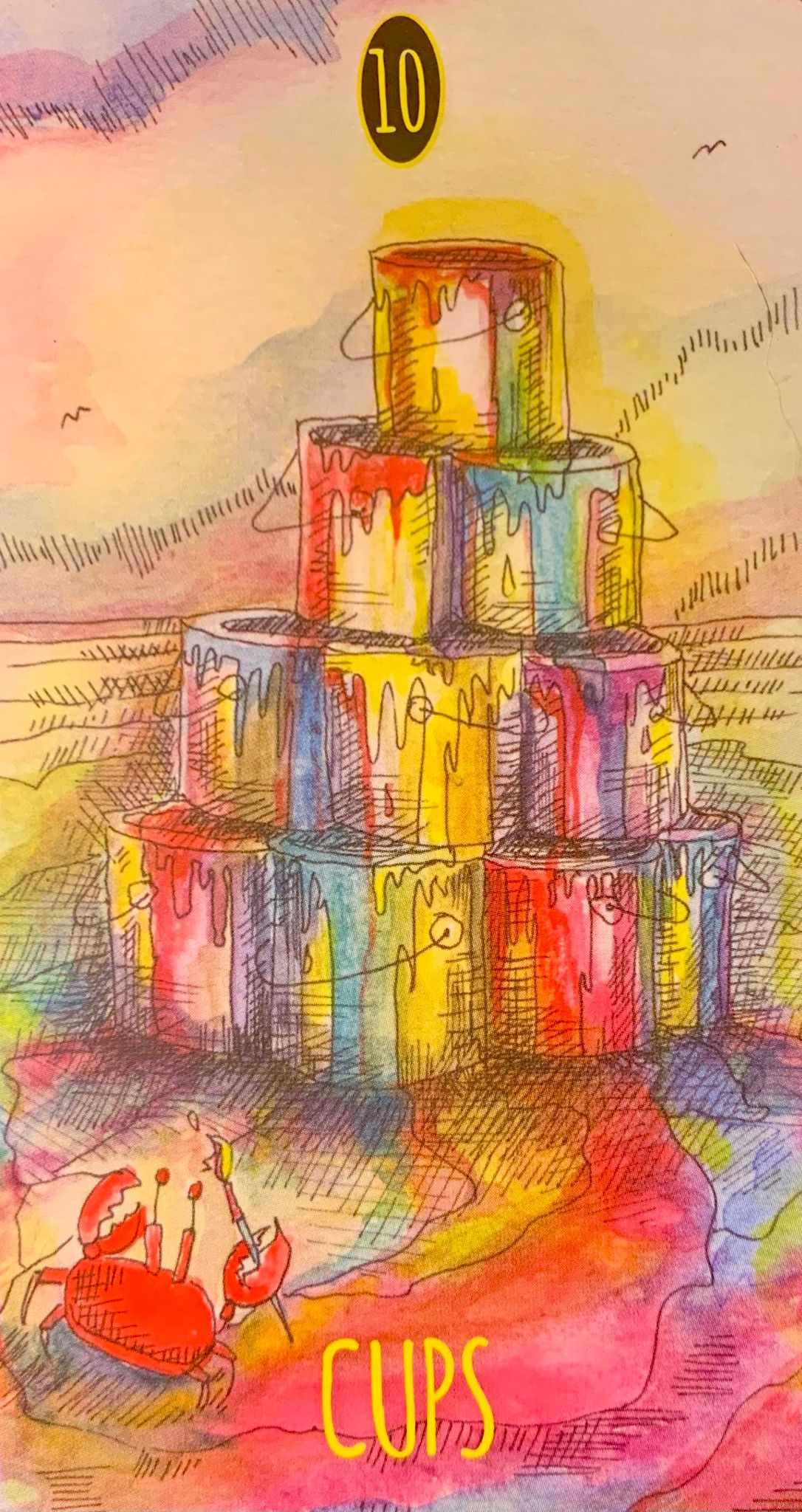 The Ten of Cups is also a card of abundance, representing material wealth as well as spiritual riches. It's a sign that your hard work and dedication are paying off, and it can also indicate a source of income or good fortune coming your way soon.
The Ten of Cups is the card of children and harmony within the family. Along with being a good luck card, it is also one of the most positive cards for pregnancy. So if you are considering starting a family or advancing your career, the Ten of Cups can be a very helpful portent. In all, this card is a signal that luck is on our side – we just have to be willing to trust in it.
8. The Fool
Some think of the fool as naive, but he is on a journey to profound wisdom. The path of the Fool is covered with four-leaf clovers and blessed by the gods, for he is filled with courage and enthusiasm for life. The Fool tarot card symbolizes new beginnings, a playful spirit, and an optimistic approach to whatever comes our way.
Unbeknownst to many, the Fool is one of the most powerful cards in the Tarot.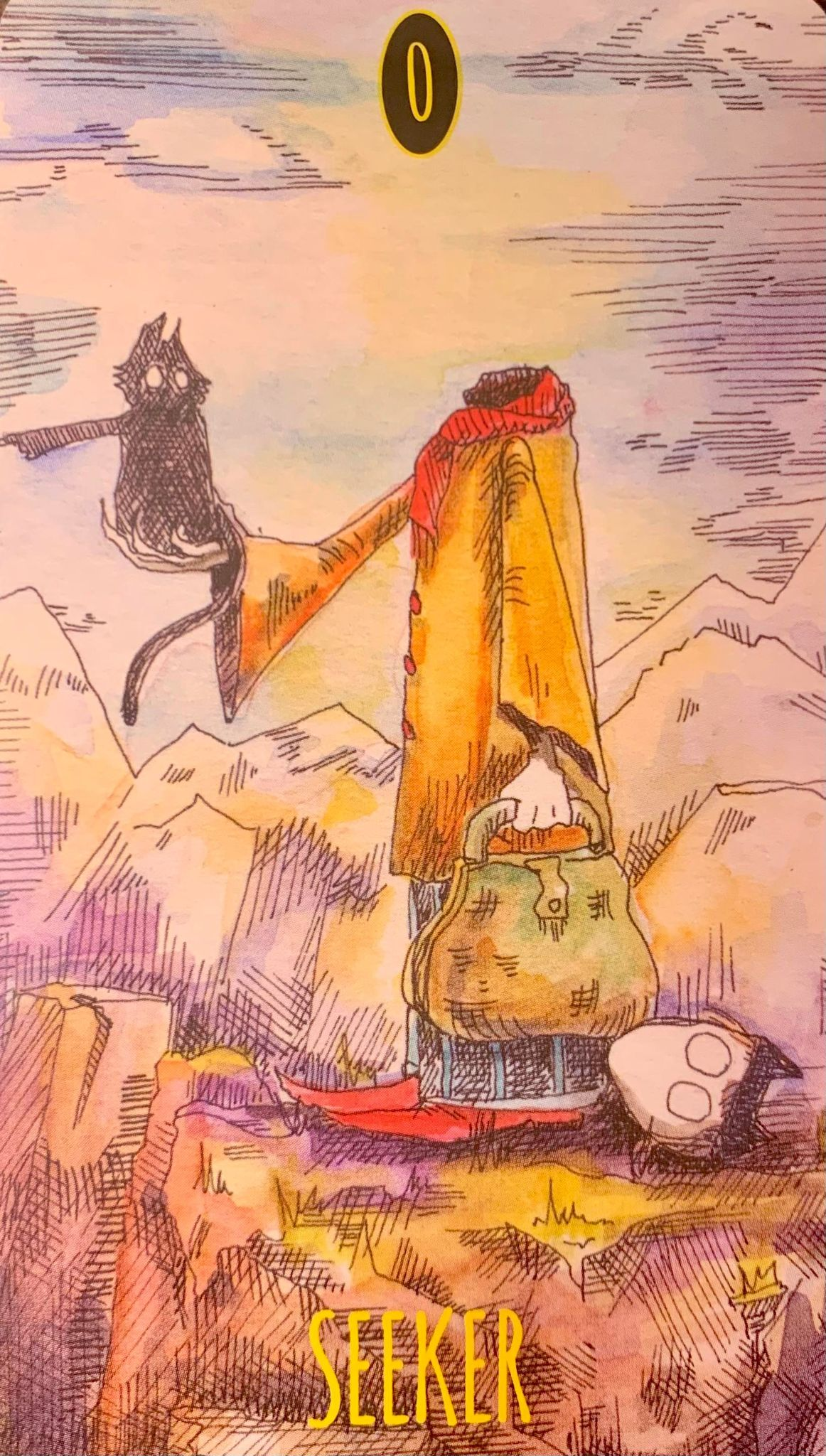 The Fool encourages us to take risks, leap into the unknown, and trust in our intuition even when we don't know what lies ahead. It reminds us that life is an adventure and we should embrace it with courage and conviction. The Fool also teaches us to take a leap of faith when life has us stuck in a rut—to believe in ourselves and trust that our journey will bring the luck we seek.
Lastly, the Fool is associated with the Star sign Aquarius, a sign of innovation and unconventional thinking. This card can indicate that new opportunities are on the horizon, pushing us to step out of our comfort zones in search of our destiny. It's a reminder that we need not be afraid of uncertainty—the universe will provide us with what we seek if we are willing to take a leap of faith.
9. King of Pentacles
The King of Pentacles card stands for the power of wealth and abundance. One of the court cards, this regal figure symbolizes material success, stability, and hard work. He holds a large golden coin in his hand—a sign that fortune is ready to be shared with those who are willing to put in the effort.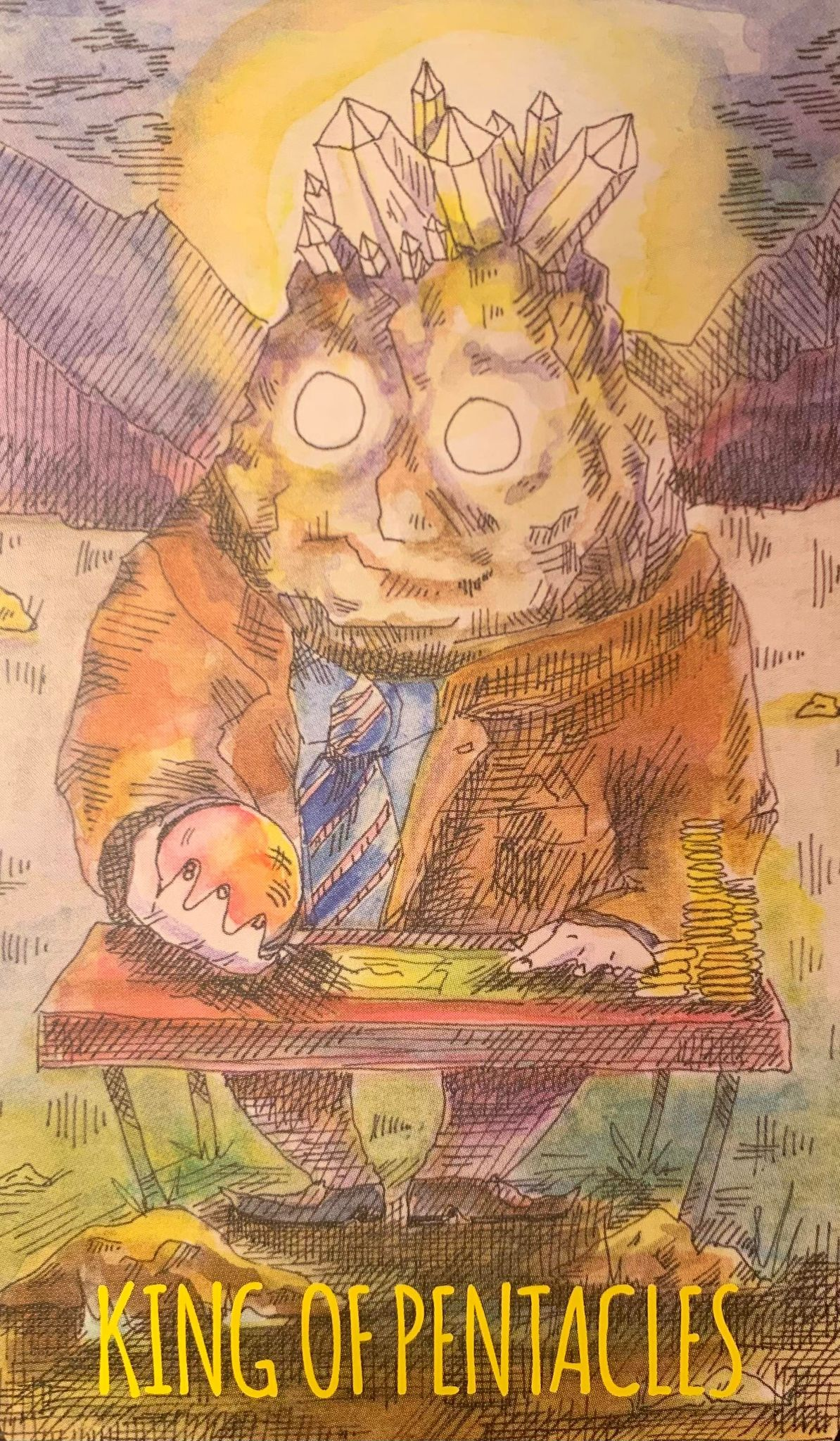 The King of Pentacles represents true grit and determination, along with a great capacity for creative thinking. His presence signals that you have all the tools at your disposal to achieve your dreams if you stay focused on your goals. He encourages us to invest our energy into building something tangible—whether it's a business, career, or personal project—that requires perseverance and dedication.
Coupled with Taurus energy, this card is a testament to the power of patience and persistence. It reminds us that luck can be found through hard work, and that rewards are often earned with time. So if you feel like your life has been spinning in circles, trust that the King of Pentacles will guide you towards solid ground. The future looks bright when this lucky king shows up! Go forth and make it yours!
Make Your Own Luck
Now that you know what the lucky tarot cards have to say, it's time to take action. With a confident attitude and a little bit of luck, you can achieve anything you set your mind to. Remember: no matter how hard things get, keep striving for greatness and believing in yourself—the universe has got your back.
Keep reading our tarot articles to learn what tarot cards are bad luck, which cards symbolize love, and how you can throw them all together in a tarot spread. Whatever questions you have, we've got the answers!
Major Arcana

| Card | Upright | Reversed |
| --- | --- | --- |
| Fool | Fresh Start, New Adventure  | Poor Planning, Poor Choices, |
| The Magician | Power, Action, Balance | Insecurity, Disorder, Ignorance |
| The High Priestess | Perception, Time, Hidden Truth | Impatience, Stagnationn |
| The Empress | Birth, Abundance of harvest | Neglect, Counterproductive  |
| The Emperor | Power, Fairness, Authority | Cold, Inflexible, Lack of Control |
| The Hierophant | Ceremony, Tradition, Guidance | Hypocrisy, Disillionsioned, Disgrace |
| The Lovers | Love, Blessing, Harmony, Unification | Loss, Shame, Illusion, Hedonism |
| The Chariot | Travel, Victory, Motivation, Speed | Denial, Unstable, Unrealistic |
| Strength | Preparation, self-control, battle of will | Addiction, Abuse of Power, Struggle |
| The Hermit | Enlightenment, Contemplation, Investigation by authorities | Cerebral, Paranoid, Withdrawn |
| Wheel of Fortune | Luck, Cycles, Destiny | Look before you Leap, Prepare |
| Justice | Legalities, Judgement, Truth | Misinformation, Assumption |
| The Hanged Man | Inaction, new perspective | Exoneration, Determination |
| Death | Impermanence, Inevitability | Back to Basics, Rigid, Resistant |
| Temperance | Healing, Harmony, Creative Expression | Waste, Excess, Selfish, Inconsiderate |
| The Devil | Addiction, Abuse, Control | Realization, Relief |
| The Tower | Shock, Upheaval, Weather event | Bailing out, Overreacting |
| The Star | Inspiration, Renewal, Creativity | Exhaustion, Wastefulness |
| The Moon | Lunacy, Intuition, Right timing | Over Emotional, Cognitive Dissonance |
| The Sun | Freedom, celebration, Vitality | Carelessness, Foolhardy, Time Waste |
| Judgment | Relief, answered prayers | Rejection, Cultish behavior, |
| The World | Next level, achievement | Hindsight, more to learn |

These are just quick key meanings for the Major Arcana cards.
You can click any of the names to get a more in-depth analysis of the tarot card meanings in a different context.
Suit of Cups

| Card | Upright | Reversed |
| --- | --- | --- |
| Ace | Fresh Start, Abundance, Spirituality  | Endings, Resources Drying Up, Missed Opportunity |
| Two | Strength Through Partnership, Understanding, commitments | Poor Choices, Bad Company, Forced Separation |
| Three | Female Power, Joy, Community Support | Over Indulgence, Following the Crowd, Irrational |
| Four | Hesitation, Insecurity, Doubt | Inexperience, Rejection, Depression  |
| Five | Grief, Self-Recrimination, Set Backs | Resourcefulness, Self Reliance, Creative Problem Solving |
| Six | Nostalgia, Wistfulness, Idealizing the Past | Stinginess, Bitterness, Dark View of the World  |
| Seven | Illusion, Delusion, Mental instability | Insecure, Indecisive, Don't know which way to go |
| Eight | Transition, Walking Away, Travel, Seeking New Opportunities | Rejection, Confusion, and Running Away Will Only Make it Worse  |
| Nine | Wishes Granted; You Feel Healthy, Wealthy, and Wise | Hoarding Resources, Unappreciative, Selfishness  |
| Ten | Abundance, Flourishing, Happy Family | Separation from Family, Exhaustion, Disconnected |
| Page | Confident, Insightful, Spiritual, Sensual | Ostracized, Disconnected, Disappointed |
| Knight | Idealism, Chivalry, Bringing the World Into Order | Bull in a China Shop, Overly Rigid and Forceful |
| Queen | Intuition, Deep Meditation, Balanced Feminine Leadership | Self-Sabotage, Substance Abuse, Deep Unhappiness |
| King | Balanced Male Energy, Perceptive, Self-Assured | Power-hungry, Controlling, Cruel |
Suit of Wands

| Card | Upright | Reversed |
| --- | --- | --- |
| Ace | Action, Inspiration | Stuck, Lackluster |
| Two | Travel, Dreaming | Undetermined, Erratic |
| Three | Strategy, Belief | Dejected, self-pity |
| Four | Celebrations, Enthusiasm | Extravagance, Ego |
| Five | Power Struggle, Resistance | Manipulation, negotiating |
| Six | Victory, Integrity | Misdirection, Rebellion |
| Seven | Defending, Justification | Inferiority, Weakness |
| Eight | Messages, Aim | Discord, Frustration |
| Nine | Determined, Resolute | Mental Decline, failure |
| Ten | Homecoming, end of a task | Hoarding, selfish |
| Page | Artistic, Travel | Lazy, Fickle, Snobby |
| Knight | Passion, Manifestation | Anger, Overzealous |
| Queen | Intuition, Truth | Domineering, cold |
| King | Preparedness, Protection | Intolerant, Impatient |
Suit of Pentacles

| Card | Upright | Reversed |
| --- | --- | --- |
| Ace | Promise of Prosperity, Hope | Bitter, Unlucky, Jealous |
| Two | Flimflam, Slick salesmanship | Irresponsible, Drama filled, Immature  |
| Three | Getting noticed, Moving up in the organization, Raw talent | Working harder, not smarter, getting blocked by jealous coworkers |
| Four | Nervous about the future, Nouveaux Riche, Gaudy | Not Accepted, Closed off from the Good ole boy system |
| Five | Illness, Poverty, In need of charity | Transition, Finding spirituality in time of crisis |
| Six | Empathy, Charity, Fairness   | Condescending, Judgmental, Miserly  |
| Seven | Setting up systems, Waiting for your reward  | Impatience, Stubbornness, Inflexible   |
| Eight | Creativity, Passion Project, Efficiency | Obsessed, Reclusive, Nutty professor  |
| Nine | Indulgence, Travel, Luxury | Hedonism, Materialism, Overindulgence |
| Ten | Wisdom, Satisfaction, Family Legacy | Gambling, Judgement, Loss of Happy Home  |
| Page | Service, Idealism, Travel | Emotionally Tone Deaf, Self-involved |
| Knight | Thoughtful, Preparedness, Stoic  | Apathy, Unobservant, Not Protective Enough |
| Queen | Nurturing energy, Sensitive, Self Reliant | Martyrdom, Guilt, Relying on Others Too Much |
| King | Charisma, Strength, Strategy | Belligerence, Overbearing, Windbag |
More Questions?
Read our F.A.Q. to learn more, or send us a message to connect.