Knight of Swords Tarot Card – Keywords
Upright
Quick Wit, Overbearing, Crusader, Tunnel Vision
Reversed
Unreliable, Aggressive, Perverse, Abrupt
Knight of Swords Tarot Card Description
Stormy clouds cut across the sky as the Knight of Swords blazes ahead. His powerful white horse barrels across the plains, a symbol of power and strength. The Knight raises his sword to the sky in a battle cry, determined to finish the task ahead of him. His grip on the horse's harness illustrates his need to control his environment.
The Knight of Swords is a figure of strength and courage. He charges forward with single-minded determination, even in the face of danger or adversity. His stubbornness can lead to rash decisions if he's not careful, but his powerful will is often what drives him past any obstacles that may stand in his way.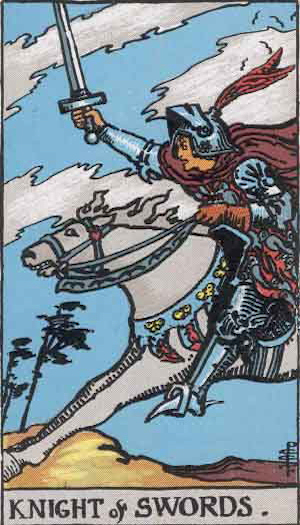 Upright Knight of Swords Tarot Card Meanings
Whereas Pages of the Tarot are often seen as childlike, Knights are more like teenagers. They possess great intensity and drive, although they have not yet found the wisdom of the Kings.
If the Swords Knight had a motto, it would be, "I'm not mean, I'm just straightforward." He is honest to the point of being blunt, in a way that can hurt feelings. The Knight of Swords is always up for an argument and will usually come out on top, as his mind is sharp enough to cut through any opposition.
Key meanings of this minor arcana card are confidence and conflict. As such, the Knight of Swords appears when a challenge arises that you must meet head-on.
Like the white horse that bolts into action, this Knight also foretells a sudden change. Although it is not the life-altering circumstances of The Tower, it will still leave an impact. Look to the other cards in your tarot reading to determine which area of life the change will occur in. The Two of Cups could indicate transformation in your love life. On the other hand, the Two of Wands could indicate moving homes or apartments.
At its best, the Knight of Swords symbolizes determination and focus. Even if he does make mistakes along the way, his stubbornness will ensure he never gives up on his goals. He is confident in his abilities and is ready to take on any obstacle that comes his way. It can also be a sign of travel by plane, as the card is ruled by the air sign of Libra.
Knights of Tarot
| Card | Upright | Reversed |
| --- | --- | --- |
| Knight of Pentacles | Thoughtful, Preparedness, Stoic  | Apathy, Unobservant, Not Protective Enough |
| Knight of Wands | Passion, Manifestation | Anger, Overzealous |
| Knight of Cups | Idealism, Chivalry, Bringing the World Into Order | Bull in a China Closet, Overly Rigid and Forceful |
| Knight of Swords | Quick Wit, Overbearing, Crusader, Tunnel Vision | Unreliable, Aggressive, Perverse, Abrupt |
Knight of Swords Upright as a Person
The Knight's energy is enough to overwhelm the strongest of defenses. The Swords card represents an individual that is forward-thinking and action-oriented. This is someone that others describe as having a "big personality," strong winds and storm clouds personified. They push forward against the odds, all in an effort to create positive change in their environment. Likely, the Knight of Swords person is an Enneagram 8, the Challenger.
When the upright Knight sprints into your tarot card reading, it symbolizes someone in your life who is highly motivated to achieve their goals. Although Knights are usually portrayed as men, this person can be of any gender. If you are a young person, they may be your peer, coworker, or friend.
Alternatively, the Knight may represent your inner teenager and the intense aspects of yourself that you suppress. With mental discipline, you can honor that part of yourself while still remaining in control.
Knight of Swords – Love Tarot Meaning
Full speed ahead. You've set your sights on someone, and you're not one to wait by the sidelines. The object of your affection becomes your singular focus.
Court cards often represent your lover or potential soulmate in a tarot love reading. If it's the Knight of Swords that makes your heart quicken, then you are searching for someone with a strong personality and sharp mind. You need someone who cultivates your intellectual energy.
The Knight of Swords asks you questions about philosophy, politics, media, etc. Together, you're warriors charging forward into a vast world of knowledge and understanding.
On the other hand, the Knight implies that you have tunnel vision when it comes to love. This could mean that you become so focused on your significant other that you lose sight of your other relationships. It's possible that your partner's red flags are in the periphery.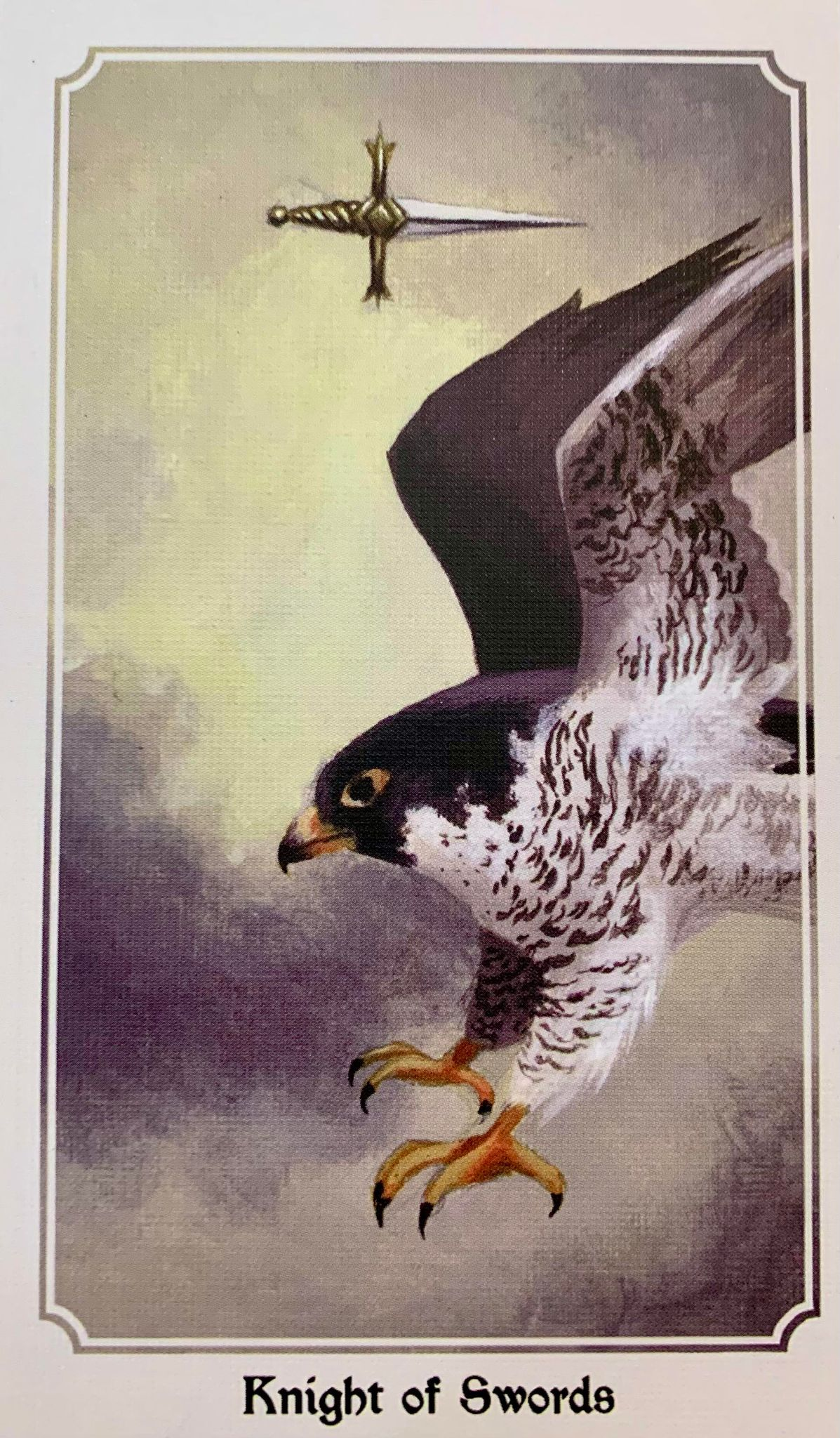 Knight of Swords – Health Meaning
The Knight of Swords in a health reading indicates that you have the mental fortitude to take on any challenges that may come your way. You're a problem solver and don't give up easily when it comes to your well-being.
This card also hints at good fortune in health. You may have been diagnosed with an illness or condition, but all is not lost. With the right approach, you can push through and reach a place of strength and recovery. The Knight of Swords always bounces back.
Knight of Swords – Financial and Career Meaning
Questions about your career path find answers in this minor arcana card. The Knight is an avid researcher and implies success in science-based fields like psychology, engineering, and technology.
The Knight also suggests that you're on the right track financially speaking. Your hard work has paid off, and you can take pride in your achievements. You may also be considering starting a new venture or taking risks with investments — these are positive signs to have when this card appears in a reading.
Do keep in mind that the Knight of Swords is a bit of a daredevil; make sure that you take calculated risks rather than jumping into something that's too far outside your comfort zone.
Remember, the Knight represents discipline and focus — use these traits to make smart decisions about your finances. Working with advisors or mentors in your field can also help guide you along the way.
Knight of Swords Reversed Meaning in a Tarot Spread
Talk, talk, talk, but is there any action? The reversed Knight of Swords card hints at a person or situation that is full of hot air. Your tarot reading might be telling you to look for evidence before believing in something or someone.
Additionally, the reversed Knight can represent missing opportunities or connections. In your rush to maintain forward momentum, you are neglecting to take detours or explore potential paths. The advice here is to slow down and put yourself in the shoes of others.
This card can also come up during a time of crisis. If you're feeling overwhelmed by life, the Knight is an invitation to break through the fog and start seeing things from a different perspective.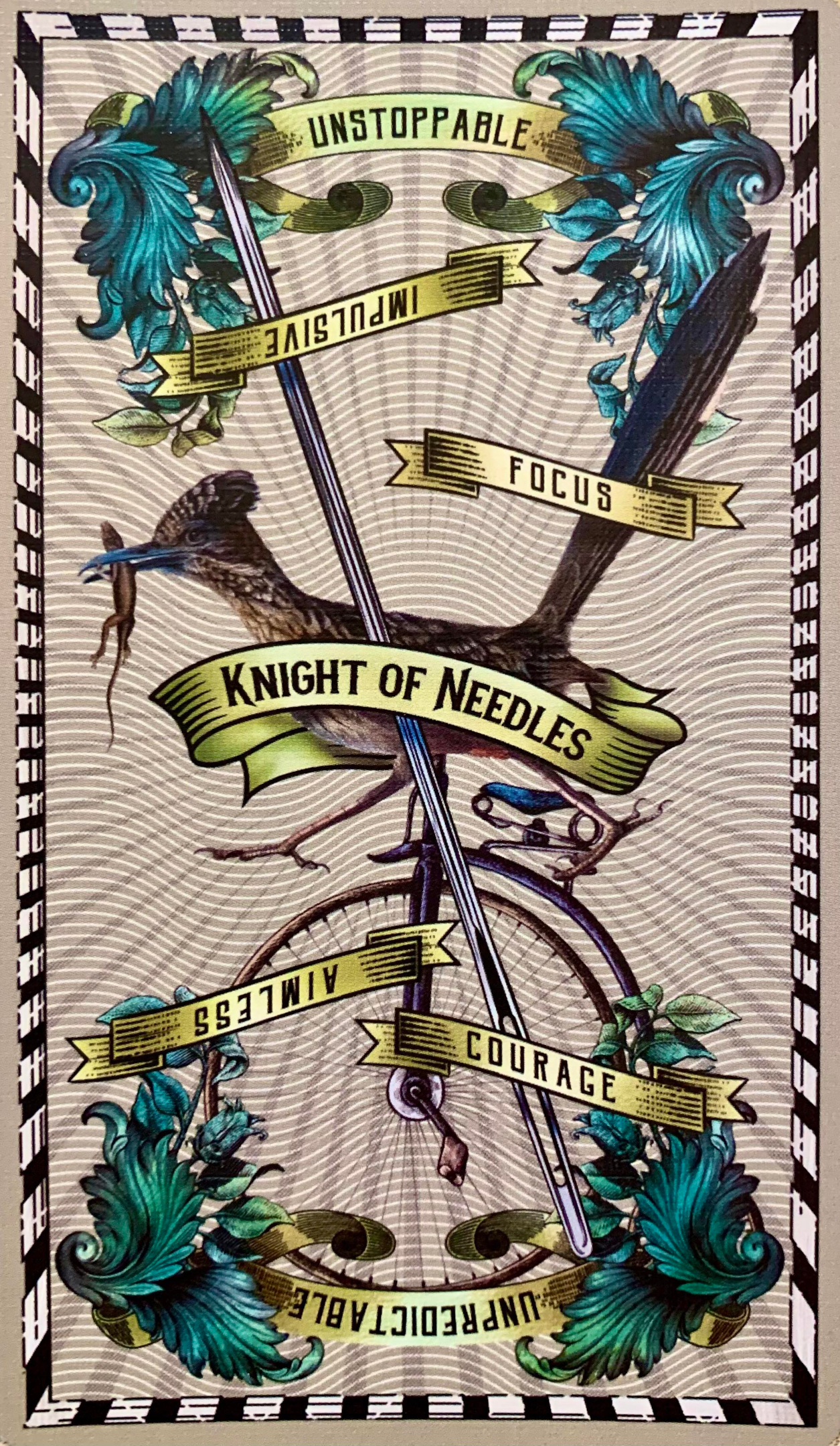 Reversed Knight of Swords as a Person
The reversed Knight of Swords person is not necessarily a bad person, but they may be in a state of paralysis. They are stuck in a place where they can talk endlessly about what needs to change, yet nothing ever gets done. This person needs help getting out of this rut and must learn how to channel their energy into action-oriented tasks.
This person can also be overly critical and judgemental of others. They have a strong sense of right and wrong, but their fervor may get in the way of their ability to accept another person's opinions. What they think of as constructive criticism may really just be cutting insults.
Knight of Swords Reversed – Love Meaning
Reversed, the Knight of Swords can represent someone who is overly argumentative or even cruel. If you're already in a relationship, then this could be a sign that your lover is losing direction or has become too demanding. The reversed Knight asks you to have patience with their faults while still being honest about how you feel. It's important to remain assertive and speak up for yourself.
For single querents, the reversed Knight of Swords suggests that you need to be more of a risk-taker in love. You dream of a romantic proposal, a house on the hill, maybe even children, but you aren't taking action.
It's time to make moves toward your goals and create the life that you want. Don't be afraid to reach out and put yourself out there.
Knight of Swords Reversed – Career or Financial Meaning
Knights do not possess the wisdom of the King and Queen, and this is evident when you pull this card in a career tarot reading. It implies that you lack the valuable life experience needed to make sound decisions in the workplace. However, that does not mean you will be unsuccessful in your career field. Seek guidance from mentors with more knowledge and experience.
The reversed Knight represents money troubles in a financial tarot spread. You may be sinking into debt or dealing with a financial conflict (e.g., a dispute with an investor, or miscommunication about pay). This could also indicate that you're spending too much money on unnecessary items and need to reassess your budgeting habits.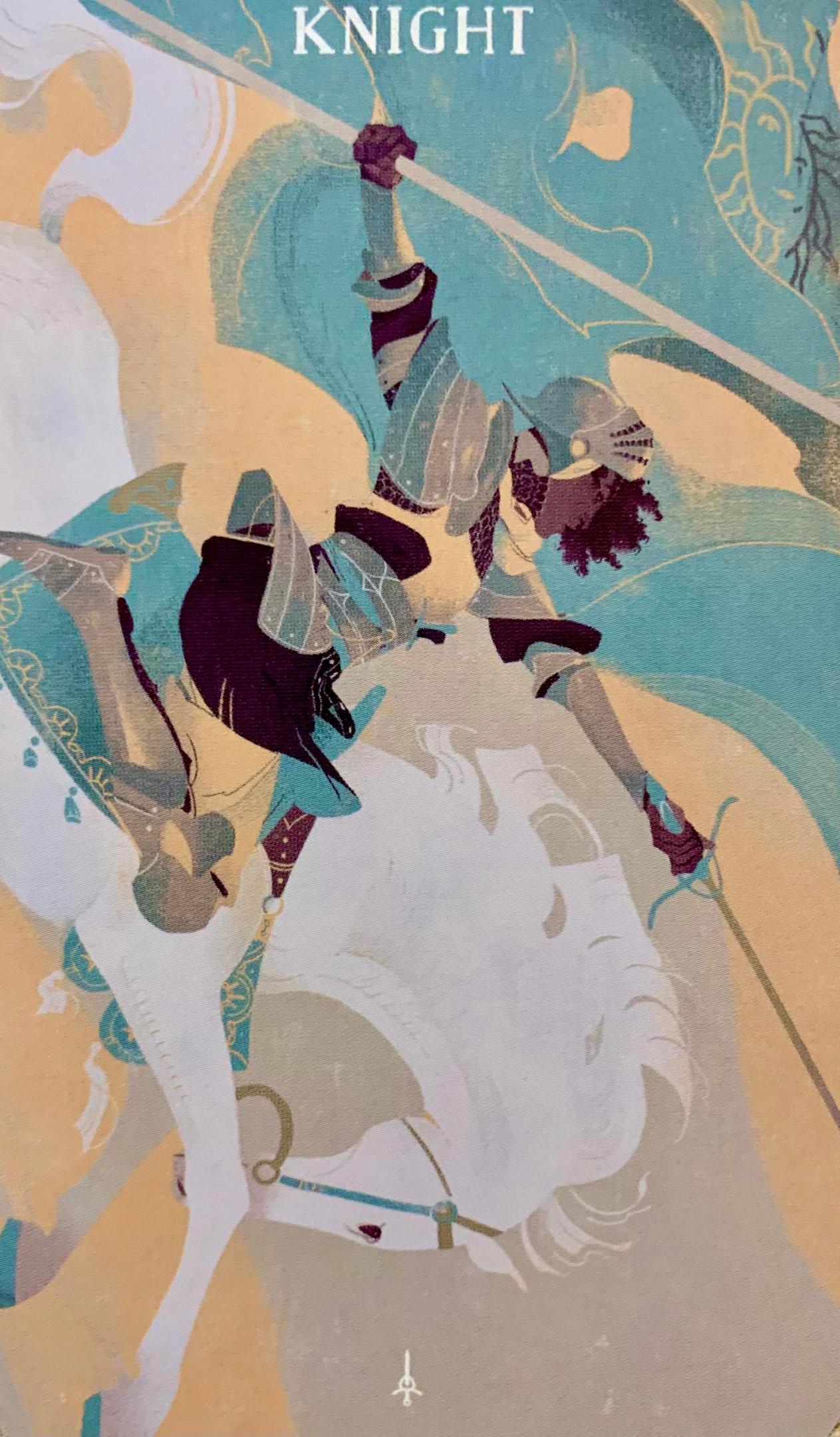 Knight of Swords Reversed – Health Meaning
The reversed Knight of Swords represents health issues relating to the ears and throat. When this card appears in a reversed position, it suggests that there are blockages in these areas or communication problems.
This could mean physical or psychological issues, such as pain and depression. Mental health may become a struggle to maintain.
Knights are heralds, and they can bring disappointing news in a health reading. Treatments stall and are unsuccessful. Acceptance is the key to moving forward.
Knight of Swords – Timing Meaning
In regards to timing, the Knight indicates a period of fast movement and change. Things can happen at an alarming speed, so be prepared to react quickly and with purpose instead of allowing yourself to get swept away by the currents of life.
With our timing methods, this card can also represent the Winter season, Libra season, or a period of 12 weeks.
Knight of Swords Tarot Card Meaning – Yes or a No
Knights are all about forward momentum, so this is a "yes" card!
Questions For the Knight of Swords Tarot Card
How can I communicate in a positive way?
How do I react to change?
Am I someone that is good in a crisis?
What beliefs will I fight for?
What am I missing out on by not taking my time?
What is the best course of action for me to take right now?
Learn About The Suit of Swords
The Knight of Swords is powerful because of his strong convictions, enthusiasm, and energy. He often appears as an initiator of change and the one who sets events into motion. This card belongs to the Suit of Swords, which is associated with the element of air and represents intellectual pursuits, communication, truth-seeking, justice, knowledge, power and authority. Learn more about this suit and the rest of the Tarot by checking out our other articles!
Suit of Swords

| Card | Upright | Reversed |
| --- | --- | --- |
| Ace | Initiative, Clarity, Focus | Boredom, Insecure, Shy |
| Two | Denial, Impasse, Decisions | Conflicted, Information Overload, Action |
| Three | Heartbreak, Betrayal, Cardiovascular Issues | Following Your Passion, Faith, and Strength from Suffering |
| Four | Rest, Peace, Isolation, Meditation | Refusal, Anxiety, Exhaustion |
| Five | Bullying, Ego, Entitled | Moral Rebellion, Conflict Resolution, Grudges |
| Six | Moving Away From Battle, Seeking Calmer Waters | Procrastination, Passive Aggressive, Wrong Place/Wrong Time |
| Seven | Thief, Spy, Turncoat | Loyalty, Brotherhood, Tribe |
| Eight | A Prison of Your Own Making, Jail, Self-Pity | Integrity, Standing For What You Believe In |
| Nine | Obsessing, sleepless nights, regret | Spirituality, Revelation, Learning from the Past |
| Ten | Health issues, Exhaustion, Surrender | Hope, Acceptance, Renewal |
| Page | Clear Communication, Curiosity, Thoughtfulness | Irritable, Inexperienced, Unwanted. |
| Knight | Quick Wit, Overbearing, Crusader, Tunnel Vision | Unreliable, Aggressive, Perverse, Abrupt |
| Queen | Honesty, Assurance, Refined, Discerning | Ice Queen, Distant, Cruel |
| King | Strength, Determination, Professionalism | Psychopathy, Abuse of Power, Poor leader |