The Enneagram 6 personality type is known for their loyalty, thoughtfulness, and preparedness. This personality type seeks security and stability. Often, their core fear manifests as anxiety or indecision. However, there are also many positive aspects to this personality type that are often overlooked. We will explore both the light and dark sides of this head type through the art of Tarot.
First, let's review what the Enneagram is and how you can learn your own type!
What are the Enneagram Types?
The Enneagram is a form of self-assessment that consists of nine personality types. It evaluates the driving forces behind your behaviors, referred to as the type's basic fear and basic desire. While everyone embodies all nine types to some extent, most of us have one dominant type that influences our perspectives and actions.
Enneagram Sixes are known as "The Loyalist." They are part of the head triad, along with Type Five and Type Seven. This means they tend to think and process information through their minds rather than emotions or gut instincts.
Understanding Enneagram Wings
A key component of the Enneagram is the concept of "wings." Wings are the two personality types that sit adjacent to your core type on the Enneagram circle. They affect and interact with your main type, adding more depth and complexity to your overall personality. An individual's wing is typically one dominant side, although it's possible to have balanced wings.
Enneagram Sixes, for instance, can have a Five-wing (6w5) or a Seven-wing (6w7). A Six with a Five wing tends to be more introverted, analytical, and detail-oriented, leaning into the Five's desire for knowledge and self-sufficiency. On the contrary, a Six with a Seven wing can be sociable and adventurous, embodying the Seven's zest for life and quest for new experiences. Both wings bring unique strengths and challenges to the Six personality type, further differentiating and nuanced its expression.
How to Know You're an Enneagram 6
Recognizing your Enneagram type can be a transformative and enlightening process. As an Enneagram 6, you may resonate with the need for security and stability, often demonstrating an unwavering dedication to your friends, family, and beliefs. Decision-making might sometimes be a challenge, as you strive to foresee potential outcomes and avoid risk. This tendency reflects the desire for certainty, a characteristic common to Type Sixes.
If you find yourself constantly seeking reassurance and confirmation from others, or frequently questioning your own thoughts and decisions, you might be an Enneagram 6. It's also possible that you may fear abandonment or being without support, hence, your strong commitment to relationships and communities.
However, for a more accurate understanding of your Enneagram type, consider taking the Enneagram test. This comprehensive questionnaire will delve into your core motivations, fears, and desires, providing a deeper insight into your personality.
The Enneagram 6 in Media and Public Life
Oftentimes, we see the healthy and unhealthy aspects of the Enneagram 6 play out in news articles or our favorite TV shows. These characters and celebrities embody the Enneagram 6 in different degrees, showcasing how this personality type can manifest in real life.
Catra
6w7: She-Ra Princesses of Power
Katniss Everdeen
6w5: The Hunger Games
Anakin Skywalker
6w7: Star Wars
Edward Cullen
6w5: Twilight
Jamie Taylor
6w5: The Haunting of Bly Manor
Chandler Bing
6w7: Friends
Levi Ackerman
6w5: Attack on Titan
Aragorn
6w5: Lord of the Rings
Now, let's journey into the world of Tarot to further understand the Enneagram 6 personality. The Tarot, with its intricate symbolism, can offer a profound exploration of the complex layers of the Type Six persona. Let's learn about the three Tarot cards that best encapsulate the essence of the Enneagram Six: the King of Cups, the Moon, and the Two of Cups.
The King of Cups: The Core of Enneagram Type 6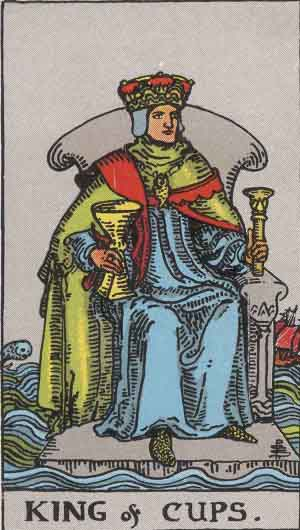 If you painted a portrait of the average Enneagram 6, the King of Cups would stare back at you. Through its imagery, it captures the dual nature of Enneagram Type Sixes.
Look to the King of Cups, and you will see the internal battle of the Enneagram 6. Beneath his calm exterior and rigid posture, anxious thoughts stir. However, he keeps his focus on the horizon, taking time to mentally prepare himself for every scenario.
Upright, the King represents a careful person who values hard work. A person who is capable of making decisions quickly and accurately. This resonates with the Six's strength in evaluating and troubleshooting potential issues, an invaluable trait in various professional settings. The King of Cups also aligns with the Type Six's emotional intelligence, as they are excellent at reading and understanding other people's feelings.
Sixes tend to be highly analytical with their own decisions and make sense of the World through logic. When close friends come to them for advice, the Enneagram 6 will always find the most sensible solution and only offer constructive criticism.
As authority figures, Sixes ensure others feel supported and build healthy relationships with those they care about. Group cohesion is important. As such, the King of Cups is the most loyal of the Court Cards, a perfect representation of the committed Enneagram 6.
In the Tarot imagery, the churning waters at the King's feet symbolize the struggle with emotions, reflecting the inner turmoil often experienced by the Enneagram 6. Despite the stormy seas, the King maintains a poised and peaceful demeanor, illustrating the Six's ability to remain steadfast and reliable amid emotional upheaval. This echoes the inherent resilience of the Enneagram Type 6, their capacity to navigate difficult emotional waters while providing unwavering support to those around them.
However, the unhealthy Six is overwhelmed by their own emotional insecurities. They become highly anxious, constantly seeking external validation and reassurance.
In this state, the Six can resemble the reversed King of Cups, displaying emotional volatility and an inability to maintain stable relationships. Fearful thoughts weaken their self-esteem, and they crumble under the weight of their crown. As the Enneagram 6 spirals into panic, they fall victim to the lunacy of the Moon card.
The Moon: The Fear and Unhealthy Behaviors of Enneagram Type 6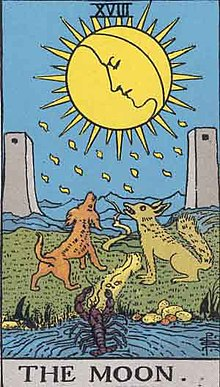 The Moon card in Tarot is an apt representation of the basic fear of the Enneagram 6 and their behaviors when unhealthy. It symbolizes uncertainty, fear, and illusion, all of which resonate with the anxieties and self-doubt that plague an unhealthy Type Six. When the Moon appears in a reading, it often points to confusion and the need to confront inner fears that disturbs one's peace of mind.
The scattered path in the Moon's imagery, lit only by the dim light of the moon, mirrors the Six's fear of unseen dangers and their tendency to anticipate worst-case scenarios. This winding path signifies the insecurity and indecision that can overwhelm the Type Six, causing them to constantly second-guess their choices.
Moreover, the erratic behavior of the animals in the Moon card, drawn to the moon yet scared of its shadows, reflects the Six's unhealthy state of constant worry and susceptibility to their core emotion of fear.
Counterphobic Sixes run toward the shadows, but phobic Sixes run away in terror. This fear can stem from their perceived lack of support and stability, leading them to behave in erratic or irrational ways. In such states, Sixes may withdraw from their relationships or become overly dependent on others for reassurance.
An Enneagram 6 cannot seek security in the dark. Because they are constantly struggling internally, they do not sufficiently manage external events. Canceled plans, late assignments, and sporadic communications are all signs that an Enneagram 6 is in stress.
Feeling anxious manifests into a lack of trust in oneself or others, which is not helpful for an already anxious person. Unhealthy Sixes send mixed signals to their friends, shoving them away before clinging to them again. Their cautious nature turns suspicious, and the Enneagram 6 cannot shove down their own feelings of resentment and doubt. Loyal companions become adversaries, like the turncoat Seven of Swords. Sixes are like wolves, lashing out in fear of the unknown.
The Moon card reminds Enneagram 6 that they must find Strength within themselves and rely on their own intuition to navigate through periods of uncertainty. Once they learn to ground themselves, they can move towards a state of emotional balance and harmony, as depicted in the Two of Cups.
The Two of Cups: The Potential and Growth Path of Enneagram Type 6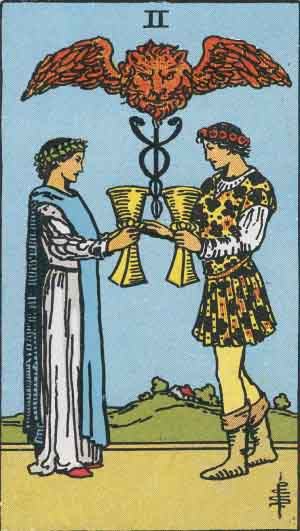 The Two of Cups in the Tarot deck perfectly encapsulates the essence of a healthy Enneagram 6. As a symbol of emotional balance, harmony, and mutual respect, the Two of Cups portrays a pair sharing their cups, signifying the exchange of emotions and ideas. It represents the depth Sixes strive to cultivate, the desire to move past small talk and truly relate to another individual. The Two of Cups is the companionship card.
When Enneagram 6 allows themselves to trust people, they easily navigate relationships, feeling safe and secure in their connections with others. They shed their constant fear and anxiety, replacing it with confidence in their own decision-making abilities.
This card represents Enneagram 6's potential for growth and development, emphasizing their inherent strengths — loyalty, resilience, and emotional intelligence.
In this healthy state, Type Six's personality traits shine brightly. Their ability to anticipate issues, coupled with their loyalty and commitment, makes them invaluable team members, confidants, and friends. They create harmonious bonds, where they can offer and receive support, making those around them feel safe and cared for.
Once the Enneagram 6 feels secure in themselves and get past their self-doubting tendencies, they find the people who genuinely care for them. In those relationships, they experience a sense of belonging and validation, essential for their emotional well-being.
In a romantic context, the Two of Cups symbolizes the Enneagram 6's potential for deep, fulfilling partnerships. When healthy, they are incredibly committed Lovers, often going the extra mile to ensure the security and happiness of their loved ones.
Additionally, the Enneagram 6 empathizes with their partner's feelings, acting as a pillar of support in times of distress. Not even the sudden chaos of the Tower card can shake the foundations of a healthy Six. Instead, they respond to crises with careful strategies, not fear.
The journey of the Enneagram 6, much like the winding path illuminated by the Moon card, is one fraught with pitfalls of anxiety and self-doubt. The King of Cups represents this type's potential to be calm and collected or as turbulent as a tsunami. However, the Two of Cups highlights the possibilities a healthy Six can aspire to. Their growth from the Moon to the Two of Cups is marked by improved self-awareness and a deeper understanding of oneself and others. It embodies their highest self – courageous, devoted, and logical.
Learn Yourself Through the Enneagram
In conclusion, the Enneagram Type 6's journey is full of emotional tides, a consistent dance between fear and security. Their path to growth is illuminated by inner strength, trust, and emotional balance. As we have seen through the lens of the Tarot, the Type Six has the potential to rise above their fears and insecurities to form deep, rewarding relationships and become reliable pillars of support for others.
This journey is not just unique to the Six; each Enneagram type has their own unique path to navigate, their own lessons to learn, and their own potential to realize. We invite you to read the rest of our Enneagram series to dive deeper into the fascinating world of personality types and their paths to growth.
The Enneagram is a personality typing system that has been used for centuries to help people understand themselves and others….